Short term business finance for SMEs
One of the many challenges facing small business owners is securing the funding they need. Whether that's to expand the company, cover unexpected bills, pay for new stock and equipment or support a recruitment drive, it's vital that SMEs have access to the finance they need to achieve their goals.
If you need an injection of cash but don't want to be tied into lengthy repayment periods, a short term business loan could prove to be the perfect solution. Alternative lenders like Fleximize can provide the funding you seek in as little as 24 hours, and that finance can then be used to overcome any obstacles standing in your way.
Read on for everything you need to know about short term business finance, how it works, the application process, and why you can count on us as a responsible short term business loan lender.
What is a short term business loan?
Short term business loans tend to be paid back over a period of between one month and a year and the money can be used for all manner of reasons.
For example, SMEs might use short term business finance to support their growth, pay a due bill, expand their premises or cover a cash flow shortfall during quieter periods.
What are the different types of short term small business loans and how do they work?
There are various kinds of short term business loans, and selecting the right one for you will depend on the nature of your situation and the challenges you face.
Term loans
Term loans refer to loans that are repaid over a specified period of time, usually via regular monthly instalments. The lender will typically charge interest on the loan, which means the business will repay a little more overall than the amount they borrowed. These types of loans are usually either unsecured or secured.
Unsecured loans don't require you to put up personal or company assets as security. As a result, the application process for this form of short term business finance tends to be quicker. However, because there is no security put up as collateral, lenders may see an unsecured loan as an increased risk. As a result, unsecured finance may offer a lower loan amount with a higher interest rate.
Secured loans, on the other hand, mean businesses can usually borrow more at lower interest rates because of the security they put up. With this form of short term business finance, it can take longer to receive approval and funding as the assets of the company need to be valued by the lender.
Invoice finance
Invoice finance is a form of asset-based lending, where businesses borrow funds secured against the money they are due to receive from their customers. Rather than having to wait for their invoices to be paid, companies can use this type of short term business finance to receive most of the value of their due invoices and then repay the loan once their customers have settled their accounts.
Merchant cash advances
Merchant cash advances can be a valuable option for seasonal businesses that may experience some quieter months. With this type of unsecured funding, the total cost of the loan is agreed upfront and then repaid as a percentage of the company's card takings. So, if a business performs well it will repay more of the cash advance that month. If it has a quieter few weeks, it will repay less.
Bridging loans
Bridging loans are used by businesses to 'bridge' their funding gap – perhaps if they are waiting on a longer-term financing application to be approved. They usually require assets to be put up as security, and they tend to offer immediate cash flow relief but come with high interest rates. A bridging loan is often a popular choice for those in the property and construction sectors.
What are the advantages of short term finance loans?
A short term business loan is a good option for companies that need funding but don't want to repay the debt over several years. If a company's cash flow is put under strain by late payments or 90-day payment terms, or when an opportunity arises to buy stock, having reliable short term business finance can make all the difference.
Several lenders offer a traditional fixed-term repayment plan. This is where businesses repay a set monthly amount over an agreed term, which could be anything from one month to a year. A fixed-term business loan can help companies plan, as they'll know exactly how much they'll be paying each month.
Short term business finance options like our Flexiloan Lite come with plenty of extra flexibility too, like our Penalty-Free Promise. When you borrow from us, you'll only pay interest for the time you've had your loan and won't be charged any early repayment fees. Our loans also amortize, which means your interest payments will be based on the outstanding capital, not the initial loan amount. Other perks of our Flexiloan Lite include repayment holidays and top-ups.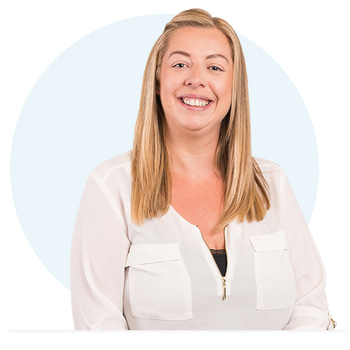 Looking For Funding? Let's Talk.
If you want to know more about how we can support your business, give our friendly team a call and you'll get straight through to someone who can help, like Sarah. Or, if you're ready to apply, get started by clicking the button below.
Short term business loans from Fleximize
Fleximize offers short term business loans of £5,000 to £500,000. Available on a flexible term of 3 – 12 months, the Flexiloan Lite is perfect for companies that have a pressing need for funding, but don't fit the strict lending criteria of banks. Of course, if you'd prefer to split your repayments over a longer period, then our longer term offering, the Flexiloan, can be repaid over terms of 12 – 48 months and could prove the ideal solution. But if it's short-term business finance you're seeking, here are the key details of the Flexiloan Lite:
Business loans of £5,000 – £500,000
Flexible repayment terms of 3 – 12 months
Approval and deposit in as little as 24 hours
No hidden fees or early repayment penalties
Interest charged on a reducing balance, not the total loan amount
Repayment holidays and top-ups available with all loans
At Fleximize, we try to find a way to say 'yes' to as many businesses as we can and will take each business' individual circumstances into account.
What can short term finance loans be used for?
From quick movers to cash flow wizards, our short term business loans are available to business owners from almost any industry and can be used for practically any purpose. Here are some of the most common reasons that our customers need funding:
| | |
| --- | --- |
| | |
| Cash Flow | Renovation & refurbishment |
| Recruitment | Training |
| Machinery | Corporation tax |
| | |
| New contracts | PR & marketing |
Whatever your needs, we'll work closely with you to create a short term business finance package that suits you and your company. One of our relationship managers will guide you through the application process and serve as an ongoing point of contact if you are approved.
Check your eligibility for short term business finance
We offer short term business loans to UK-registered limited companies and LLPs.
To be considered for our Flexiloan Lite, your business must have been trading for at least six months and must have a minimum monthly turnover of £5,000.
We also lend to sole traders and non-limited partnerships with less than four partners. If these criteria apply to you, the minimum we can lend is £25,000.
We can lend up to a maximum of two months' revenue, and we can only support non-homeowners who have been trading for over 36 months with a maximum of £20,000.
We want to approve as many applications as we can and we don't demand the same strict criteria as banks. So, even if your business displays an inconsistent credit history, rest assured it's not the only factor we take into account.
Why choose Fleximize for short term finance loans?
There are several reasons why we're regarded as one of the UK's leading short term business loan lenders. Here are just a few of them:
We're efficient: We offer fast short term business loans with minimal paperwork and funds that are typically deposited within 24 hours.
We're flexible: We want your funding to work for you, which is why we offer between £5,000 and £500,000 to be repaid over 3 – 12 months with top-ups and repayment holidays available.
We're award-winners: Our stellar work has seen us pick up plenty of industry awards and recognition, including being named the Best Business Finance Provider at both the 2018 and 2020 British Bank Awards.
We're trusted: We have a rating of 'excellent' from hundreds of independent reviews on Trustpilot and our customer case studies are a true reflection of how our short term business loans have helped other companies achieve their goals.
Apply for a short term business loan
It couldn't be easier to apply for short term small business loans with Fleximize. Just click the button below, complete our simple application form and one of our team will be in touch before you know it.