Poor cash flow is one of the main reasons that small businesses fail, with late payments identified as the primary challenge. According to the British Business Bank, 89% of SMEs who sought finance in 2020 did so due to the Covid-19 pandemic. And, for three-quarters of those companies, cash flow was the root cause of their problems.
As a business owner, you'll know that it's a constant battle to maintain a healthy cash flow. While there are strategies you can implement, cash reserves are regularly impacted by factors beyond your control. For SMEs tackling late payments, rising overheads, and unexpected tax bills, working capital may need to be sourced externally. Traditional lenders can seem an attractive option, but their strict eligibility criteria often makes life difficult for small businesses. In such cases, alternative financing can prove the perfect solution.
Digital lender Fleximize offers flexible cash flow loans that can be tailored to suit the needs of you and your business. Read on to find out more about how they work, what they can be used for and how to apply.
What are business cash flow loans?
If your business struggles with late payments, cash flow finance can provide the working capital you need to grow until your customers' funds are transferred. There's only so much you can do to ensure you get paid on time, which can sometimes leave you short of cash when you need to purchase stock, repair vital machinery, or settle accounts with your own creditors.
A bank overdraft may provide a helpful buffer in the short term. However, it can only offer funds up to a set amount which may not cover the combined value of your late payments. Moreover, going overdrawn is extremely expensive due to the hefty interest rates, and arranging a facility with a bank can be very time-consuming. That won't suit you if your business needs a fast, affordable solution – such as a cash flow loan from Fleximize.
Cash flow financing from Fleximize
Fleximize's business cash flow loans have helped thousands of SMEs continue growing despite shortfalls in working capital. You can head to our business loans page for more information on our Flexiloan and Flexiloan Lite products, which come with both secured and unsecured options, but here's a summary of their key features:
Business loans of £5,000 – £500,000 over 3 – 48 months
Interest rates starting from 0.9% per month
Approval and deposit in as little as 24 hours
No hidden fees or early repayment penalties
Interest charged on a reducing balance, not the total loan amount
Repayment holidays and top-ups available with all loans
Exclusive discounts on industry-leading business services and tools through our Member Marketplace
We'll take your credit history into account when you apply, but it's not the only factor in our decision making. Our expert underwriters will also consider your business' overall performance when assessing your affordability. If you've spotted an opportunity to develop your business but lack the cash to act quickly, Fleximize's fast financing could support your growth, with funds deposited in as little as 24 hours after approval.
Which businesses are cash flow loans suitable for?
We can offer cash flow term loans to suit a wide range of SMEs, including:
We have a proven track record of lending to a variety of businesses across many sectors, with each requiring finance for different purposes. Due to the flexibility of our loan products, our packages can be tailored to almost any enterprise. To learn more about our work, whether with hospitality, retail, or wholesale businesses, check out our customer case studies.
What can cash flow finance be used for?
A Fleximize loan will provide your business with the capital it needs to grow, from covering essential costs to fuelling recruitment drives. Here are some of the most common uses we see for our cash flow finance:
| | |
| --- | --- |
| Stock purchase | VAT payments |
| Securing a new contract | Renovation & refurbishment |
| Recruitment | Staff training |
| Web development | Machinery upgrades |
| Paying suppliers | Marketing & PR |
Check your eligibility before financing your cash flow
At Fleximize, we know approaching traditional lenders can be tricky, especially if your accounts show irregularities in revenue. Our flexible lending criteria means that even if other lenders haven't approved your business, we may be able to provide the funding you need. Business owners can apply for Fleximize's cash flow loans if:
You're the company director of a limited company or LLP that is registered in the UK. If you're a sole trader or non-limited partnership with fewer than four partners, you can borrow £25,000 or more.
The business has been trading for at least six months and has a minimum monthly turnover of £5,000.
The business is located in England or Wales. If you're based in Scotland or Northern Ireland, we can offer an unsecured loan of up to £250,000.
You're a homeowner looking for a loan of up to £500,000. If you're a non-homeowner, we can support you with up to £20,000 providing your business has traded for at least 36 months.
We want to approve as many applications as we can. Even if your credit score could be improved, your application won't be automatically dismissed. All our lending decisions are made by real people who will get to know your business before recommending the best outcome for you.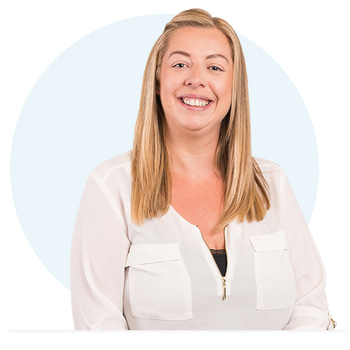 Looking For Funding? Let's Talk.
If you want to know more about how we can support your business, give our friendly team a call and you'll get straight through to someone who can help, like Sarah. Or, if you're ready to apply, get started by clicking the button below.
How much do business cash flow loans cost?
Interest rates on our loans start from just 0.9% a month. There are no hidden fees to worry about, and our Penalty-Free Promise means you can repay early and save on the amount of interest owed.
We recommend using our cash flow loan calculator to work out how much yours might cost, or you can give us a call on 020 7100 0110 for a tailored quote.
Why choose Fleximize for cash flow finance?
Finding the best cash flow loan for your business often comes down to choosing a lender you can trust. Since launching in 2014, thousands of SME owners have chosen to partner with Fleximize for our unrivalled speed, support, and transparency. Here's what you can expect when you come to us:
Flexibility: With unsecured and secured options, top-ups, repayment holidays, and our Penalty-Free Promise, you can access funding that suits you.
Fuss-free: Apply for a cash flow loan online in minutes and receive the funds in as little as 24 hours.
Trusted: Our glowing client testimonials and 'Excellent' Trustpilot rating show just how highly our customers value us.
Personal: Your dedicated relationship manager will make sure your cash flow financing is tailored to your needs. They'll also be on hand if you return for repeat funding.
Award-winning: We've twice been named the Best Business Finance Provider at the British Bank Awards. Check out our industry prizes by visiting our awards page.
How our cash flow financing has helped others
Ben Pearson, founder of plus-size clothing retailer Big Clothing 4 U, found himself in a tight cash flow situation when trying to secure a new customer showroom. He initially applied for a bank loan but was rejected due to lending restrictions. Unlike a traditional lender, Fleximize looked at his business' potential for growth as well as the books, and could offer the company £20,000 to execute Ben's vision for the brand.
Supporting growth plans:
Ben Pearson used Fleximize funding to help with his cash flow
Finance your cash flow with Fleximize
To secure a cash flow loan from Fleximize, fill out this simple application form with a few basic details. After passing our initial checks, a member of the team will be in touch to take you through the final steps. Your funds will be deposited within as little as 24 hours of your application being approved.
If you'd like more information about our funding solutions before applying, please check our FAQs or give us a call to speak with one of our experienced relationship managers.