It's common practice for small business owners to take out multiple loans over time. But if servicing your existing debts is hurting cash flow, commercial debt consolidation is one way to make them more affordable and easier to manage.
Here's how business debt consolidation loans work, including how to apply and restructure your debt with Fleximize.
What is commercial debt consolidation?
Commercial debt consolidation is a type of financing that involves repaying multiple lines of credit using one business loan from one provider. You apply for the amount you owe in existing debts, then that provider effectively pays off the other creditors and gives you a single loan to repay.
You can get a debt consolidation loan from one of your previous lenders or a new provider. For example, you might have one business loan from a bank and another from an online lender. You could take out a small business loan from Fleximize and consolidate the others so that you're left with one rate and one monthly repayment to manage.
What are the benefits of a business consolidation loan?
There are many benefits to commercial debt consolidation, including financial savings, simplicity, and flexibility.
Savings
Many businesses lower the cost of servicing their debts by securing finance from a lender with lower interest rates or better repayment terms, and using this money to repay their existing loan facilities.
Getting a lower interest rate can help you repay less overall and in a shorter time frame. Or, you can take out a new loan with a longer repayment period to reduce your monthly payments, save your business money, and improve cash flow.
Simplicity
Managing a single debt consolidation loan is usually easier than dealing with multiple facilities. You'll have a clear understanding of what you need to pay back each month, and you'll only need to communicate with one lender.
Rather than juggling repayments, calls, and emails with several loan providers, often relating to different types of funding, from asset finance to invoice factoring, you'll free up time and energy to use elsewhere.
Flexibility
The best business debt consolidation loans are those that allow you more breathing room during tough trading periods. If revenue falls or your expenses increase, having one single loan instead of expensive debts across your accounts can free up cash flow for other purposes.
Greater control over your lines of credit could also be helpful if you need to hire more staff, boost marketing efforts, or pay an unexpected bill, for example.
What to consider with commercial debt consolidation
While managing debt is an essential part of running and growing a business, funding can come with potential pitfalls. Here are two factors to weigh up if you're considering commercial debt consolidation.
Fees
Be aware that some lenders charge early repayment or exit fees. Read the terms of your existing debts carefully to check if consolidating them will cost more than keeping them separate.
Increased costs
Consolidating your debts to get lower monthly repayments might be the right move for your business in the short term. But switching to lower repayments can mean you repay more in interest overall, so make sure you understand the trade-offs involved.
Commercial debt consolidation loans from Fleximize
A small business loan from Fleximize can provide the flexibility and convenience you need on terms tailored to you. We offer unsecured and secured options through our Flexiloan and Flexiloan Lite products, which you can learn more about on our business loans page. Here's a quick overview of the key features:
Business loans of £5,000 - £500,000 repaid over 3 – 48 months
Interest rates starting from 0.9% per month
Approval and deposit in as little as 24 hours
No hidden fees or early repayment penalties
Interest charged on a reducing balance, not the total loan amount
Repayment holidays and top-ups available as standard
Exclusive discounts on industry-leading business services through our Member Marketplace
In particular, the Flexiloan is highly useful for SMEs looking to consolidate their existing debts. With repayment terms up to 48 months, and interest rates starting at just 0.9%, our finance packages could significantly improve your business' financial health.
Unlike some lenders, we assess every business individually. Even if your credit history isn't perfect, fear not – it won't be the only thing we consider. And, if we approve your application, you could receive your funds the same day.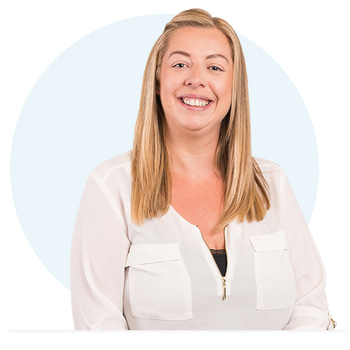 Looking For Funding? Let's Talk.
If you want to know more about how we can support your business, give our friendly team a call and you'll get straight through to someone who can help, like Sarah. Or, if you're ready to apply, get started by clicking the button below.
Check your eligibility for a small business loan
We offer business debt consolidation to UK businesses registered with Companies House.
Your company must have been trading for at least six months and have a minimum monthly turnover of £5,000.
Businesses in England and Wales can apply for a small business debt consolidation loan of up to £500,000. This can be provided on a secured or unsecured basis, depending on how much you want to borrow and over what term.
Businesses in Northern Ireland and Scotland can apply for a maximum of £250,000, and with unsecured options only.
If you're a non-homeowner, we can support you with up to £20,000.
How much does it cost?
Interest rates on our debt consolidation loans start from 0.9% per month. Thanks to our Penalty-Free Promise, there are no hidden fees to worry about, and you can repay early to reduce the interest you owe.
Your commercial debt consolidation package will be tailored to your needs and borrowing preferences. Use our business loan calculator to quickly compare loans and see what yours might cost. Or if you'd prefer to speak to someone, call us on 020 7100 0110, and we'll build a quote for you.
Why choose Fleximize for commercial debt consolidation?
We've helped thousands of businesses access the funding they need. Here's what to expect from us as one of the UK's leading digital business lenders.
Flexible: Our expert team will build a finance package that suits you. And, by taking advantage of top-ups, repayment holidays, and our Penalty-Free Promise, you can save on interest.
Fuss-free: You can apply for a debt consolidation loan online in minutes and receive your funds within 24 hours if approved.
Trusted: Don't just take our word for it – our customers have rated us 'Excellent' on Trustpilot and provided glowing testimonials.
Personal: You'll have a dedicated relationship manager to support you throughout your loan term. They'll be there if you return for repeat funding too.
Award-winning: We've twice been named Best Business Finance Provider at the British Bank Awards. Find out about the industry prizes we've picked up recently.
Apply for a debt consolidation loan
Ready to apply for a small business loan? Fill out our simple application form with a few basic details to get started. If you pass our initial checks, one of our relationship managers will get in touch to guide you through the rest of the process. Once we have everything we need, you could have funds in your account in as little as 24 hours.
Alternatively, you can give us a call on 020 7100 0110. Our friendly team will happily talk you through the details of our small business debt consolidation loans and answer any questions you may have.