If you run a limited company, you'll know that finding the right funding is crucial to the success of your business. You'll also know that it's not always easy to secure the finance you need on terms that suit you. Traditional lenders such as banks may have strict approval criteria, which can prove a major hurdle.
Meeting all of those criteria might not be possible, but that doesn't mean you're out of options. You can turn to alternative finance providers like Fleximize for a limited company loan. We want to help as many business owners as possible secure the funding they need, and a ltd company loan can provide that support. Read on to find out more about this form of finance, how it works, what it can be used for, and how to apply.
What is a limited company loan?
A limited company loan is a form of funding for businesses that are incorporated with Companies House. A limited company operates as a distinct entity from its owner, which means the owner is not personally liable for any losses the business records. That separation can also make it slightly easier to be approved for funding. We offer both unsecured and secured limited company loans, so a lack of assets needn't stand in your way.
Limited company loans from Fleximize
A ltd company loan from Fleximize can provide the finance you need on terms that suit you. You can find further information on our Flexiloan and Flexiloan Lite by heading to our services page, but here's a brief summary of their main features:
Loans of £5,000 - £500,000 over 3 – 48 months
Approval and receipt of funds in as little as 24 hours
Interest rates starting from 0.9% per month
Interest charged on the reducing balance rather than the total loan amount
Repayment holidays and top-ups available
No hidden fees or early-repayment penalties
Exclusive discounts on industry-leading tools through our Member Marketplace
When you apply for a business loan for your ltd company, we'll look at much more than just your credit history. We want to say "yes" to as many applications as we can, and if you're approved we'll work to ensure you receive your funds as quickly as possible.
To apply for a private limited company loan, all you need to do is fill out our simple online form. Alternatively, you can give us a call on 020 7100 0110 and a member of our friendly team will be happy to help.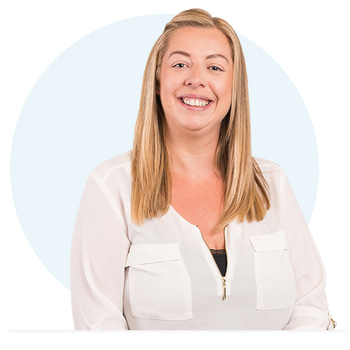 Looking For Funding? Let's Talk.
If you want to know more about how we can support your business, give our friendly team a call and you'll get straight through to someone who can help, like Sarah. Or, if you're ready to apply, get started by clicking the button below.
What can limited company loans be used for?
You might need a limited company business loan for any number of reasons, including:
| | |
| --- | --- |
| | Renovation and refurbishment |
| Recruitment | |
| | Website development |
| Paying unexpected bills | |
| | Marketing |
How our ltd company loans have helped others
Finding the right high-street location for your business can be hard enough, and securing the finance to pay for it can prove equally tricky. That was the challenge facing Polly Thompson, who previously ran Nabbd bridal wear as an online-only enterprise. Polly had enjoyed no luck with traditional lenders, but heard about Fleximize through a friend and got in touch.
After taking the time to get to know Polly and her business, we were able to provide a limited company loan of £10,000 to help her secure the Wimbledon premises she wanted. Polly has since returned twice more for further funding, with plans to expand to a franchise model.
Limited Company Loans:
Polly from Nabbd used a Fleximize limited company loan to grow her boutique shop
Check your eligibility for a limited company loan
We offer business loans for ltd companies registered in the UK with Companies House.
Your business must have been trading for a minimum of six months.
Your business must have a minimum monthly turnover of £5,000.
For any businesses in Northern Ireland or Scotland, we can offer unsecured loans of up to £250,000.
We can support non-homeowners who have been trading for 36 months with up to £20,000.
We want to say "yes" to as many applications as possible. Even if you're worried about a credit score that could be improved, rest assured it's not the only factor that we take into account.
How much does a ltd company loan cost?
The interest rates on our private limited company loans start from 0.9% per month. There are no hidden fees and our Penalty-Free Promise allows you to repay the loan early and reduce the amount of interest you owe overall.
A business loan for your ltd company will be unique in its exact details, but you can use our business loan calculator to work out how much it might cost. If you prefer, you can always call us on 020 7100 0110 and we'll be happy to build a quote for you.
How to apply for a limited company loan with Fleximize
We want to make your life as simple as possible. We know that finding the right funding for your business is not always easy, which is why we've made our application process straightforward.
All you have to do is fill out our short online form with a few basic details. If you pass our initial checks, we'll get in touch about what happens next. As soon as we have everything we need, your funds could be with you on the same day.
Why choose Fleximize for limited company loans?
We're immensely proud to have helped thousands of businesses across the UK secure the funding they need. Here's what you can count on when you apply for a limited company loan with Fleximize:
Fuss-free finance: Applying for a ltd company loan takes just a few minutes and you could receive funding within 24 hours.
Flexibility: Our Penalty-Free Promise, top-ups and repayment holidays all help to create a funding package that works for you.
Personal touch: You'll have a dedicated relationship manager to make sure your limited company loan is suited to your needs. If you come back to us for more funding, they'll be there to greet you.
Industry-leading funding: We've twice been named Best Business Finance Provider at the British Bank Awards.
Highly recommended: Our case studies show just how much our customers appreciate what we do for them, as does our 'Excellent' rating from hundreds of independent Trustpilot reviews.