What is a working capital loan?
A working capital loan is designed to cover day-to-day expenses like staff wages, utility bills and rent. It can help you keep things ticking over or plan for future growth if your cash flow is disrupted by a dip in revenue or long customer payment terms.
Working capital loans can come in handy for businesses of all shapes and sizes. In fact, the British Business Bank reports that a lack of working capital is the main reason why UK SMEs use external finance.
How do working capital loans work?
Just like a traditional loan, you'll apply to borrow an amount of money upfront and repay it in agreed instalments. As working capital loans are commonly used for short to medium-term operational needs, they usually come with repayment terms of up to 12 months rather than several years.
These business loans can be either unsecured or secured. While you may still need a personal guarantee, unsecured business loans are usually quicker to be approved. That's because they don't require you to put up assets as security.
Secured loans, on the other hand, do - and often come with lower interest rates as there's less risk for the lender. They can also be easier to access if you don't have a strong credit history.
What are the advantages of an SME working capital loan?
Whether you need to tide things over or fund a growth opportunity, these loans offer several key benefits for business owners.
Manage cash flow: If you're struggling with cash flow due to seasonality or outstanding invoices, a working capital loan can provide financial flexibility.

Short term loans: With terms of up to a year, you can cover your day-to-day expenses without committing to long repayment schedules.

Unsecured or secured: Your business may or may not have assets to put up as security but either way, you can access funding.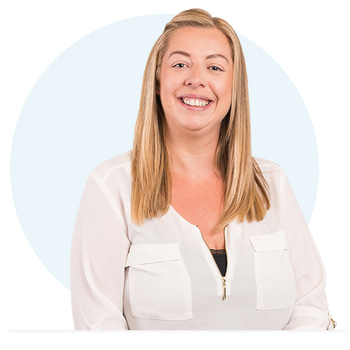 Looking For Funding? Let's Talk.
If you want to know more about how we can support your business, give our friendly team a call and you'll get straight through to someone who can help, like Sarah. Or, if you're ready to apply, get started by clicking the button below.
What are the disadvantages of a working capital loan for business?
As with any type of business finance, there are a few factors to consider before deciding whether a working capital loan is right for you.
High interest rates: Working capital loan rates can be higher than other finance options because of the short term nature of this type of funding.
Restrictions on use: Some working capital lenders specify what you can use their loans for. We don't, but it's always worth checking the finer details just in case.
What are the common uses of working capital loans?
As discussed above, many companies use fast working capital loans to help pay for immediate expenses like wages, rent and stock. This is especially true for:
Seasonal businesses, such as those in hospitality with summer peaks.
Cyclical businesses, like manufacturing companies whose sales rise and fall depending on the demands of retailers.
Companies often dealing with long payment terms, such as construction firms.
Getting a working capital loan for your UK SME could also free up cash for business expansion in the short to medium term. With your regular outgoings taken care of, you might want to use a loan to:
Hire extra members of staff and pay for recruitment fees and training.
Buy new equipment to increase production or take on larger contracts.
Move to a larger space while covering the deposit and moving costs.
Refurbish your existing premises, from soft furnishings and décor to extensions.
Invest in marketing, whether online, in print or elsewhere.
How do Fleximize's working capital loans work?
We know just how important working capital and steady cash flow is for small businesses. If you're in need of a cash flow boost, you can apply online to borrow up to a maximum of two times your monthly revenue. We offer unsecured working capital loans of up to £250,000, or secured options up to £500,000.
Here's a quick summary of how our flexible finance works:
Borrow from £5,000 - £500,000 and repay it over 3 – 48 months.
Apply online in minutes and get a decision and funding in as little as 24 hours.
Competitive interest rates starting from 0.9% per month.
Top-ups and repayment holidays available.
Repay early at no extra cost – ideal for short term capital boosts.
Pay interest on your remaining balance instead of the total loan amount.
You can visit our services page to learn more about our products or speak to our business finance experts on 020 7100 0110.
Working capital loan eligibility
Working capital loan requirements vary between lenders, but we aim to support as many businesses as possible. You can apply for a loan with Fleximize if:
You're a limited company or LLP.
Your business is based in England or Wales. We offer unsecured and secured loans of up to £250,000 to businesses in Northern Ireland and Scotland.
You've been trading for at least six months. Most working capital lenders require a minimum trading time of one year.
You have a minimum monthly turnover of £5,000.
We can lend a minimum of £25,000 to sole traders and non-limited partnerships with less than four partners.
We'll look at several factors when reviewing your application, so an inconsistent credit history won't automatically stop you from getting a working capital loan. If you meet our criteria and need some financial flexibility, give us a call to find out how Fleximize's products could help your business.
How much will my working capital loan cost?
Our working capital loan interest rates start from 0.9% per month and you won't have any hidden fees to worry about. We also offer a Penalty-Free Promise, so if your cash flow improves you can repay your loan early and save on interest.
Use our business loan calculator to get a quick estimate of what your ideal loan could cost, including monthly repayments and potential savings through repaying early. You can also call our team on 020 7100 0110 for a tailored quote. We'll be happy to create a funding package built around your needs.
Why choose Fleximize?
Since launching in 2014, we've become one of the leading working capital lenders, providing over £200 million of funding to thousands of UK SMEs. If you're thinking of borrowing from us, here's what to expect:
Fuss-free finance: Need working capital fast? Apply online in minutes and get a decision - and possibly funding - within 24 hours.
Industry-leading flexibility: Our products are fit for any business and purpose, with great features like top-ups, repayment holidays and our Penalty-Free Promise.
Personal service: Your dedicated relationship manager will find the right product, rates, and terms for your needs. They will be your contact if you return for more funding too.
These are just some of the reasons why our customers named us Best Business Finance Provider at the British Bank Awards twice and rate us highly on Trustpilot. You can read our customer stories for more examples of how we've helped businesses with their working capital.
How to apply for a working capital loan
Our fast working capital loans are quick and easy to apply for. No appointments, minimal paperwork - just complete our short online form with a few basic details.
Someone from our team will get in touch to explain what's next if you pass our initial checks. Once we have everything we need, you could get approved and receive your loan on the same day.