Whether you want to take advantage of a growth opportunity, bridge a gap in cash flow, or cover urgent costs, small business loans can give you the boost you're looking for. And while it can be tricky getting approved by traditional banks, over half of the UK's SMEs are now turning to alternative finance providers like Fleximize.
So, could small business funding be right for you? Read answers to common questions below, including how SME loans work, advantages and considerations, who qualifies, and how to get a business loan with Fleximize.
What are small business loans?
Small business loans allow SME owners to borrow money from lenders to fund a range of business activities and objectives. Uses can include anything from funding new equipment and refurbishments to covering working capital and unexpected bills.
Business lenders range from traditional high-street banks to alternative online providers, with loan structures, amounts, repayments, interest rates and application processes varying between them.
It's now easier than ever to find an SME loan that's tailored to your unique needs – and that's where Fleximize comes in. Learn more about our products here, or keep reading for answers to common questions about UK small business loans.
How do small business loans work?
Much like a personal loan, a typical SME business loan involves you, as a business owner, borrowing an amount of money from a lender upfront. You will then repay the loan amount, with interest on top, over an agreed length of time. Timeframes can range from a few months to several years. At Fleximize, our terms run from 3 to 48 months.
What types of small business loans are available in the UK?
Small business loans are usually split into two key categories: unsecured and secured.
Unsecured business loans don't require personal or company assets such as property or equipment to 'secure' the loan. Lenders often ask for a personal guarantee from the business owner and any other shareholders or company executives instead. Secured business loans, on the other hand, can help you access larger amounts of funding at better rates because offering an asset as security reduces the lender's risk.
The best business loan for you will depend on details such as how much you want to borrow, your asset base, and personal preferences around credit.
We understand that no two businesses are the same. That's why we offer small business loans with unsecured and secured options and plenty more flexibility built-in, including repayment holidays, top-ups, and penalty-free early repayments.
Are there other types of small business funding?
Small business finance in the UK is evolving all the time, with products to suit different industries and business needs. Other common forms of funding include:
You can read more about your options in our guide to alternative finance.
Do I qualify for an SME loan?
It can be tough to meet the strict business loan requirements of traditional lenders, particularly if you've not been trading for long or have poor credit.
But we try to say 'yes' to as many businesses as possible – as long as we think the business can afford the repayments and that the loan will benefit them.
Whatever your size or industry, your business can apply with Fleximize if:
You're a limited company or an LLP
You're UK-based and at least one director lives in the UK
You've been trading for at least six months
You have a minimum monthly turnover of £5,000
We also lend to sole traders and non-limited partnerships with less than four partners who require more than £25,000.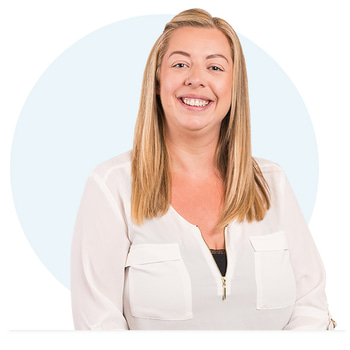 Looking For Funding? Let's Talk.
If you want to know more about how we can support you business, give our friendly team a call and you'll get straight through to someone who can help, like Sarah. Or, if you're ready to apply, get started by clicking the button below.
What are the advantages of getting a business loan?
Around 60% of UK SMEs are currently using external finance, according to the British Business Bank. If you're thinking of joining them, small business loans can offer great benefits:
Fund your growth: Need a financial boost for a long-term project or an immediate opportunity? An SME loan can help you grow and achieve your goals.
Boost cashflow: Most businesses face ups and downs. Getting a business loan could help you keep things running through those quieter periods.
Tailored to your business: With an increasing amount of funding options available to UK SMEs, you can choose from secured and unsecured options with repayment terms that suit you.
What are the disadvantages of small business funding?
It's important to do your research before applying for any kind of finance. Here are a couple of points to consider with small business loans:
The cost of borrowing: You'll need to budget for repayments, interest and any other fees on top. Some lenders charge upfront fees, as well as early repayment fees if you want to pay your loan back sooner – but we don't.
The application process: Getting a business loan with traditional providers can involve complicated application processes and lengthy wait times. Thankfully, you can apply online with Fleximize in minutes and get a decision in as little as 24 hours.
What can I use an SME business loan for?
Customers use our products to fund a range of long and short-term priorities, including:
Refurbishing or extending business premises, such as hotels and restaurants
Buying new equipment, such as vehicles, technology and software programs
Hiring staff to meet increased demands or create new opportunities
Buying stock to fulfil large orders, diversify, or take advantage of discounts
Covering urgent or unexpected costs like tax or repair bills
Bridging gaps in lengthy payment terms
Read more about how businesses use our funding in practice by exploring our customer case studies.
How much can you borrow with a small business loan?
Small business funding amounts vary from lender to lender. With Fleximize, you can apply to borrow between £5,000 to £500,000, depending on your monthly revenue.
We can lend up to a maximum of two months' revenue. So, if you generate £50,000 in a typical month, you could borrow up to £100,000 initially. After a few successful repayments, you can then apply to top this up – which is a popular feature amongst customers.
How much do UK small business loans cost?
We offer small business loans with interest rates starting from 0.9% per month and no nasty hidden fees to worry about. Unlike other lenders, we don't charge early repayment fees either, so you could pay less interest overall by repaying in full earlier than planned.
You can see an estimate of what your SME business loan could cost before applying by using our business loan calculator. When you're ready to get in touch, we can give you a tailored quote.
Why choose Fleximize for small business finance in the UK?
It's important to partner with a business lender you can trust. Since launching in 2014, we've lent over £150 million to thousands of SME owners like you. Here's why you should consider our small business loans:
We're flexible: With unsecured and secured options, top-ups, repayment holidays, and no early repayment fees, you can get an SME loan that suits you to a tee.
We're hassle-free: Got enough on your plate? Apply online in minutes and get the funds you need in as little as 24 hours.
We're personal: Our team will work with you to put together the best business loan for your needs. If you come back for more, you'll be welcomed by the same point of contact.
We're loved by customers: Don't just take our word for it. Our customers named us the Best Business Finance Provider at the British Bank Awards and rate us 'Excellent' on Trustpilot. Read our customer stories – or learn more about our awards.
How to apply for a business loan with Fleximize
There's no need to jump through hoops to get a small business loan with Fleximize. Our application process is quick and easy, and goes a little like this:
Apply online in minutes
Get a decision in 24 hours
See your funds soon after
Use our secure online form to apply for funding in less than five minutes. You'll find out if you've passed our initial checks instantly. If you do, we'll ask you to provide a few documents – but nothing too demanding.
We'll pair you with a dedicated relationship manager who'll take things from there and aim to give you a final decision within 24 hours.
If we say yes, we'll send your funds immediately – usually landing in your account on the same day.