There's only so much you can plan for as a small business owner. You might not have enough working capital for surprises like machinery faults, unexpected bills or customers missing payments. Or maybe you need extra funds to seize an opportunity and buy more stock?
Whatever the situation, a quick business loan could offer the boost you're looking for. Some alternative lenders such as Fleximize can even approve your application and transfer funds within 24 hours to help you tackle challenges right away.
Read more about how fast business finance works below, including who qualifies and how to apply with Fleximize.
What are quick business loans?
Small businesses often need to move quickly to get finance. Many can't afford to wait weeks for a decision from the bank, especially when an exciting opportunity pops up or cash flow takes a sudden dip. That's where quick business loans can come in.
Traditionally, a business owner would have to make an appointment and produce reams of paperwork to get a loan. But alternative finance providers like Fleximize can offer funding with:
A quick online application process
Fast approval
Swift transfers
It's easy to see why fast business finance is so popular. According to the British Business Bank, convenient application and speedy approval are the top two reasons for positive borrowing experiences among UK SMEs.
How long does it take to get a business loan?
The time it takes to get business funding usually depends on three key stages:
1. Application
This could take minutes if applying online with a lender such as Fleximize, or longer if waiting for an appointment. With our secure online form, you'll find out if you've passed our initial eligibility checks instantly.
2. Approval
The next step usually involves the lender carrying out credit checks and reviewing documents such as bank statements and management or filed accounts before saying yes or no. If you need a business loan with fast approval, it helps to have these bits ready upfront. As Fleximize uses Open Banking to help processes applications, we're usually able to offer a final decision within 24 hours.
3. Funding
Once the lender has run compliance checks and both parties agree on the loan terms, all that's left is to transfer the money to your account. We'll do this on the same day as approval after receiving your signed loan documents.
Bear in mind that the type of loan you apply for can also make a difference. Typically, secured loans tend to take longer to go through than unsecured loans, for example, due to the extra legal processes involved with assets.
At Fleximize, we can turn both types of loan around in no time at all. Our secured funding is designed as a backup if you don't qualify for an unsecured loan, or if you want repayment terms over 36 months.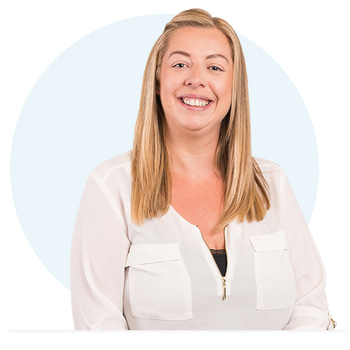 Looking For Funding? Let's Talk.
If you want to know more about how we can support your business, give our friendly team a call and you'll get straight through to someone who can help, like Sarah. Or, if you're ready to apply, get started by clicking the button below.
What can I use a fast business loan for?
Our quick and easy business loans can be used for almost any purpose, including buying stock, taking on large contracts and upgrading machinery.
Securing new premises
If you're searching for a new office or other business premises, securing the property will probably require a deposit. This could be 10-20% of the property's sale price or the equivalent of one to three months' rent.
Our quick business finance can provide the funding for a deposit, helping you beat other businesses to your ideal property while spreading the cost over monthly instalments.
Landing that big contract
Opportunities can present themselves when you least expect them. For example, a small construction firm might find out last minute about a large project that's been put out to tender - but fulfilling that contract may rely on buying expensive new machinery.
Other SMEs sometimes need extra working capital to bridge the gap between producing goods and receiving payment. Whatever the situation, a Fleximize quick business loan could cover the cost and help you seal the deal.
Paying your bills
Bills and invoices can be tricky to stay on top of, especially during quieter sales seasons. Occasionally you'll be hit with a bill that's much larger than anticipated - or which you weren't expecting at all. To protect cash flow and keep your business growing, you could borrow the money to help cover the cost.
Our fast business funding has helped many businesses with their bills, whether it's quarterly VAT payments or supplier invoices.
Buying more stock
Stock control is crucial for retail businesses. If a large order comes in or demand suddenly spikes, you may need to buy in bulk or diversify your product range. Why not protect cash flow and fund the purchase with a quick small business loan?
Alan Barrie, owner of Montagne Sports, used a Fleximize loan to buy a large quantity of discounted stock from a supplier. "It's not about getting finance to survive, it's about getting finance to allow us to see opportunity and expand," said Alan.
How does Fleximize's quick business finance work?
We know how to cater to the needs of quick movers. By combining cutting-edge tech with a simple application process, we could fund your business within 24 hours. Here's everything you need to know:
Quick business loans of £5,000 – £500,000 repaid over 3 – 48 months
Speedy online application with minimal paperwork
Approval and deposit in as little as 24 hours
No hidden fees or early-repayment penalties
Interest charged on a reducing balance, not the total loan amount
Repayment holidays and top-ups available with all loans
Competitive interest rates starting from 0.9% per month
Does my business qualify for a quick UK business loan?
Approval criteria is different for every lender, but we try to say yes to as many businesses as possible. Whatever your size or industry, you could apply for a fast business loan with Fleximize if:
You're a limited company or LLP.
Your business is based in England or Wales. We can offer an unsecured loan of up to £250,000 if you're based in Northern Ireland or Scotland.
You've been trading for at least six months.
You have a minimum monthly turnover of £5,000.
If you're a sole trader or a non-limited partnership with less than four partners, we can lend a minimum of £25,000.
Our flexible lending criteria means we won't automatically dismiss a company with an inconsistent credit history. We take the unique circumstances of every business into account.
So if your business has been trading for six months or longer, you can apply now by clicking the button below.
Apply for fast business finance
How much can I borrow?
We offer fast business loans for UK SMEs from £5,000 to £500,000, up to a maximum of two months' revenue. So if you earn £30,000 in a typical month, you could borrow up to £60,000 initially.
If you need more, you can apply to top this up after making a few successful repayments. Most of our customers do come back to us again for extra funding to support their growth plans.
How much will my quick small business loan cost?
We offer interest rates starting from 0.9% per month and there are no hidden fees to worry about. Our Penalty-Free Promise allows you to save on interest by repaying early too.
Use our business loan calculator to get an instant estimate of what your loan could cost, including potential savings through early repayment. For a tailored quote, call us on 020 7100 0110. Our team can create a fast business funding package that's tailored to your needs.
Why apply for fast business finance with Fleximize?
We haven't hung around since launching in 2014, lending over £200 million to thousands of SMEs like yours. Here's why you should get in touch for a quick business loan:
We're fast: Need funds without any fuss? Apply online in minutes and get the boost you need in as little as 24 hours.
We're flexible: Avoid hidden fees and repay early at no extra cost. You can take advantage of top-ups and repayment holidays as standard, too.
We're personal: Your dedicated relationship manager will get to know your needs and make sure your funding meets them.
We're recommended: Our customers named us Best Business Finance Provider at the British Bank Awards in 2020 and 2018 and rate us 'Excellent' on Trustpilot. Read our customer stories and learn more about our awards.
How to apply for our fast business funding
Applying for one of our quick and easy business loans couldn't be simpler - just complete our short online form with a few basic details.
If your business passes our initial checks, a member of our team will be in touch to take you through the final steps. Once we have everything we need, you could get approved and receive your loan on the same day.