It's not only corporate giants or unicorn startups that need sizeable investment; small businesses often have big plans that require a hefty cash injection. However, most SME owners will quickly encounter restrictions when it comes to securing funding, particularly with a high street bank.
Digital lenders like Fleximize emerged for this exact reason. While smaller companies may not require a loan value on the scale of a global enterprise or have a perfect trading history, their contribution to the economy is vital. In 2021, SMEs made up 99% of all UK businesses and supported 48% of the nation's employment.
For an established SME, a £100k business loan is more than sufficient to fuel remarkable changes. Whether for a down payment on a new property or to fund a large project, expanding your financial backing can help you increase productivity and compete with major players. Read on to find out more about £100k small business loans, what they can be used for, and how to apply with Fleximize.
Why apply for a £100k business loan?
It's not uncommon for businesses to outstrip their financial resources. As demand grows, you must elevate your marketing, product development, recruitment, and more to capture the burgeoning market. However, unless you see an immediate return on this, your spending can result in a cash flow gap.

A £100,000 business loan is a vital lifeline for business owners wanting to meet or exceed growth forecasts, and can be used in various ways to ensure you reach your goals. For example, it could help you manage your invoice terms. With a fast, affordable business loan, you can continue to accept new clients, win additional contracts, and cover your overheads despite payment delays.
For many small businesses, VAT and other bills accrued during the pandemic. Depending on your other outgoings, you may require funding of up to £100,000 to meet your tax obligations throughout the financial year. A business loan can help spread the costs of other expenses, too, like an asset purchase.
A £100k business loan could fund multiple areas of your business. That's why many of our customers have created a cash pot they can dip into over time, giving them the freedom to pivot to new opportunities.
£100k business loans from Fleximize
If you're looking for business funding but want to avoid lengthy interviews and endless paperwork, Fleximize could be your perfect funding partner. We provide £100,000 business loans on an unsecured or secured basis through our Flexiloan and Flexiloan Lite products. To learn more about our funding options, including our range of loan sizes and terms, visit our business loans page. Read on for the key features of our loan products:
We want to help small businesses in the UK get access to funding, so we aim to say yes to as many applications as possible. We've kept our loan criteria as flexible as our product features, so even if your business isn't eligible for a traditional bank loan, we may be able to help. Providing you've traded for at least six months, we'll consider businesses regardless of their less-than-perfect credit score or trading history.
Why choose Fleximize for business loans?
Although we're a digital lender, we strive to keep the personal touch. Ensuring our customers are happy with their funding solution and their business will benefit is our top priority. Here's what to expect from Fleximize when applying for a 100k small business loan.
How to get a £100k business loan
If you've been unsuccessful with a traditional lender, you might think getting a £100k business loan isn't a possibility. However, we've been able to help many businesses that high street banks turned away because our lending criteria is very different. You can apply for a Fleximize business loan providing:
Our loan values and terms vary slightly by location:
Fleximize's £100k business loan calculator
To estimate the total cost of your £100,000 business loan, you can use our business loan calculator to see a breakdown of your monthly repayments. If you'd prefer a tailored quote, contact our team on 020 7100 0110.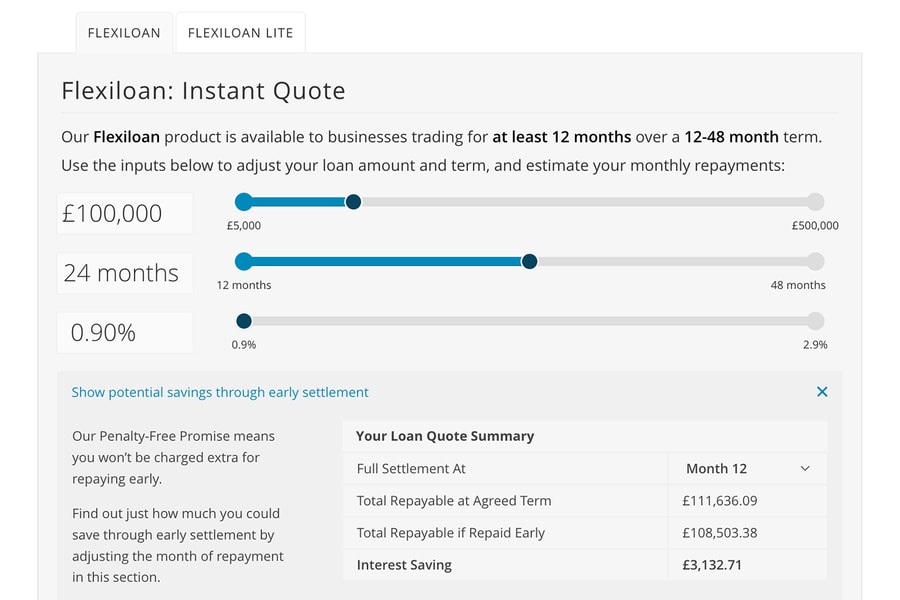 Apply for a business loan today
To apply for a £100,000 business loan with Fleximize, complete our quick and easy online form with a few details, and we'll be in touch if you pass our initial checks. Once we have everything we need, you can get approved and receive your funds in just 24 hours.

Looking for more than £100k?
Need more than £100,000 to achieve your growth plans? Or perhaps you require a smaller sum to boost your cash flow? We offer loans from £5,000 to £500,000, which means Fleximize can support you whatever your financial needs. Check out our finance packages worth £50,000 to learn more about the products available to you.