Offering assets as collateral against a secured business loan could help you access the finance your company needs. Find out everything you need to know about this type of funding below, including pros and cons, who qualifies, and how to get a secured business loan with Fleximize.
What is a secured business loan?
Secured business loans are higher-value funding sources that require a borrower to offer something as 'security', usually a company or personal asset such as property or equipment. This means the loan is 'secured' against one or more of these assets, which the lender can seize if a business stops making repayments.
Secured business funding is the best-known form of finance among British SMEs, according to the British Business Bank. Typical uses include:
Purchasing commercial property
Financing a refurbishment of premises
Covering the cost of new machinery
Boosting cashflow or working capital
Completing a management buy-out
From innovation to quick growth opportunities, you can view our customer case studies for more examples of how businesses use these loans. Take Danny Bloomfield of Premier Education Group, who used £105,000 to buy out his business partner and invest in a new franchise.
Small business loans – secured or unsecured?
Secured small business loans differ from unsecured business loans, which don't require any security.
Businesses can generally borrow more with a secured business loan. With Fleximize for example, you can apply to borrow up to £250,000 on an unsecured basis, or up to £500,000 with security.
Lenders tend to consider secured business loans as less risky than unsecured loans. This is because lenders have a better chance of recovering their money if it's secured against a valuable company asset. As a result, you could be offered better interest rates and longer repayment terms with a secured product.
Application and funding usually take longer with secured business finance, due to the time it takes to value assets. However, at Fleximize, we typically use an equitable charge, so you don't have to wait weeks for approval from existing lenders, meaning we can release funds on the same day as approval.
We know different loans work for different businesses, which is why we offer the flexibility of unsecured and secured funding options.
What can I use as collateral for secured business finance?
Secured business loan requirements vary between lenders, but you could put forward assets such as:
Commercial or personal property
Vehicles
Equipment
Our customers usually put up personal property as security.
It's important to bear in mind that your assets will usually need to be worth around the same as the total loan amount you apply for. Many lenders have a maximum loan-to-value (LTV) ratio of under 90%, which means they will only lend up to this percentage of your assets' value.
With Fleximize, there are no such LTV limits on loan terms up to 24 months. In some cases, we can even lend at over 100% LTV to help you grow.
What are the advantages and disadvantages of a secured loan for a business?
Secured business funding can be an ideal option for businesses across a variety of industries. Here's why:
Large loan amounts: Offering security can unlock higher levels of funding – even up to 100% of the value of the asset if you borrow from Fleximize. This could make a secured business loan perfect for investing in your growth or covering a gap in cash flow.
Better rates: You'll usually be offered lower interest rates in return for reducing the lender's risk, making secured funding more cost-effective in the long term.
Longer loan terms: We offer loan terms up to 48 months on our secured business loans to help spread the cost and keep your monthly payments down.
There are some potential drawbacks to secured small business loans, depending on your situation.
You may not have enough valuable assets to put forward as a security, in which case an unsecured business loan could be a better option.
Your nominated assets will be at risk if, for whatever reason, your business becomes unable to make the repayments.
If you're not sure whether a secured loan is right for you, call our friendly team on 020 7100 0110. We can talk you through your options and put together a finance package that's tailored to your business.
How much can I borrow with a secured commercial loan?
Secured business loan amounts vary between lenders. By offering security with Fleximize, you can apply to borrow up to two months' revenue between £5,000 and £500,000 depending on the value of your assets.
So, if you earn £50,000 in an average month, you could apply for a loan of up to £100,000. We can then offer quick and easy top-ups after you make a few successful repayments.
Who qualifies for secured business loans in the UK?
If you have valuable company assets to offer, there's a good chance your business could qualify for a secured commercial loan. You could apply online for up to £500,000 in less than five minutes with Fleximize if:
You're a limited company or LLP.
Your business is based in England or Wales. We can offer an unsecured loan of up to £250,000 if you're based in Northern Ireland or Scotland.
You've been trading for at least six months.
You have a minimum monthly turnover of £5,000.
We don't apply the same strict lending criteria as banks, which means we will consider applications from businesses with an imperfect credit history. If you can demonstrate how you've turned around an inconsistent track record of repaying debt, and have evidence of sustained revenue growth, you might be eligible for a secured small business loan.
How much will my secured business funding cost?
At Fleximize, the overall cost of your loan will include the loan amount itself, plus interest and a nominal fee which you'll see upfront. You may face extra fees for arrangement, overpayments and early repayment with some lenders.
We offer interest rates starting from 0.9% per month. Thanks to our Penalty-Free Promise, you can repay your secured loan early at no extra cost and only pay interest for the time you have the loan.
Use our award-winning business loan calculator to get an instant estimate of what your secured business loan could cost. If you'd like a tailored quote, give us a call on 020 7100 0110. We'll be able to create a funding package around your specific needs.
What are legal and equitable charges for secured business loans?
For a business loan secured against property, a lender will register one of two charges: a legal charge or an equitable charge.
The type of charge used typically depends on whether the property owner is restricted from selling without the consent of an existing lender, such as a mortgage provider.
What is a legal charge?
A legal charge gives the lender the power of sale if a borrower can't keep up with payments. However, if there is already a legal charge on the property, a lender will need to get the consent of the existing lender. This can leave the borrower waiting weeks for funds to become available.
What is an equitable charge?
Some lenders will instead register an equitable charge, which doesn't require the existing lender's consent. While it doesn't give the lender power of sale over the property, it does provide them with some security. This means that your loan can be funded within hours of approval, rather than weeks.
We offer fast secured business loans secured via equitable charge to save you waiting around.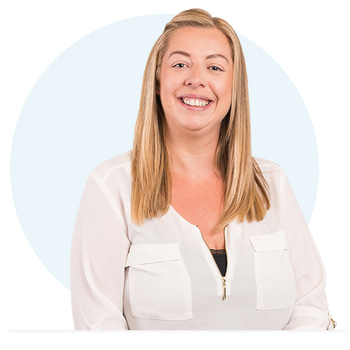 Looking For Funding? Let's Talk.
If you want to know more about how we can support your business, give our friendly team a call and you'll get straight through to someone who can help, like Sarah. Or, if you're ready to apply, get started by clicking the button below.
Will I need a personal guarantee for a secured business loan?
It's likely that you'll also be asked to give a personal guarantee as additional assurance for the lender. This means making other individuals liable for the loan, whether that's a company director or somebody outside of the business. This can often depend on your company status, as outlined below.
Limited companies and LLPs
If your business is a limited company or limited liability partnership (LLP), the majority of lenders will expect you to provide a personal guarantee alongside company collateral.
Directors or shareholders with a minimum of around 25% share in a limited company are also likely to be asked to provide a personal guarantee.
Sole traders and partnerships
When it comes to sole traders and partnerships with unlimited liability (not LLPs), you're always personally liable.
Since every lender has a different approach to decision-making, it's worth looking closely at each lender's terms. Consider, however, that if you refuse to provide a personal guarantee, this could reflect badly on your application and intention to pay back the money.
At Fleximize, we ask for a personal guarantee from at least one director or shareholder in your business for our secured small business loans.
How Fleximize's secured business loans work
Our secured business loans are a great funding solution for fast-growing SMEs and can be used to finance anything from new equipment to an office refurbishment. They're also an ideal alternative to bridging loans for property developers or businesses that are looking to purchase new commercial property.
All our loans come packed with a range of flexible features, including top-ups and repayment holidays. The key details of our secured business loans are as follows:
Borrow £5,000 to £500,000 over 3 – 48 months
Competitive interest rates starting from 0.9% per month
Approval of funds in as little as 24 hours of submitting a full application
Loans are usually secured via an equitable charge, meaning we can deposit funds the same day as approval
Industry-leading flexibility, including top-ups and repayment holidays
No exit fees or early repayment charges
Our loans are amortizing so you'll save on interest if you want to make overpayments without settling in full
Why choose Fleximize for your secured business finance?
It's important to partner with a secured business loan provider that you can trust. There are plenty of reasons why thousands of SMEs have come to us since we launched in 2014, including:
We're flexible: Our flexible secured loan features are designed to support your growth, not get in the way. Enjoy top-ups and repayment holidays as standard and save on interest if you repay early.
We're award winners: We're making business finance better. Our customers have named us Best Business Finance Provider at the British Bank Awards, twice. We also have a growing roster of additional awards and our customers have rated us 'Excellent' on Trustpilot.
We offer more than just finance: Funding is just one part of running a successful business, so we've created supporting initiatives like our Knowledge Hub and Member Marketplace.
We keep it personal: Our team will take the time to really understand your business and offer you a funding package tailored to your needs. You'll always have the same dedicated point of contact, too.
How to get a secured business loan with Fleximize
Taking out a loan is a significant financial commitment for any business, so it's essential to have all of the information you need before applying. Give us a call on 020 7100 0110, and our team will happily talk you through the ins and outs of our secured business loans.
Ready to apply? Simply fill out our application form online. If your business passes our initial checks, someone will get in touch to guide you through the next steps and make sure that your funding package is tailored to your needs. Once we have everything we need, we could say yes and transfer your funds in as little as 24 hours.