Like most brick-and-mortar businesses, IT consultancies have regular outgoings. However, in addition to rent, utilities, and wages, IT businesses have to cope with many other expenses. These might include upgrading or renewing software licenses, purchasing the latest hardware, or undertaking technical training. While expensive, such investment is necessary to offer clients the best IT support possible.
For large IT firms with well-established customer bases, these are typical overheads that can easily be absorbed. Smaller setups, on the other hand, must carefully balance managing cash flow and improving their services.
At Fleximize, we offer fast and flexible funding tailored to satisfy your business's needs. Find out more about our loans, how your IT business could benefit, and what you need to do to apply.

What are IT business loans?
In simple terms, IT business loans are a form of financial aid for companies that provide IT-related services. These products can be used by a range of organisations within the IT sector, from consultancy firms to managed service providers. By offering an instant cash boost, a business loan is one type of finance that can help you overcome the common pitfalls of running a small business.
Business loans will typically come with secured and unsecured options, and terms and rates vary between providers. Fleximize can tailor your loan to suit your business' size, services, and goals, whether you're a fast-growing tech startup or an established cybersecurity firm.
How our IT business loans work

Our IT finance packages are fast, flexible, and affordable. We offer two loan products, the Flexiloan and the Flexiloan Lite. Both are available on a secured or unsecured basis and come with a number of benefits. You can read an in-depth breakdown on our business loans page, but here are the key details:
Business loans of £5,000 – £500,000 over 3 – 48 months
Interest rates starting from 0.9% per month
Approval and deposit in as little as 24 hours
No hidden fees or early repayment penalties
Interest charged on a reducing balance, not the total loan amount
Repayment holidays and top-ups available with all loans
Exclusive discounts on industry-leading business services and tools through our Member Marketplace
Even our application process is flexible. We'll get to know your business, listen to your needs, and find the package that matches your requirements. As long as you've been trading for longer than six months and pass our basic credit checks, you could be eligible for one of our IT business loans.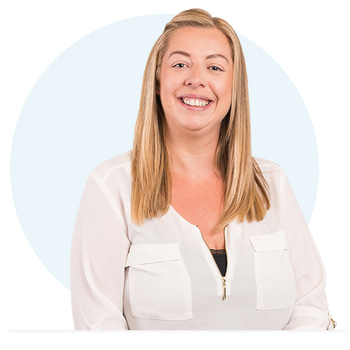 Looking For Funding? Let's Talk.
If you want to know more about how we can support your business, give our friendly team a call and you'll get straight through to someone who can help, like Sarah. Or, if you're ready to apply, get started by clicking the button below.
Am I eligible for an IT business loan?
The application process for our IT business loans is quick and easy. But before you begin, it's worth noting that there are a few basic requirements your business must fulfil:
Your business must be UK-based and registered with Companies House.
You need to have 6 months' trading history or more with a minimum monthly turnover of £5,000.
Businesses based in England or Wales can apply for up to £500,000 on an unsecured or secured basis. If you're based in Scotland or Northern Ireland, we can offer an unsecured loan of up to £250,000.
If you're a non-homeowner but you've been trading for 36 months or more, you can apply for up to £20,000.
What can you use an IT business loan for?
Usually, IT businesses come to us for help resolving cash flow challenges. However, we've provided loans to IT businesses for a variety of purposes, including:

Purchasing hardware
Renewing software licenses
Recruitment drives

Fleximize's financial packages have been designed to fit almost any business purpose. That's because we put flexibility at the heart of our services, with top-ups, repayment holidays, and early repayments available with every loan. Get in touch today to discover how our business funding could work for you.

How much does an IT business loan cost?
The interest rates for our IT business loans start at 0.9%. As interest is charged against your reducing balance rather than the total amount, you can save money by repaying ahead of time. Additionally, there are no early repayment fees thanks to our Penalty-Free Promise.
If you'd like an estimated cost of your IT business loan, why not try our award-winning business loan calculator? Just enter the amount you want to borrow and your desired repayment period. Or, if you'd prefer to speak to a member of the team, call us on 020 7100 0110, and we'll create a tailored quote.
Why choose Fleximize for an IT business loan?
We're a digital lender that provides truly flexible funding options. There are many reasons why you can count on us to support your IT business, but here are just five:
Flexibility: You can benefit from a loan package that's fitted to your business' needs and is protected by our Penalty-Free Promise.
Fuss-free: With our speedy application form, it takes just five minutes to submit your information. Once approved, you could have your funds within 24 hours.
Personal: We'll assign a dedicated relationship manager to look after your every need. You'll also be greeted by the same team member if you return for extra funding, as many of our customers do.
Award-winning: We've won a whole host of awards and industry accolades. Most notably, we've twice been named Best Business Finance Provider at the British Bank Awards.
Trusted: We're extremely proud of the quality of our service, but you don't have to take our word for it. Read what our customers have to say in our reviews on Trustpilot and via our testimonials.
Apply for an IT business loan today
Our fast, flexible finance could be the key to your IT business' growth. Best of all? You can begin your application whenever you're ready. Simply fill out our online form, and a member of our expert team will be in touch to talk you through the next steps. Once we have everything we need, your funds could be released in just 24 hours.
If you'd like to learn more about our service, how getting an IT business loan works, or anything else about Fleximize, read through our FAQs or call us on 020 7100 0110.