For small businesses, choosing the right e-commerce platform is vital. While it's possible to sell through a custom-made website, any retail business wanting to scale its operations will need to leverage a third-party platform such as Shopify, Adobe Commerce, or BigCommerce.
Migrating to a new e-commerce platform is undoubtedly time-consuming, but it's worth it in order to scale your business. It's vital to invest in a robust platform that delivers a quality shopping experience for your growing audience.
There are many options available in the UK, each with its own advantages and limitations. To help you find the right e-commerce solution for your online business, we compared the top five platforms for small retailers below.
Shopify's market share is growing rapidly, along with its devoted customer base. In the UK alone, it has over 150,000 businesses using its platform to sell a variety of products. It's incredibly easy to use and well-designed, and doesn't require a sizeable budget, so it's great for new business owners.
Pros
The platform is very easy to set up and use, and there's a plethora of articles, guides, and video tutorials available to help you get started. You can also get a 14-day free trial to test its e-commerce functionality before creating an account.
Shopify provides an extensive theme library offering both free and paid templates. These are mobile responsive and customisable, so there's no need to hire a professional website designer.
The POS functionality and omni-channel sales features mean you can create a seamless experience across your brick-and-mortar and online stores.
Users can sell unlimited products and can sync their product catalogue to sell directly through Facebook, Instagram, and eBay.
Shopify's pricing structure is clear and simple, with basic plans starting from as little as £19 per month, if you take out a yearly contract.
Cons
There are limits on the extent to which you can customize Shopify's themes to reflect your brand image and distinguish your online shop from other Shopify-powered sites.
Although the monthly subscription fee is affordable for small business owners, users have to pay for a range of third-party apps and integrations as well as transaction fees.
Another popular e-commerce platform for UK retailers is Adobe Commerce, which has some key differences to out-of-the-box solutions like Shopify. Where the latter focuses on useability, Adobe Commerce's strengths lie in its vast array of features and design capabilities. This makes it a great choice for established businesses looking to consolidate their online presence, but it comes at a hefty cost.
Pros
As an open-source platform, there are virtually no limitations on designing your online shop front, so you can create the perfect look and feel for your brand and its customer base.
Adobe Commerce provides an extensive range of built-in features including inventory management across sales channels and locations, custom product recommendations, and seamless integration with social media platforms and marketplaces like Amazon.
The platform is fully scalable, and will smoothly grow with your business as its product range, sales volumes, and customer base expands.
It's a mobile-friendly platform, so you can develop a website that works across a range of devices without compromising on customer experience.
There is a free version, which has limited functionality but can be a good fit for small business owners.
Cons
The platform can be quite intimidating for beginners. Many business owners find the UI difficult to use, and it requires a fair amount of coding expertise. Unless you plan on hiring a skilled web developer, you may struggle to get your e-commerce store up and running.
Compared to other platforms, it's an expensive solution. Your plan will depend on the size of your business, but licenses start at $22,000 annually for merchants generating under $1 million in revenue.
If you're looking for a happy medium between the usability of Shopify and feature-tastic Magento, then BigCommerce is a safe bet. It doesn't have the extensive functionality of Magento, but it's user-friendly, has a number of built-in features, and is affordably priced. If you're a relatively young business looking to get your products online and selling, BigCommerce is a definite contender.
Pros
It focuses on product visibility, ensuring sites are discoverable on search engines with proven SEO tactics including search-friendly themes, sitewide HTTPS, and automatic sitemaps.
There are a number of great built-in features including reporting and analytics, cart-level discount tools, product reviews, custom product recommendations, one-page checkout and digital wallets.
It's easy to integrate with eBay, Amazon, Google Shopping, Facebook, and Instagram so that sellers can track and process orders across a range of sales channels from one inventory.
Similarly to Shopify, there's no coding involved. You can easily build a sophisticated website using the customizable themes that are available to you in the Theme Marketplace.
BigCommerce Essentials offers affordable pricing for small business owners starting at $29 per month. Again this is if you take out a yearly contract.
Cons
There are limits on your sales volumes, and to exceed this number, you'll have to upgrade to the next tier. On the standard plan, the limit is $50,000 per year.
Only 12 of BigCommerce's themes are free of charge, so you may need to upgrade to a paid one if you want a website design that reflects your brand image.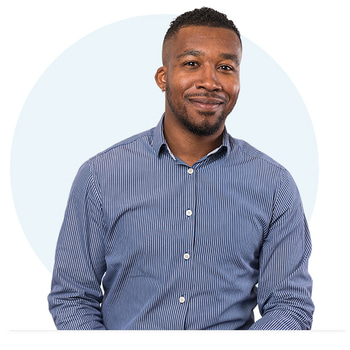 Looking For Business Funding?
If you want to know more about how we can support your business, give our friendly team a call and you'll get straight through to someone who can help, like Ryan. Or, if you're ready to apply, get started by clicking the button below.
Since launching in 2002, EKM has helped more than 80,000 people to create their own successful online shop. With a wide array of built-in features, a straightforward interface, and a UK-based support team, EKM is a great choice for smaller retailers looking for a helping hand to launch a successful online shop.
Pros
With EKM's Evolution Mode, your website is continually scanned for errors so you can focus on running your business rather than trawling site pages for broken links or out-of-stock inventory.
EKM provides over 70 free themes that are fully responsive and customisable, but you have the option of building your own unique theme as it's HTML/ CSS friendly.
All plans include a range of built-in features that reduce the need to rely on third-party tools, such as automated email marketing, discount management, live chat, quick views, and a loyalty points system.
With any EKM plan, you can integrate with Facebook, Twitter, YouTube, and eBay. For an additional fee, you can use their Google Shopping Management Service to monitor your Google Ads account.
It's a widely affordable option, with prices starting at £19.99 + VAT per month.
Cons
The basic plan doesn't include an account manager, and Evolution Mode is limited to one annual check. For greater support and features, you'll need to upgrade to the basic plan priced at £37.49 + VAT per month.
Customer support isn't available over the phone 24/7, but you can submit a ticket out of hours.
Powering over 300,000 online shops globally, PrestaShop has created a unique community where merchants can share their tricks of the trade. Importantly, it's completely free. While you don't get the functionality offered by Magento, or the intuitive user interface of Shopify, it's a worthy candidate for your initial months of trading online.
Pros
PrestaShop has a focus on real-time data analysis, providing access to all the key metrics in one dashboard to improve the visibility of your online sales. This can also be integrated with Google Analytics for a complete view of your online presence.
There are over 2,000 ready-to-use PrestaShop themes that are highly customisable and mobile responsive.
Similarly to Magento, it's an open-source solution that enables business owners to customize their online shop with a unique appearance and in-demand features that suit their customers.
Although users have to pay for a number of extra modules, PrestaShop comes with various built-in features including email marketing, discount modes, one-page checkout, SEO tools, and inventory management.
As a multilingual and multicurrency platform, it's possible for retailers to scale their business internationally.
Cons
For business owners lacking in technical know-how or experience with PHP code, getting set up on PrestaShop takes more time and effort than a platform like Shopify, and may even require the help of a developer.
Although the platform itself is free, there are additional costs to consider. These include website themes, site hosting fees, buying a domain name, add-on modules, and third-party integrations with platforms like Amazon or Facebook.
Which e-commerce platform should you choose?
When deciding between the many options on the market, you'll need to carefully consider your business' growth, budget, e-commerce strategy, and customer expectations.
If you're looking to begin your online journey with a glossy, professional-looking e-commerce site that doesn't require any technical expertise, Shopify is a great bet.
For startup owners with the ability to code, however, PrestaShop would align perfectly with your limited budget. Platforms such as EKM or BigCommerce, which are affordable yet comprehensive solutions, can elevate your brand to receive maximum exposure from new audiences.
As your customer base grows, it's advisable to consider a more advanced, scalable product like Magento that can effortlessly handle the uptick in products and sales.