Does your business need a boost? Be it to promote growth or protect cash flow, an unsecured small business loan could be the way forward. They offer a quick and easy way to get finance without offering any company or personal assets as security.
Read on to learn more about unsecured business loans in the UK, including how they work, pros and cons, and how to get the flexible funding you need with Fleximize.
What is an unsecured business loan?
Unsecured commercial loans are a type of easy business funding that don't require company or personal assets as security. This makes them more accessible for businesses that either don't have many assets or would prefer not to offer them as collateral against the loan.
You can use an unsecured business loan for a variety of reasons, from buying new equipment or refurbishing an office, to covering unexpected costs or boosting cash flow.
A range of traditional lenders and alternative finance providers offer these loans – including Fleximize.
Learn more about our products here, or keep reading for answers to all of your questions about unsecured business loans.
How do UK unsecured business loans work?
With an unsecured business loan, you apply to borrow funds from a lender upfront, then repay it in instalments, plus interest, over a set period of time. With Fleximize, you could borrow between £5,000 to £250,000 with flexible repayment terms of 1 to 36 months on an unsecured basis.
While you don't need to offer assets as security to access the loan, like many lenders, we will ask for a personal guarantee. This is a written promise from a business owner or executive that guarantees repayment of the loan if the business is unable to repay. It's important to note that, with unsecured finance, a personal guarantee is not tied to a specific asset.
Unsecured vs secured business loans
Both of these small business loans have their pros and cons. Below are the key differences to be aware of:
Assets: Unsecured business loans don't require security in the form of assets. With a secured business loan, you could offer assets such as property, land, or equipment to back up the loan. A lender can then seize this asset to recoup their money if you can't make the repayments.
Speed: The application and funding process is usually quicker with an unsecured loan. There's no need to wait for asset valuations and the legal processes involved are simpler.
Cost: Secured business loans usually come with higher loan amounts and cheaper interest rates. This is because offering security reduces risk on the lender's part.
Ultimately, different loans will suit different businesses – so it's good to know you could get an unsecured or secured small business loan with Fleximize. There are plenty more flexible features built into our products too, like top-ups, repayment holidays and no early repayment fees.
What are the benefits of unsecured business loans?
Unsecured commercial loans can be an attractive option for fast-growing small businesses in a range of industries. Here's why:
Accessible funding: Many businesses either don't have assets to offer lenders or simply prefer not to. Either way, you could still get the funding you need to achieve your goals without them.
Quick and easy: With minimal processes involved, you could apply, get approved and receive your funding in a flash. For UK SMEs, ease and speed of application are the two main reasons for positive borrowing experiences according to the British Business Bank.
Flexible use: Want to fund a growth opportunity? Need help through a quiet period or payment gap? You can use an unsecured small business loan in almost any way you choose, as long as it helps your business.
What are the disadvantages of unsecured commercial loans?
There are potential drawbacks to unsecured loans depending on your situation, including:
Smaller loan amounts: Because of the increased risk for the lender, you may need to offer security to get larger loans. But you can still get up to £250,000 with Fleximize, so this might not be an issue depending on what you need it for.
Higher overall costs: Interest rates are usually higher with unsecured funding. We don't charge early repayment fees though and our loans are amortising, so if you're growing fast, repaying sooner could be a smart way to reduce how much interest you pay. Visit our quote page to see your potential interest savings through early settlement.
If you're struggling to weigh things up, call us on 020 7100 0110 and we'll be more than happy to talk through any queries you may have. If you decide an unsecured business loan is right for you, we'll be able to put together a funding package tailored specifically to your business needs.
How much can I borrow with an unsecured small business loan?
Funding amounts vary between lenders, but we offer unsecured business loans from £5,000 to £250,000 depending on your monthly revenue.
You can apply to borrow up to two months' typical revenue initially – though we're happy to offer quick and easy top-ups as standard after you make a few successful repayments.
With so many flexible features, the majority of our customers return to us for more funding after paying off their initial loan to support their evolving ambitions.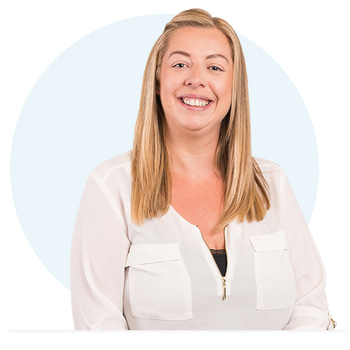 Looking For Funding? Let's Talk.
If you want to know more about how we can support your business, give our friendly team a call and you'll get straight through to someone who can help, like Sarah. Or, if you're ready to apply, get started by clicking the button below.
Do I qualify for an unsecured business loan?
Thankfully, these loans don't come with reams of criteria. You could apply for an unsecured small business loan in less than five minutes with Fleximize if:
You're a limited company or LLP
Your business is based in the UK
You've been trading for at least six months
You have a minimum monthly turnover of £5,000
If you're a sole trader or non-limited partnerships with less than four partners, we can lend a minimum of £25,000.
How much will my unsecured business loan cost?
The total cost of your unsecured commercial loan will include the loan amount plus interest. Depending on the lender, there may be extra fees for things like arrangement, overpayments, and early repayment.
Interest rates on our unsecured loans start from 0.9% and we never charge any extra fees. You won't be penalized if you want to repay your loan early either.
You can get a better idea of what a loan could cost with Fleximize by heading to our 'Get a Quote' page, where you can use our business loan repayment calculator for an instant estimate. Alternatively, apply now for a tailored quote.
Will I need a personal guarantee for an unsecured business loan?
Lenders' requirements for personal guarantees can vary based on the status of your company, so it pays to take a closer look at their terms.
Limited companies and LLPs
If you've set up your business as a limited company or limited liability partnership (LLP), most lenders will expect you to provide a personal guarantee.
All shareholders and directors with at least a 20% to 25% share in a limited company will probably also be asked to provide a personal guarantee.
Sole traders and partnerships
Business owners operating as sole traders or partnerships with unlimited liability (not LLPs) are always personally liable. This ultimately means that a lender will base their funding decision on the personal credit history of the business owner.
We'll ask you for a personal guarantee from at least one director or shareholder.
Will my credit score affect my application for an unsecured small business loan?
Getting approval for an unsecured business loan with an imperfect credit history can be tricky. Without security to back you up, some lenders might focus more on your credit score. But we aim to look at the bigger picture and say 'yes' to as many businesses as possible.
As long as you can demonstrate a recent record of timely debt repayment and strong financial performance, we could still consider lending to you.
Why choose Fleximize?
Finding the best unsecured business loan often comes down to choosing a lender you can trust. That's why it's good to know we're a multi-award-winning digital business lender and have lent over £200 million to thousands of SMEs since launching in 2014.
Flexible: Borrow from £5,000 to £250,000 with flexible terms of up to 36 months, on an unsecured basis. Top-ups and repayment holidays come as standard and we won't penalize you for repaying early.
Fast: Apply online in less than five minutes and get a decision, and possibly your loan, in as little as 24 hours.
Personal: Get funding tailored to your needs and deal with a dedicated contact throughout.
Trusted: Our customers have named us the UK's Best Business Finance Provider at the British Bank Awards, twice. We're rated 'excellent' on Trustpilot too – check out our customer stories and awards.
How to get an unsecured business loan with Fleximize
Our process is quick, easy and fuss-free:
Apply online in minutes
Get a decision in 24 hours
Receive your funds
Fill out our secure online form to apply in less than five minutes. We'll let you know if you pass our initial checks, then ask for a few important documents to help us make our decision.
Your dedicated relationship manager will aim to give you a decision within 24 hours. If it's a yes, we'll transfer your funds immediately– often landing in your account on the same day if we have everything we need.