Since assuming the role of prime minister in July, Theresa May hasn't given away too much about her plans for British businesses. However, the creation of a new Department for Business, Energy & Industrial Strategy, as well as some radical proposals on corporate governance, have hinted at what might be set to come for UK plc.
At the CBI Annual Conference on Monday 21 November, the prime minister finally laid out what she had in store for the business community. Speaking to a packed room of delegates, including Fleximize, she first tried to reassure business owners that they'd be well protected following the UK's exit from the European Union. "I believe that if we approach the difficult negotiations to come in the right way, with the right spirit, we can strike a deal that's right for Britain and right for the rest of Europe too," she said. "And the right approach is not to rush ahead without doing the groundwork, but to take the time to get our negotiating position clear before we proceed."
However, for any delegate frustrated by the continued uncertainty over Brexit, there was some positive news in the shape of a £2 billion per year investment into research and development, which May said would help the UK's pioneering scientists and technology companies flourish. "Today, Britain has firms and researchers leading in some of the most exciting fields of human discovery," she said. "We need to back them and turn research strengths into commercial success."
If we approach the difficult negotiations in the right way, with the right spirit, we can strike a deal that's right for Britain and right for the rest of Europe too.

Theresa May
The prime minister also said she'd support innovative businesses by creating "a tax system that is profoundly pro-innovation", and revealed plans for a Patient Capital Review, which "will examine how we can break down the obstacles to getting long-term investment into innovative firms." Finally, in a bid to improve the procurement process and "give more innovators their first break", May announced that the government will be reviewing its Small Business Research Initiative, with the review to be led by Cambridge entrepreneur David Connell.

The government's industrial strategy, said May, is aimed at strengthening the UK's technical education and performance in STEM subjects, rebalancing the economy away from London and the south-east, and improving the nation's productivity, which she admitted "is still too low." Yet, for all of her promises of what the government plans to do to support the country's enterprises, the prime minister said companies still have a responsibility to behave in an appropriate manner. Addressing the issue of corporate governance, she said: "The behaviour of a limited few has damaged the reputation of the many. And fair or not, it is clear that something has to change."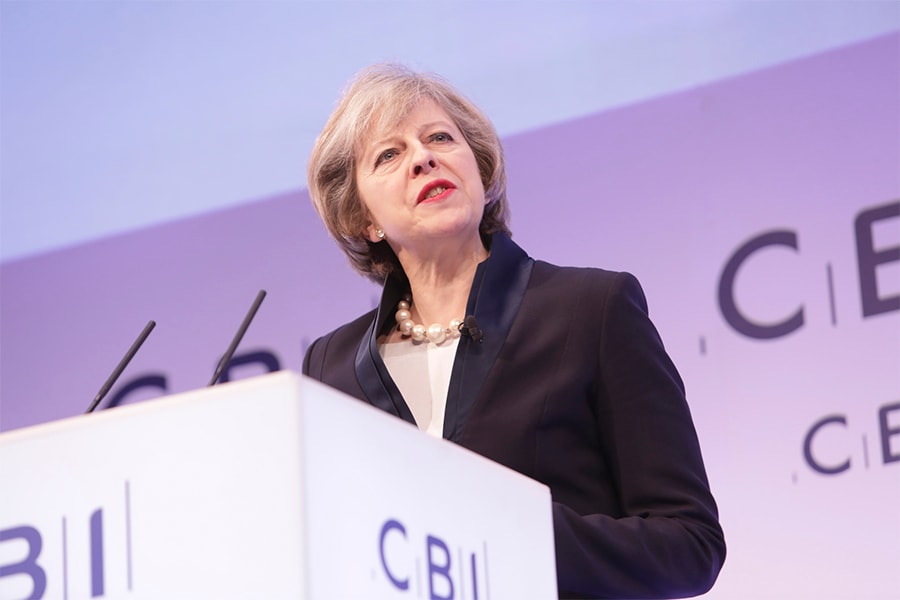 However, despite previously suggesting that the government would mandate the inclusion of an employee on company boards, May appeared to backtrack from this in her CBI speech. "While it is important that the voices of workers and consumers should be represented, I can categorically tell you that this is not about mandating works councils, or the direct appointment of workers or trade union representatives on boards," she said. "Some companies may find that these models work best for them – but there are other routes that use existing board structures, complemented or supplemented by advisory councils or panels, to ensure all those with a stake in the company are properly represented. It will be a question of finding the model that works."
Speaking at the same event, Labour leader Jeremy Corbyn said that his party would make the measure compulsory if it was elected to government. "We need to see genuine employee representation at board level, which the prime minister promised, but I see is already backing away from," he said.
Photo Credit: CBI via Flickr