The number of female entrepreneurs is rising at a significant rate in the UK, with more female-owned businesses than ever before. This trend brings an increased need for women's business funding to enable these budding enterprises to grow. However, accessing finance has proven much more difficult for women than their male counterparts.

Read on to find out how women can overcome obstacles to securing business funding and how Fleximize could help you reach your business goals.

What barriers are faced by female entrepreneurs?
Traditionally, women have struggled to compete with male-led companies for financial investment. Calls for change have strengthened over the years, but economic uncertainty has curbed efforts to redress the gender imbalance in finance.
Research suggests that female entrepreneurs have been disproportionately affected by the pandemic, with 77% finding it stressful to run a business during this time compared to just over half of male executives.
Almost without exception, female-owned firms have also struggled to secure capital. Women receive less than 3% of venture funding for starting up or growing a business due to gender bias. The issue is compounded by a scarcity of business grants and business loans for women, as well as a lack of social awareness and familial care. Fortunately, there have been some developments in the lending market to overcome these obstacles.
What are the options for women's business funding?
If you're a female entrepreneur, funding options may seem in short supply. Since the late 2000s, however, a new generation of alternative providers has emerged to plug the gap in SME funding. With greater awareness of small businesses run by women, there are now more female-focused provisions available, including Fleximize's business loans for women.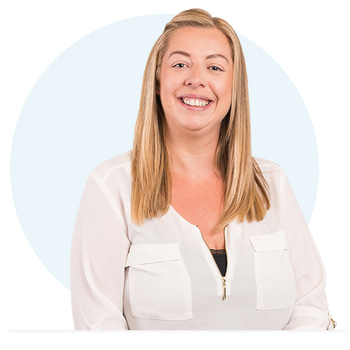 Looking For Funding? Let's Talk.
If you want to know more about how we can support your business, give our friendly team a call and you'll get straight through to someone who can help, like Sarah. Or, if you're ready to apply, get started by clicking the button below.
Business loans for women from Fleximize
Fleximize's business loans are an attractive option for female business owners looking for a speedy and flexible finance solution.
How much can I borrow, and what are the repayments?
With our business loans for women, you can borrow between £5,000 and £500,000 over a repayment period of up to 48 months, depending on your trading history:
For businesses trading for 6+ months – our Flexiloan Lite allows you to borrow over a repayment term of 3-12 months, with interest rates starting at 1.9%.
For businesses trading for 12+ months – our Flexiloan option means you can borrow over 12-48 months, with interest rates starting at 0.9%.
We offer a repayment term of up to 36 months on an unsecured basis, making our loans simple and accessible. If you're looking to borrow a larger sum over a longer period, our secured loan option could be the right choice for you and your business.
For even more flexibility, just let us know what you want your monthly repayments to be, and we'll look to arrange a term that suits you.
How can I use my women's business loan?
Our flexible loans for women can be used for many different purposes, including:
Decorating, refurbishing, or extending business premises
Hiring more staff to meet increased demand
Purchasing stock, equipment, vehicles, or software
Covering unexpected costs such as VAT or repair bills
Check out our testimonials to discover how customers have used Fleximize's finance packages to develop their business. For example, salon owner Olivia Crighton turned to Fleximize after another lender suddenly withdrew her funding. Spotting her salon's potential for expansion, Fleximize quickly put together a tailored loan offer to help Olivia secure new premises for her fast-growing business.
Funded:
Olivia Crighton was able to move her hair salon to a larger premises thanks to a Fleximize business loan
What are the other benefits of our loans for women?
There are many other features of which to take advantage with Fleximize women's business loans, including:
Speedy application: It only takes a few minutes to fill in our simple application form. You can then upload documents and get updates through your online account for a fuss-free experience.
Quick deposit: You can expect to receive your funds in as little as 24 hours of your application being approved.
No hidden fees: With our Penalty-Free Promise, you won't be penalized if you choose to repay your loan early or make overpayments. Plus, you'll only pay interest for the time you've had the loan.
Exclusive discounts: You'll get access to a range of exclusive discounts on business-friendly tools and products when you apply for a loan with Fleximize.
How is Fleximize different to other lenders?
At Fleximize, we're experienced at helping customers gain access to women's business funding without the hefty paperwork and lengthy delays that you'll often face with traditional lenders.
A personalized service
Although we're a digital lender, we still make every customer experience a personal one. Instead of relying on data to make a decision, our relationship managers get to know every business. This means we're often able to fund companies that traditional lenders have declined.
Flexible loan criteria
From credit scores to trading history, we avoid rigid lending rules when assessing applicants. If you can demonstrate you've turned around an inconsistent record of repaying debt, and your business has scope for growth, you might be eligible for funding from Fleximize.
Fuss-free process
You can apply online for a loan without having to arrange multiple interviews or provide vast numbers of documents. We'll only request the necessary information, making it much easier to gather supporting documents and receive a quick decision.
Why choose Fleximize?
We're proud of the work we do to help business owners like you. Since launching in 2014, we've lent over £200 million to UK SMEs needing better finance options. Here are a few reasons you should apply to Fleximize for your business finance.
Award-winning – we've won multiple awards over the years, including being highly commended at the prestigious British Bank Awards 2021 for our services to the UK's community of small business owners.
Excellent Trustpilot rating – our industry-leading flexibility is reflected in our high customer ratings and testimonials.
Loyalty pledge - if you come back to us for more funding after paying off your initial loan, you'll get a lower rate on your next finance package. You'll also receive the same point of contact originally assigned to you.
Apply for a business loan today
To learn more about our women's business loan options, call one of our relationship managers on 0207 1000 110 or check out our FAQs.
Alternatively, if you're ready to get started, fill out our quick online application form with a few key details. Once completed, one of our helpful relationship managers will be in touch to guide you through the final stages.
We'll aim to get a decision to you within 24 hours, providing we have received the information required. If approved, you can expect to receive your funds on the same day, so you can get back to running your business.