Understanding and valuing customer feedback is paramount in today's hyper-competitive business landscape.
Customer feedback is a goldmine of insights, offering a direct window into the minds of your customers. When harnessed correctly, it can drive product improvements, enhance customer satisfaction, and boost your bottom line.
Here, we'll explore best practices for gathering, analysing, and responding to customer feedback. Plus, we'll show you how to respond, whether it's glowing praise or constructive criticism.

Gathering customer feedback
It's essential to collect information from diversified feedback sources, so cast a wide net by using various channels. This may include surveys, reviews on platforms like Google Play, iOS Store, Trustpilot, social media comments, emails, live chat queries, and direct customer service team interactions.
You could also gather feedback from family and friends. The more touch points you cover, the more comprehensive your feedback will be.
When gathering fresh insights or existing feedback, be sure to segment your audience. By customising your feedback to target specific customer segments, you'll gain insights into the needs, wants, and pain points of specific users. This invaluable information will allow your marketing team to target user segments with personalized responses. Segmentation of your audience will translate into more successful marketing campaigns.
If you conduct a customer feedback survey, ensure they are tailored for different customer segments. Tailored surveys will yield more relevant insights and help you spot data patterns.
For example, are your existing customers leaving you due to negative experiences? Or do you have loyal customers? You'll likely have a mix of both and will need to do some analysis to find out why.
Today, we're luckier than ever to have access to many tools that will help us collect relevant data. By leveraging AI tools, you can quickly process large volumes of feedback data.
Artificial Intelligence (AI) tools for gathering customer sentiments
How do you go about collecting customer feedback in this wide, wide world? As mentioned above, tailored surveys are one of the best ways to collect fresh insights. Two AI survey tools that will provide powerful insights are Survicate and SurveyMonkey.
Survicate is excellent for beginners and offers integrations across devices and software. However, it will be up to you to export and analyse the results.
SurveyMonkey will tailor surveys to users' profiles and includes built-in result analysis tools such as the all-important user sentiment analysis. It will tag responses as positive, negative or neutral.
In order to keep tabs on mentions and reviews of your product or service on the web, you can set up Google Alerts, but for in-depth data collection and analysis, you should employ tools such as MeltWater, BrandWatch, or InMoment.
These software programs have integrated AI to track mentions across all social media platforms, customer review sites, press release mentions, and forums. Some include analysis tools, but can be expensive to access.

How to train AI yourself
Even for SMEs, it is possible to train AI to gather and categorize feedback data in-house. This will be a labour-intensive effort and may be worth investing a little in outsourcing some or all of the tasks (if budget allows, of course).
First, you'll need to collect 100-200 real customer comments (the more, the better). You can pull your website data into an Excel sheet using code so you can analyse it (you don't need to have coding skills, just copy and paste). These codes are available online, or you could hire someone on UpWork for a few quid who can get the data more efficiently.
Then, you need a team to independently review each comment and determine if the comment sentiment is overall positive, neutral, or negative.
During this stage, you'll also want to apply tags to each comment. Tags will be different depending on the nature of your product or service. For an app, it may be related to user experience, features, responsiveness, or customer service. For a physical product, it may be related to colour, quality, or hardware.
Finally, use a program like ChatGPT to train it based on your criteria to analyse future datasets.
Analysing customer feedback
By understanding the true feelings behind your customer feedback, you can make informed decisions and take targeted actions to address concerns or capitalize on positive experiences.
The first thing is to embrace sentiment analysis. For those who don't know, sentiment analysis tools automatically categorize comments about your brand or products according to whether they are positive or negative. Some tools can even analyse the emotion behind each comment and give you a percentage, e.g. '22% of customers are excited about your brand'.
By using sentiment analysis, you can determine overall customer sentiment and spot trends at a glance. You'll get a much better view of positive, negative, or neutral stances.
Use tags to identify trends and themes. Where are there recurring issues or patterns? This research can help prioritize which aspects of your product or service need attention or should be celebrated.
Balancing quantitative data (scores and metrics) with qualitative data (customer comments and narratives) will be vital. Both are valuable for a comprehensive understanding of feedback.
For example, you may notice negative connotations around a new product or lack of a product feature that customers wish you could include, e.g. a fashion retailer's customers could be desperate for dresses with pockets. Now you know to add pockets to your dress designs.
Here's where you should dig deeper to identify how to improve your services and how you market them. Really tear into customer narratives (where do they want those pockets? And how many pockets?). These will reveal specific points and reasons that your customer base wants to see change. You can then acknowledge their pain points in your responses or marketing campaigns, letting your audience know you are listening to them.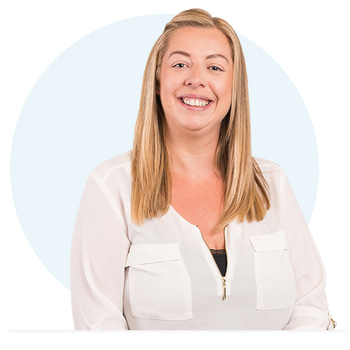 Looking For Business Funding
If you want to know more about how we can support your business, give our friendly team a call and you'll get straight through to someone who can help, like Sarah. Or, if you're ready to apply, get started by clicking the button below
Responding to positive feedback
Acknowledge and appreciate positivity by responding promptly to positive feedback. Express gratitude for the kind words and use personalized responses to show genuine appreciation for your customer's support.
Encourage satisfied customers to become brand advocates by leaving reviews, referring friends, or sharing their positive experiences on social media. This additional exposure can amplify your brand's positive image while building loyalty.
Leverage these results by analysing what customers love about your product or service. Use these insights to replicate and build upon those strengths in your offerings.
Responding to negative feedback
Always respond to negative feedback with a calm and professional tone. Avoid getting defensive or confrontational, as this can escalate the situation.
Acknowledge the issue(s) raised in the feedback, showing empathy and understanding. Let the customer know you're taking their concerns seriously. Also, thank them for informing you of the issue or, if you were already aware, the steps you're taking to resolve it.
Whenever you can, take immediate action and offer solutions. Outline the steps you'll take to address the issue and prevent it from recurring. If possible, offer a solution or compensation to rectify the situation.
Here's an example of how you can respond:
"Dear [Customer's Name],

Thank you for taking the time to provide us with your feedback. We sincerely apologise for any inconvenience or frustration you may have experienced. Your feedback is valuable to us, and we appreciate you bringing this issue to our attention.
We understand that [describe the issue raised by the customer]. We want to assure you that we take your concerns seriously, and we are committed to resolving this matter promptly.
To address this issue, we have already taken the following steps [outline the actions you have taken or will take to resolve the problem]. We are actively working on implementing a solution to prevent this from happening in the future.
We would like to make it right for you. Please reach out to our customer service team at [provide contact information] so that we can further discuss your specific situation and find a suitable resolution.
Once again, we apologise for any inconvenience caused, and we appreciate your patience and understanding.


Sincerely,
[Your Name]
[Your Title/Position]
[Your Company Name]"
You can shorten it significantly for comments on social media, or other digital platforms where space is at a premium.
Regardless of how you word it, always point the customer towards the most appropriate line of communication. Encourage the customer to continue the conversation privately, away from the public eye. By directing them to your customer service team, customers can have a more personalized and constructive dialogue.
Take negative feedback as an opportunity to learn and improve. Analyse the feedback for insights into where your product or service fell short and make necessary improvements.
Your customer service team will be essential to responding to feedback. You could, for example, have one team member dedicated to responding to reviews.
Either way, ensure your customer service team knows your product inside and out and has a high response rate. This is one area in every business where you should avoid implementing AI solutions. No one wants to speak to a robot voice or a chatbot. People want real people offering empathy and responsiveness.
Continuous improvement

Keep your feedback loop open and consistently monitor sentiment. Continuously monitor feedback channels and adapt your strategies based on evolving customer needs and expectations. Feedback should be viewed as a continuous improvement loop.
Then, use feedback-driven insights to make tangible changes to your products, services, or processes. Be sure to share these improvements with your customers to demonstrate your commitment to their satisfaction and name-drop people, too.
For example, if @teddy023 was the person who pointed out a broken process or suggested a new feature on X/Twitter, make sure to give that person public recognition. Shoutouts will encourage others to offer constructive feedback, pushing your company to new heights.
And while addressing existing feedback is vital, proactively seek ways to innovate and exceed customer expectations. Aim not just to meet their needs but to delight them.
Customer feedback: an essential part of the customer journey
Customer feedback is a priceless asset in the modern business landscape. When gathered and analysed effectively, it can drive positive change and foster deeper customer relationships.
Whether the feedback is positive or negative, your response matters. It showcases your commitment to customer satisfaction and can ultimately determine your business's long-term success.
Remember, every piece of feedback is an opportunity for growth and improvement – embrace it with open arms.
About the author
Scott Dodson is a customer insights expert and chief growth officer at Ling. He has over 25 years of experience in marketing, product ownership, development, and growth. Working mainly within the gaming and education industry, he has played a pivotal role in helping brands become household names.