In this month's edition of Business Bookmarks, we look at how the outcome of the general election could impact your businesses, the spreadsheet of the future, and how you can shop local for your 2019 Christmas dinner.
To Inform
How might the general election impact CEOs?
Here's Finance Monthly's guide to what the outcome of the upcoming general election could mean for UK CEOs.
You'll no doubt have concerns about how the outcome of the general election may impact your business. In this article, Finance Monthly summarizes the main points shared by corporate speakers and expert journalists at the City of London's 'Preparing for Unprecedented Change' panel event. Attendees include former BBC business correspondent Declan Curry and the chief lead writer at the Observer. This article provides the main highlights and points of consideration from the event. (Via Finance Monthly)
What the main UK Parties are offering UK businesses
Annie May Noonan, Features Editor at Real Business, shares what the three main party leaders will do for British businesses if they win the general election.
The Confederation of British Industry's annual conference invited the three main party leaders to share that they'll do for the sector if they win. In this article, Annie clearly outlines what each party is offering businesses, including reactions and comments from SME founders and CEOs. It's worth a read if you're still unsure about how each party's manifesto could impact your growing business. (Via Real Business)
To Action
How to chase late invoice payments
Research from Sage reveals that more than 1 in 10 SME invoices globally are paid late. Here's how to tactfully chase late payments.
As we approach Christmas, most businesses will naturally slow down over the coming weeks. But if you have unpaid invoices to chase up, this can cause havoc to your small business' cash flow. As such, it's important to be aware of how to chase up unpaid invoices tactfully. Whilst there may not be a way for you to guarantee that all your customers pay you in line with your agreed terms, there are steps you can take to help facilitate timely payments, as Stacey McIntosh from Sage explores in this article. (Via The Knowledge Hub)
How to balance work with the Christmas break
As a small business owner, it can be hard to switch off and enjoy the period between Christmas and New Year. Forbes shares a few tips on how to strike the perfect balance between work and rest.
The concept of holiday-related stress may sound familiar to you, and that's not surprising, as many small business owners struggle to fully relax over the Christmas break. However, it's important to be realistic about how much you can actually get done in this period, when many businesses slow down and even shut up shop completely. In this article, bestselling author Stephanie Sarkis shares her tips on how to balance work around the holidays. (Via Forbes)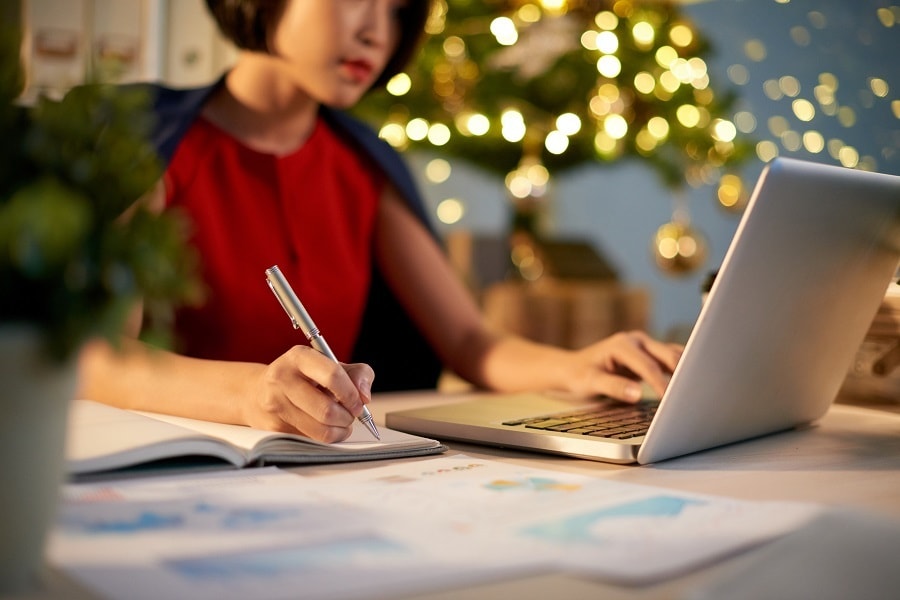 To Inspire
The spreadsheet of the future
Move over Excel and step aside Google Sheets. This forthcoming app could revolutionize the way you use spreadsheets.
Launching this winter, Spreadsheet.com offers all of the standard features and familiar interface that spreadsheet users would expect, along with database and project management capabilities that mean that you can amalgamate several project management tools into one easy sheet. Functionality includes having attachments that can be stored in cells, kanban views, hierarchies for task lists, and in-chat functionality. If you rely on spreadsheets to manage your business, this article's certainly worth a look. (Via Fast Company)
Purpose before profit
The Guardian highlights the British businesses who are 'reshaping capitalism' by putting sustainability over profits.
Many businesses across the world are tweaking their ethical practices and updating their Corporate Social Responsibility policy in an attempt to appear more sustainable to eco-conscious customers. Too often, this is just a case of cosmetic 'greenwashing'. In this article, The Guardian highlights the UK businesses who are truly invested in the B Corp movement, disrupting the classic capitalist mindset and demonstrating that putting purpose over profit can benefit the business in more ways than one. Read the full article to discover how. (Via The Guardian)
To Consider
A locally-sourced Christmas dinner
To celebrate Small Business Saturday 2019, The Fleximize Team have put together a list of food producers across Suffolk, Norfolk, Cambridgeshire, and Essex so that you can shop local this Christmas.
Many people default to the big supermarkets for their Christmas grocery shopping, both for the big day itself and in the weeks leading up to Christmas, but it's important to think local and consider the delicious Christmas treats available to enjoy from producers within your region. If you want to support small businesses in the lead up to Small Business Saturday, take a look at this guide to independent foodie businesses across East Anglia. (Via The Knowledge Hub)
2019's best audiobooks
If you're looking for something good to listen to over the Christmas break, take a look at Wired's list of this year's best audiobooks.
Audiobooks are an excellent way to make waiting rooms and commutes more bearable, but they're also great to have on in the background when you're cleaning, cooking or exercising. If you're looking for something new to listen to, take a look at this list by Wired, which includes the hilarious bestseller This Is Going to Hurt, and the hugely popular The Handmaid's Tale, narrated by the star of the TV adaptation. (Via Wired)
Enjoyed this month's collection? Stay up to date with the latest business advice and articles by following us on Facebook, Twitter and LinkedIn.