Thinking about turning your passion into a profession? You're not alone. High-spec photography equipment is now easily accessible to anyone with an internet connection - and now anybody with a camera can make money from their photos.
But as we know from our recent survey of professional photographers, there's a lot more to running a successful photography business than meets the eye. It's not all about taking pictures - as well technical know-how and talent, you need drive, determination and a head for business.
Find your niche
The photography sector is already a saturated marketplace, so to stand out from the crowd, you'll need to find a niche. Clients are prepared to pay more if they see a level of expertise and style in a particular field. So don't try to be a jack of all trades. Pick a particular field and a style you're comfortable with and you've got something unique to build your business on.
Once you've got your niche sorted, whatever field you're in – portraits, weddings, sports, advertising or editorial – decide how you'll structure your business. The easiest and cheapest option is as sole proprietor. But you may want to think about creating a limited liability company. That way, your personal assets are protected if the business goes belly-up.
Focus on your business
Whether you're looking for a startup business loan to cover early costs or scouting for third-party investment to help the long-term growth of your business, you'll want to show you've got a solid business plan. As well as your financial projections, any potential investors or lenders will want to see details of your business, the services you'll offer and your marketing strategy, built into your overall business plan.
Remember, lenders that you approach for funding will often only have a basic understanding of your industry. Complete a thorough SWOT analysis, and clearly identify the elements that make you different from your competition. By making it as easy as possible for them to understand your business and your industry, you'll make them feel more comfortable investing money into your vision.
Gear up
Chances are, if you're turning your hobby into your job, you'll already have a stash of camera equipment. Tempting as it is, however, to go out and buy a whole load more, having the 'right' gear doesn't automatically make you a professional. And it can be a huge investment.
There's no need to blow your budget. Borrow or hire gear. You can rent the latest kit at a fraction of what it costs to buy. It's also a great way to test gear out while you decide what works best for you.
But whatever equipment you end up with, make sure you know it inside out. Don't stop playing around with it. You'll be surprised. Often, the kit you have can do so much more than you realize.
It'll stop you becoming a gear junkie, too. GAS (Gear Acquisition Syndrome) is the curse of many a freelance photographer. But constantly spending your cash on shiny, new gear that you think you need in order to improve your shots, could end up crippling your business financially and, in turn, stifling your creativity.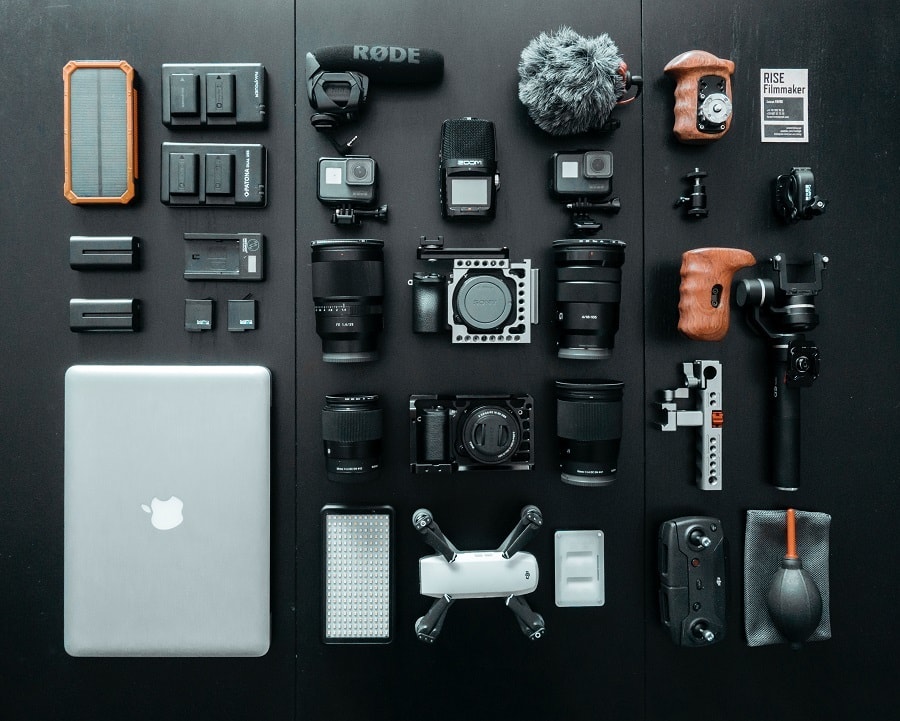 Adjusting the balance
For most professional photographers, though, it's the non-photographic side of the business they find the most challenging. And it can be difficult to balance both.
Dealing with things like tax, VAT and payroll, for example. There are plenty of different online accounting tools available to help you with book-keeping, but if you start regularly employing assistants or second-shooters, you may need an accountant. Have a strict system for invoices, receipts and running costs. It makes tax return time a whole lot easier.
You'll also need to get your head around contracts, release forms and copyright.
A decent contract protects you from difficult clients. It needs to clearly state what clients can expect, image usage rights and wording to protect your own rights. If you're not sure, get legal advice on wording your standard contract.
To protect yourself from future licensing headaches, consent is key. So, if you're going to use your images for marketing, you must have a signed release form. There's currently no industry standard, but the RPS model release template is a good one. You can download it for free and it comes with handy notes on how to use it, too.
In this internet era, it's also vital you know where you stand in terms of copyright. UK law is clear. Unless the photographer is an employee, copyright on a photograph belongs to the person that took them. If your clients are confused about permissions, the BPP's guide to using images will set them straight.
But if someone uses your images without permission, you need to know how to get them taken down or get paid. Because getting paid for your work is the point, isn't it?
Point and click
Remember - to make sales you need to be a people person, and that may mean honing your communication skills. Meeting clients, showing your portfolio and closing the deal is one thing, but shoot over, there are images to sell.
In addition to improving your sales skills, you'll want to get web-savvy. After all - if customers can't see your work, they can't buy it. A website's a must. You don't need to hire a web designer, though. You'll find plenty of photography-friendly templates online. But before you choose one, check it has all the features you'll need. Do you need room for a blog? Contact forms? Client galleries? An online store? If you're using Adobe Creative Cloud, take advantage of Adobe Portfolio, a website builder that comes bundled with your subscription to get your work online quickly. Alternatively, for a monthly cost, websites like Squarespace have features and designs built specifically for photographers.
And remember, as well as your showcase and sales platform, your website is a marketing tool. As photography is a pretty saturated market, you'll want to brush on your search engine optimization (SEO) to get your site showing up in searches. If you don't have a handle on SEO, it might be worth paying for some expert help. Alternatively, if you're on a slightly stricter budget, you can swot up on all things 'search' using online tools and resources like Moz's SEO Learning Center and Beginners' Guide to SEO, or the Search Engine Optimization Starter Guide, written by Google itself.
Pricing is also a major challenge. If your work doesn't reflect the prices you charge, you won't get repeat business. Digital photography has driven down prices, but charge too little and you'll also put people off, as they'll assume that you're no good.
There are loads of blogs and books with helpful guides to help you work out what to charge for your work. Read them. Do the maths. Then pick a starting price that makes you a healthy profit and try to stick to it.
The same goes for social media. It can be time-consuming staying on top of social, but it's key to promoting your site and keeping it visible. Tools like Buffer and Later enable you to schedule posts in advance, and work particularly well with more visual social networks like Instagram. Another great tactic is to set up profiles on sites like Unsplash and offer a few of your images for free, and include a link to your portfolio or site in your profile, so that fans of your work can find you easily.
Cover up
Then there's insurance.
It's not just your gear you'll need to cover for damage and theft. You need public liability insurance for damage to people and their property. Without it, even something as simple as a client or model tripping over a tripod or lighting stand in your studio could put you seriously out of pocket if they sue for damages.
You also need professional indemnity insurance to cover yourself for mistakes. By calling yourself a professional and charging for your services, you're at risk of being sued if a client thinks you've made a mistake, even if you haven't. Without it, you could be liable for the cost of a re-shoot for an unhappy client, or compensation if you accidentally wipe their images.
If you employ anyone, whether they're on work experience, an apprenticeship, part-time or permanent contract, you're legally required to have employers' liability insurance. You can be fined if you don't.
Here's a useful guide to insurance for photographers. However, because professional photographers' insurance isn't a case of one size fits all, it's a good idea to talk to a small business insurance broker. They can talk you through the various products and help you decide what you actually need.
It'll save you a lot of time getting to grips with it all on your own, and that's time better spent on your business.
About the Author
Sarah Adams is a Small Business Insurance Expert at PolicyBee, a specialist insurance broker based in Ipswich, Suffolk. PolicyBee helps small business owners find the right insurance at the right price, quickly and easily. With affordable monthly costs, no admin charges and a friendly team of experts to help, PolicyBee removes the sting from finding business insurance.