The impact that Airbnb has had on the hotel industry is nothing short of staggering. Founded in 2008, the home-sharing platform has delivered a whole new accommodation experience to travellers and holidaymakers, while allowing homeowners to make money from their spare rooms. Eight years after being launched in the San Francisco apartment of its founders Brian Chesky and Joe Gebbia, the company now boasts over 1,500,000 listings in 34,000 cities and 191 countries, and a reported valuation of $30 billion.
As one of the pioneers of the sharing economy, Airbnb has also inspired a number of other startups, including one that lets homeowners and businesses charge people to use their toilets. But it's arguably the food industry that's felt the 'Airbnb effect' more than any other sector. While Airbnb has helped turn people into hoteliers, a host of 'social dining' startups are connecting amateur chefs with food-loving travellers, who can enjoy authentic local cuisine in the comfort of someone else's home. And one such company, VizEat, has just raised €3.8 million as it looks to expand its service across Europe, and beyond.
VizEat's co-founder Camille Rumani had the idea for the business while travelling in China, where she regularly ate with locals in their homes. "When I travelled I was aware that in a city with millions of people, you might never get to meet any of them, never have those human experiences," she said in an
interview with The Times
. "VizEat enables that, over a meal." Along with her co-founder Jean-Michel Petit, Rumani raised €1 million in funding for VizEat last year, and the company has grown from 50 hosts when it first launched in July 2014 to more than 20,000 hosts across 100 countries.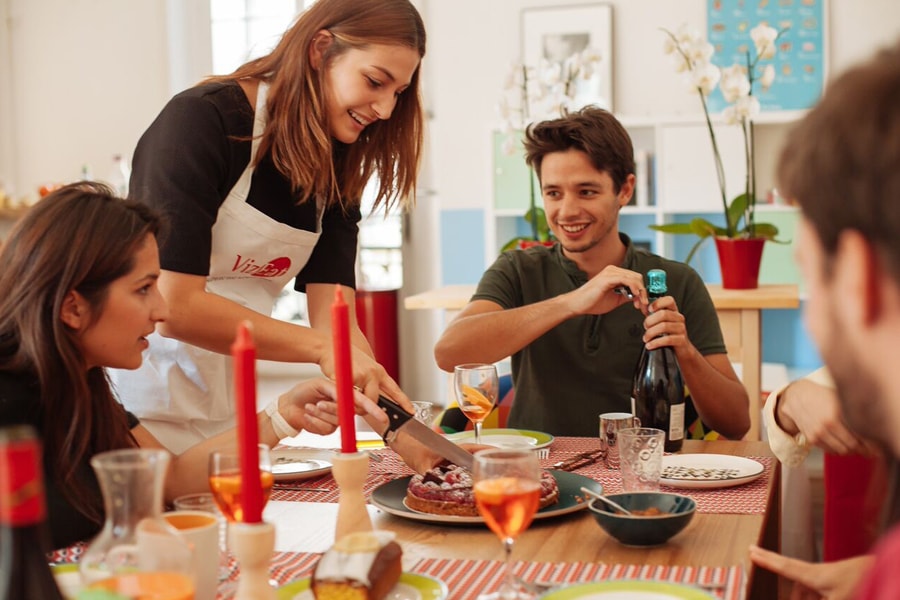 In a similar vein to Airbnb, people can create a profile on VizEat's website and advertise a meal or cooking class at their home – or even a tour of a local food market. Travellers can then book from a list of available dates, and are only charged once a host has accepted their request. While hosts decide the minimum and maximum of people they wish to entertain, diners are encouraged to leave reviews of the host following their 'food experience', and everyone can have a chat online before meeting – and eating – in person.
With its latest round of funding, VizEat will be opening new offices in the UK and Germany, where it is looking to roll the platform out to more major cities. It has also started to strengthen its management team with the appointment of Pierrine Griffiths, former head of mobile acquisition marketing for Meetic-Match Group Europe, the online dating company.
"For many holidaymakers, a VizEat food experience with locals is often the highlight of any trip," said Jean-Michel Petit, CEO of VizEat. "This new round of funding will allow us to boost our growth plans so that we can bring our ultimate local food experiences to more people, in even more countries."
So if you're looking for a 'Come Dine With Me' experience that doesn't involve dodgy food and TV cameras, it's probably worth keeping an eye on the VizEat website.