Nothing gets the business world shaking like a big, fat acquisition. And it's safe to say that Microsoft's purchase of LinkedIn is right up there on the Richter scale.
The $26.2 billion all-cash deal will see Microsoft snap up the professional-networking site for $196 per share, making it the computing giant's biggest ever acquisition.
LinkedIn is set to retain its brand, culture and independence but while Jeff Weiner will remain CEO of the company, he will now be reporting to Microsoft's CEO Satya Nadella.
"The LinkedIn team has grown a fantastic business centered on connecting the world's professionals," said Nadella. "Together we can accelerate the growth of LinkedIn, as well as Microsoft Office 365 and Dynamics as we seek to empower every person and organization on the planet."
The deal marks the culmination of a remarkable 14-year journey for LinkedIn, which was first devised in the bedroom of its co-founder and executive chairman Reid Hoffman.
Since floating on the New York stock exchange in 2011, the company has grown its membership base from around 100 million to more than 433 million worldwide.
But that's not to say the LinkedIn story has been without its hiccups. In February, the firm's share price plummeted by over 40% in a single day, slashing $11 billion off its market value.
As a result, plenty of people have raised their eyebrows at Microsoft's decision to splash the cash. This tweet certainly put things in perspective:
So how does Microsoft's acquisition of LinkedIn compare to other high-profile deals from the last few years? To make your life easier, we've put together the following infographic: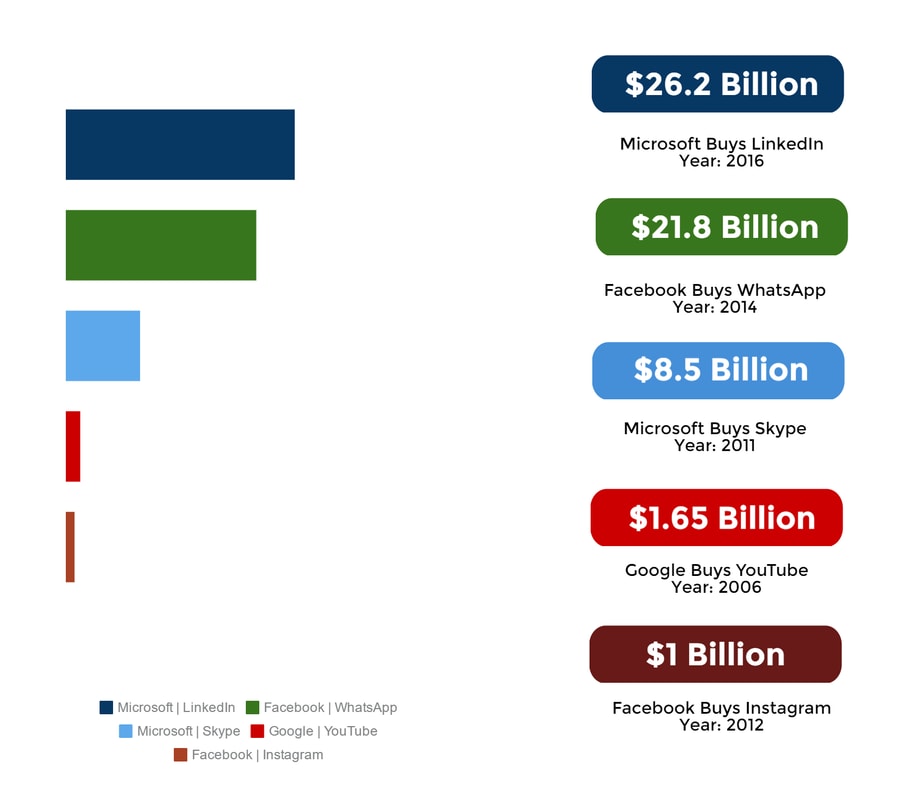 With LinkedIn the latest social network to be bought out by a tech giant, it's got us wondering who will be next to join the acquisition club. We're looking at you, Twitter.