New research of the UK's alternative finance (altfi) sector shows that peer-to-peer (P2P) lending and crowdfunding mushroomed into a market worth £3.2 billion in 2015.
Published today by Nesta and Cambridge University, the 'Pushing Boundaries' report looked at 94 crowdfunding and P2P lending platforms to assess any changes in the sector, which has emerged since the financial crisis to help fill the gap in startup and SME funding.
The altfi sector's loans, investments and donations have increased by 84% compared to 2014, and makes up 12% of the lending market to UK small businesses.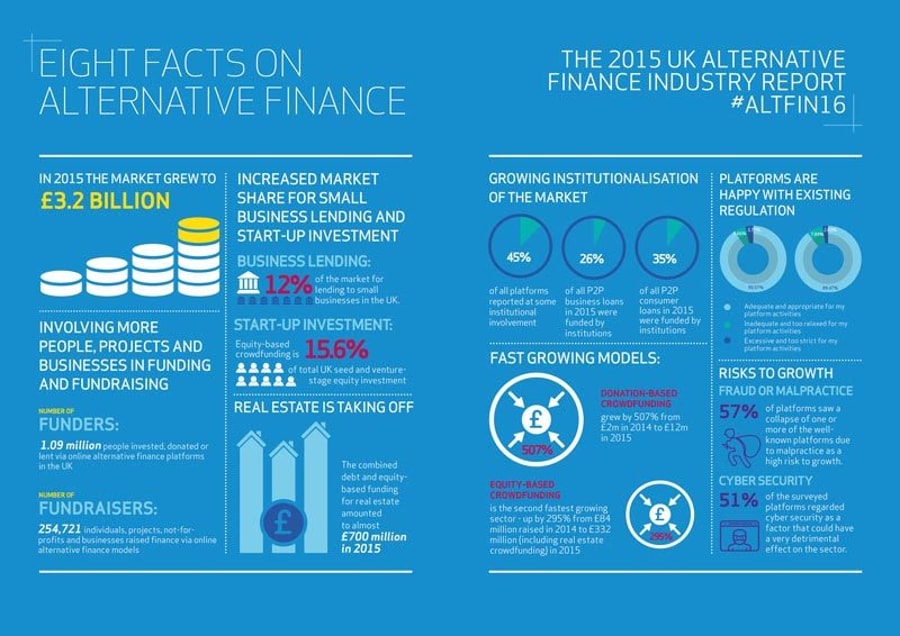 Equity crowdfunding up by 300%
Equity crowdfunding, where small businesses give away shares in return for investment, represents 15.6% of all national seed and venture-stage equity investment. This type of altfi funding grew by almost 300% over a year to £332 million and saw its first 2 exits.
When Nesta began working with the sector in 2010, it consisted of a few plucky startups. The industry such as it was could be gathered around a largish table. Discussions with policymakers and regulators had to begin with careful explanations of what crowdfunding and peer-to-peer finance actually meant.

Nesta
Other key findings include:
Besides equity-based crowdfunding, the fastest growing model in 2015 were donation-based (grew by 500% since 2014 to £12 million).
45% of all platforms reported some involvement from institutional investors like the British Business Bank and government funding providers, resulting in an increase.
Real estate is the single most popular sector: the combined debt and equity-based funding for real estate amounted to almost £700 million in 2015.
Slowdown in altfi growth
Although the altfi industry has created its first ever unicorn – Funding Circle hit a $1 billion valuation through its latest financing round –the study also discovered that growth of the online altfi market is slowing down. Annual growth in 2013 / 14 was 161%, but expansion in 2014 / 15 is nearly half that figure.
Also, more lenders said factors like risk of fraud and industry malpractice are threats to the sector's success.
Click here to see the full report by Cambridge Centre for Alternative Finance at the University of Cambridge and UK innovation foundation Nesta, in partnership with KPMG and with the support of CME Group Foundation. Fleximize also took part, responding to questions on microfinance.