Throughout December, Cumbria's business community continues to rally together, bidding to come back stronger than ever following the devastating floods.
Firms from every corner of the county – from sole traders to giants like McVitie's – were affected by Storm Desmond, but the silver lining is their determination and resolute attitude.
Festival demonstrates defiance
This tide of small business support was epitomized by the Taste Cumbria Christmas food and drink festival, which was held in Cockermouth the small but well-known town hit by flooding 3 times in just 10 years.
In the face of more bad weather, the 2-day celebration on Saturday 12 and Sunday 13 December went ahead – and it was bigger and better than previous events, with around 25,000 people defiantly turning out to support their community event.
In a bid to give the town the boost it needed – and deserved – organizers opened the festival to traders across Cumbria, and not just those in the food and drink sector.
Cockermouth's business community is made up of lots of independent traders and small firms, but the spirit of Cumbria was firmly in action among larger companies too, including the nearby nuclear giant Sellafield Ltd, which stumped up £35,000 towards the festival.
The contribution meant traders could sell their delicious local produce without worrying about paying a fee. Some non-flooded firms used this as an opportunity to donate profits from the weekend towards the specially set-up Cumbria Community Foundation Flood Recovery Appeal, which, at the time of writing, has raised over £3 million to help flood-affected residents and traders.
Giving in kind
The range of support offered by Cumbria's business community has been staggering, with fundraising being just one aspect. Free resources like office space and IT facilities were on offer from businesses like FusionGo, whilst Caterite provided free food and drink to many of those affected.
And pillar of the county, the Cumberland Building Society, allowed staff to take 3 days off to help with the flood recovery efforts. Chris McDonald, the mutual's Operations and HR Director, said that as well as the £20,000 donation to the appeal, the organisation wanted to offer practical support. He added:
Our staff, many of whom are active in our local communities, were keen to help in the clean-up and recovery so we were happy to provide additional paid leave." Chris McDonald, Cumberland Building Society
Smaller ventures have pitched in too, and the sheer volume of tradespeople providing help has led to a new Facebook group to promote their kind offers. From handymen to dog grooming for family pets caught up in flood waters, social media came into its own, serving as a crucial channel for reaching out to locals.
This is modern business community support in action.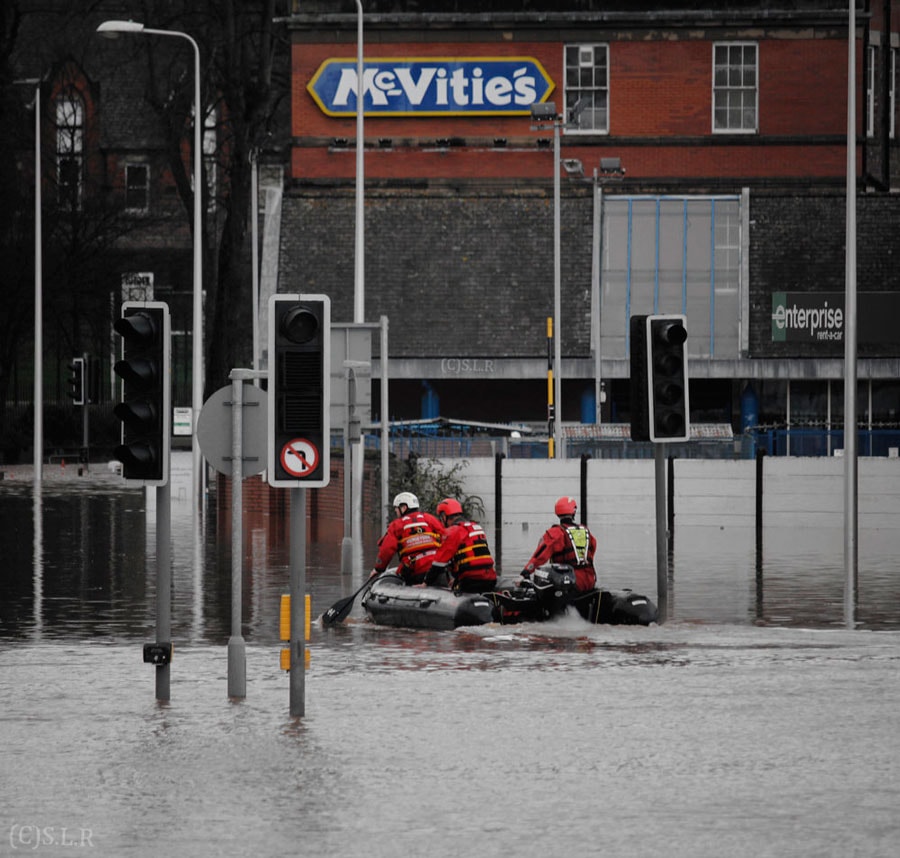 Keep trading, keep helping
One of the first Cumbrian business people to speak publicly after Storm Desmond was Jonty Chippendale, who runs The Toy Shop in Cockermouth. Speaking on local radio the day after the floods, he vowed to be up and running within days rather than the months it took after the last floods. And he delivered on his promise.
Jonty spoke passionately about the importance of business continuity – and not just for staying in business. He has unfaltering faith in the "two-way street" that is the relationship between the local community and businesses, believing that firms should support people in need.
"Last time we were exhausted, but there was far less depression amongst people trading than those sitting on the couch worrying about it all. If you can keep trading, it's good for your health and good for your business. Jonty Chippendale, The Toy Shop
Warped courts and piles of sludge were just some of the problems that Carlisle Squash & Racket Club faced after finding itself at the heart of destruction caused by the city's overflowing river banks.

Among the many businesses also ravaged in 2005's floods, the club's owners now face the added pressure of holding on to members who'll look to other local clubs for their fitness fix. And still, this remains yet another Cumbrian business refusing to allow the weather to win.
The club is run by Paul Bell and his dad Ronnie. Paul remains defiant, despite the fact his home was also flooded, promising to bounce back once again – stronger.
"The amount of people who've been offering help and out on the street giving people a hand is the most overwhelming thing I've ever been a part of. It shows how Cumbrians are great people. We keep coming back stronger."

Paul Bell, Carlisle Squash & Racket Club
Campaigning for Cumbria
As the recovery effort continues to moves on, small businesses in Cumbria are keen to tell the world that the county is open for business. A drop in trade, and visitors, would be another kick in the teeth. This passion has led to strong social media movements originating from deep within the business community.
The #spiritofcumbria hashtag, seen by millions online, is being used to inspire Cumbrians to showcase the kindness and spirit demonstrated during the floods. Businesses are also bidding to show that Cumbria is well and truly trading by tweeting '#cumbriaisopen'.
Cumbria Tourism is already putting a new campaign into action. Its #theplacetobe campaign scooped an award last year for its support to business, and #stilltheplacetobe has emerged to make sure people come on holiday in 2016.
The massive surge in digital, financial and practical support from Cumbria's business community has let millions of people to see how the Cumbrian resolve is helping the county get back on its feet. And, no doubt, become even more resilient moving forward.