This year's International Women's Day theme is 'Choose to Challenge' - encouraging everyone to take action against inequality by calling out gendered actions and biases. With this in mind, we're highlighting how Fleximize is working to challenge the lack of women in leadership positions within the finance industry. We spoke to six of the women from Fleximize's Senior Management Team about their journey so far and any advice they'd give to women looking for a path into the finance industry. Here's what they had to say.
Caz Blaxcell | Chief Marketing Officer
After leaving university with a design degree, Caz worked as an Interior Designer for a brief period, before falling into marketing – where she quickly realized she'd found her passion. Caz has over a decade of experience in financial services marketing and holds a Postgraduate Diploma in Digital Marketing specialising in B2B. She joined Fleximize in 2014 and is responsible for building the Fleximize brand and managing all of the company's marketing activity.
We asked Caz what advice she'd give to other women who want to get into marketing and she told us, "There's a stigma that marketing teams just 'make things pretty' but, in reality, only 10% of marketing is 'pretty', regardless of what you market. If you think you'd like to get into marketing, you need to be prepared to do the less exciting work first. I learned from the ground up, cleansing data, preparing slide decks, delivering reports, and organising the day-to-day aspects of marketing campaigns. But if you enjoy working in a challenging environment and you're willing to put the hard work in, then marketing can be an extremely rewarding career for both creatives and analytical thinkers.
"I love that no two days are the same and that I've been given the freedom to help shape and grow the Fleximize brand. We've built a culture where everyone is happy to get their hands dirty to achieve, and I love that."
Before joining Fleximize, Stacy spent the formative part of her career working in underwriting and credit control at a consumer finance company. Stacy is now Head of Credit and Underwriting at Fleximize, where she leads a team of underwriters, vets credit decisions and works closely alongside marketing, development, compliance and finance teams to ensure operational synergy throughout the company.
We asked Stacy what her biggest success has been so far and she told us, "Professionally, I'd say it's being one of the original team at Fleximize back in 2014. It was a real joy to help grow a team of two underwriters into a staff of 50 over the past seven years! In fact, the teams we've created and the people we've hired are actually my favourite thing about Fleximize.
"Outside of work, my biggest success is my relationship with my 12-year-old son, Lucas. He was born when I was 18, and I've been able to juggle raising him with progressing in my career and also continuing to study. For any other women trying to get into the finance industry, my biggest tip would be to see challenges as opportunities for progression, especially if you're in a startup environment!"
Jenny Knight | Head of Broker Relations
Jenny has worked in the finance industry for over 14 years across various roles, primarily in startups. Now, she manages the Fleximize Broker Team, which consists of six employees, with two more hires joining in the coming months. Her role involves overseeing the application flow from broker channels into the business through to the deployment of funds, which she juggles with studying for a management degree and raising her young son.
We spoke to Jenny about what advice she'd give to those looking for a way into finance and she told us: "I think the most important thing I can share is that, at times, people may be put off from considering a career in finance if they don't have shiny degrees and lots of qualifications. This simply isn't the case; it's more important to work hard, be open to new challenges and be ready to learn on the job. There are so many different routes and support roles which don't require specific degrees or qualifications. My journey into finance is an example of this; I started straight after my A-Levels as an apprentice and have progressed to a role in senior management.
"I've also enjoyed being part of the first few Fleximize employees and helping Pete build the business from the ground up. In fact, one of the reasons why I love working at Fleximize is the people and the teams we've built. I've never worked in another company that seems to really have recruitment down in the way Fleximize does. We're like a family and I love that we're not overly-corporate. The fun and laid-back environment makes for such happy and motivated employees and a truly inclusive culture."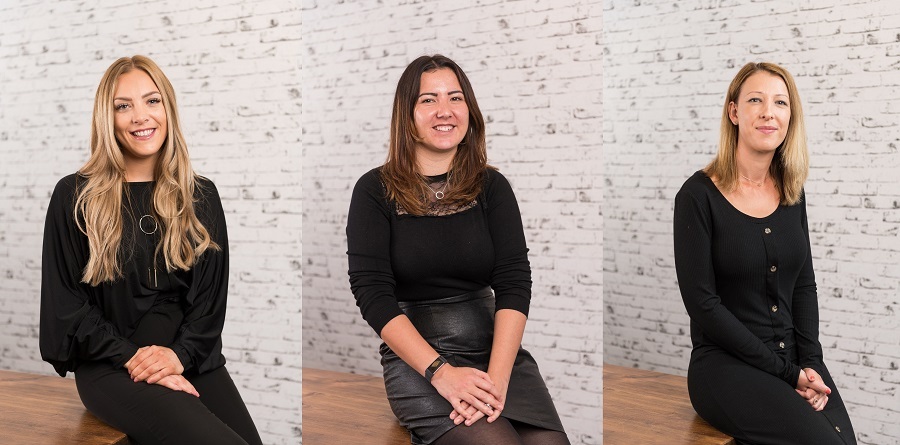 Leena Moonesamy has been working in compliance for almost 16 years, and has worked as Head of Compliance at Fleximize for seven years, joining just a few months after Fleximize was first founded. She has since built up the compliance team to a total of four employees - all women.
We spoke to Leena about what she was most proud of in her career so far and she told us: "Getting my MBA whilst working full time is the biggest achievement so far. Whilst this was hard, I really enjoyed the growth it brought about personally and professionally. It also allowed me to break any self-imposed barriers but also to apply what I have learnt on a daily basis. In addition to teaching me how to be more resilient, it taught me how emotional intelligence is super important when you work with others.
"For other budding professionals wanting to get into compliance, remember that compliance roles are definitely not gender-specific. Whilst consistency is key, a constant review of your role within that function is necessary, as finance is such an evolving industry. If you're attentive to detail and you have insight into how changes can affect a business and change direction accordingly, compliance will be perfect for you. I've loved my time at Fleximize, helping to shape and grow the business, most of all because it feels like home."
Lizzy worked in consumer lending and the energy sector before joining Fleximize as Financial Controller, where she oversees the day-to-day running of the finance department. This includes everything from managing and developing the finance team to producing financial reports required by the business, along with the monitoring and forecasting of cash flow.
We asked Lizzy what advice she'd give to other women who want to get into finance and she told us, "When looking for jobs, consider who you will be working with – will you receive mentoring from a supervisor? How experienced are they? What does the job-based experience look like? For me, being supported and developed within the workplace has been invaluable, so look out for a long-term pathway that will help you progress into the role you want.
"This is something I looked for when applying for my current role at Fleximize. It's great working for a company that really supports and values its staff. In terms of opportunities for training and development, and the wide variety of employee benefits, Fleximize goes above and beyond to keep their staff happy. For example, I was able to study for my ACCA whilst working at Fleximize and qualified in 2016."
Before joining Fleximize as HR Officer in 2019, Jill enjoyed a successful public sector career in Finance, HR and Asset Management and also achieved her post-graduate diploma in Management with UEA. She leads on the design and delivery of the HR Strategy at Fleximize, which includes succession planning, business resilience, wellbeing, performance, and employee experience.
We spoke to Jill about what she loves most about working at Fleximize, and she told us, "My favourite thing about working at Flex is that it's so ALIVE! I love the drive, flexibility and pace, but also the fact that we really do care a lot about our customers, each other and the wider world. With this in mind, for anyone looking for a way into HR, it's vital to think about the kind of organisation that you would be proud to be a part of. Ultimately, in HR, your job is to do everything in your power to provide a framework that helps every employee contribute the best they can to the company aim.
"Make sure you're comfortable with the company aim, its values, the culture and the leadership style. If your own principles are out of step with those of the company, every HR challenge could be a battle with your true self!"
Resources & Initiatives
Gender equality is important in all industries, but financial services is one that's been highlighted more so than others in recent years. If you're looking for ways to get into the finance industry, or if you're a woman in finance looking for support and networking groups, here are three resources to consider:
The Women in Finance Summit & Awards: Advice on how to recruit and retain women in finance along with an awards initiative to tackle the gender imbalance in the industry.
Bright Network: Advice and guidance on how to secure a graduate role in the finance industry as a woman.
The Women in Finance Charter: A commitment by HM Treasury and signatory firms to build a more balanced and fair financial services industry.
We hope you've enjoyed reading about how our senior leadership team are breaking the glass ceiling and progressing their careers in finance. If you're a woman in the UK finance industry who has made an impact we'd love to hear from you and share your story. Email us at [email protected].