Ellis Heighes is the founder of Queue Technology, a software company that's changing the way Suffolk's small businesses navigate the pandemic. Queue Pay, for example, takes the fuss out of payments by allowing customers to purchase a product by simply scanning a QR code, without the need for complicated e-commerce integrations.
In March 2020, when lockdown struck and businesses had to close their doors to customers, Ellis made Queue Pay available for free to local business owners to help them through the pandemic. This caught the attention of Mid Suffolk & Babergh District Council and led to another opportunity; a collaboration with the council to develop Virtual High Street - a platform designed specifically to help small businesses trade online and encourage people to shop local during lockdown. It's already been a roaring success in Sudbury, where over 100 businesses have signed up.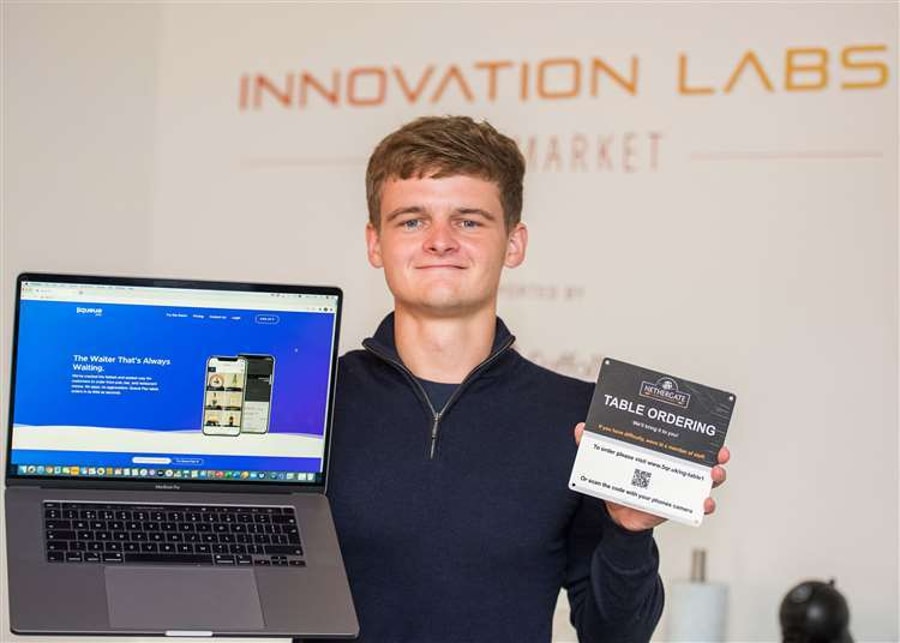 Inspired by Ellis' innovative approach to business, Fleximize were delighted to sponsor Ellis' seat at Stowmarket-based Innovation Labs, a business hub and coworking space that fosters collaboration and entrepreneurship. The workspaces at Innovation Labs allow budding entrepreneurs coveted access to mentorship, advice, and guidance from some of the leading business owners across Suffolk. We spoke to Ellis about how the seat at Innovation Labs has supported his journey and discussed his plans for the future.
The importance of collaboration
In many ways, Innovation Labs is the ideal environment for budding entrepreneurs, as it gives them access to a network of seasoned business owners with great links in the local business community, along with the opportunity to work alongside other members with the same ambition and drive. In particular, Ellis highlights how this fosters a healthy environment for collaboration and motivation: "It's been fantastic having my membership at Innovation Labs sponsored by Fleximize; it gives me access to all the resources my business needs to grow and develop and it's one financial strain that I don't have to focus on.
"Even during the pandemic, the Labs have shifted and everything's gone virtual. We still have weekly meetings and virtual coffee breaks. The team are always on the other end of the phone if you need support and help, and they're so happy to share their industry contacts. There's never a question or an introduction they're not happy to facilitate. It just gives you a big head start, and it's such a fantastic opportunity to work alongside lots of small businesses that chip in to help one another out within their area of expertise."
Every introduction I've had through Innovation Labs has been a game changer.

Ellis Heighes
Ellis also touched on how, despite the national lockdown, business owners are more willing than ever to help young entrepreneurs. He explains, "The vast majority of people do genuinely want to help and want to see you do well. They'll point you in the right direction and make introductions that could help progress your career."
He also explains that, for budding entrepreneurs, the key is to be open and look for opportunities for mentorship and collaboration, especially in the local business community: "People have become more open and more accepting of a LinkedIn message or cold email because that's the main way to communicate at the moment, so don't shy away from conversations or be afraid to ask for support."
Looking ahead
As Ellis' products suggest, he is acutely aware of the undeniable shift in consumer purchase patterns through the pandemic. He explains: "Whilst Amazon sales initially skyrocketed, many people have also recognised the importance of shopping locally and supporting independent delis and stores which are the backbone of their local economy."
Rightly so; the arrival of rival platforms such as Bookshop.org, which make it as easy for consumers to shop with independent stores as shopping on Amazon, illustrates how the pandemic has made people think twice about where they spend their money. Ellis continued: "If the offering from independent shops becomes as convenient and easy as what bigger platforms, such as Amazon, offer, in time, we will see a shift in behaviour. The key to getting consumers to shop local is to make it as easy for people to shop local as it is for them to shop on Amazon."
And with both Virtual High Street and Queue Pay offering exactly this, we've no doubt Ellis' products will continue to go from strength to strength.
In terms of what's next for Queue Technology, Ellis says there's a focus on shifting towards a bigger sales strategy and that the business in the later stages of some very exciting conversations: "We spent all of last year on R&D, developing software and reacting to the changing landscape. This year is about identifying our key focus points for each product and shifting towards a bigger sales strategy to move all the tech forward."
Over the next few months, Ellis is also working with local councils to set up Virtual Highstreets across Stowmarket, Hadleigh, Needham Market and Eye, with the aim of developing into a Suffolk-wide initiative.
We have no doubt that 2021 has big things in store for Ellis and Queue Technology and we'll be catching up with Ellis again later in the year to see how his journey has progressed.