Ipswich-based alternative business lender Fleximize has raised £4,020 for the homeless – by bringing laughter to the town with a stand-up comedy night.
The company, which provides flexible finance to help SMEs across the UK, drew in the likes of TV stars Bob Mills and Paul Tonkinson to perform gags for local business owners.
Funds raised on the evening will go to Ipswich Housing Action Group (IHAG), which provides vital assistance to homeless people in the Ipswich area. The fundraising total surpasses the highest amount ever raised for the charity at any single event held in the past.
Peter Tuvey, Fleximize co-founder said: "We are proud to be an Ipswich business, and we will always remain committed to continuously improving our town.
"Fleximize deals with small business owners on a day-to-day basis, and events like this allow us to give the people driving the town's economy a night off, and help those that need it the most, to one day, have a night in.
"Helping to drive IHAG's capability to support people in our town that need it the most is a great feeling for the entire Fleximize team, and we hope this won't be the last time. It's been a privilege to work with IHAG to raise money for single, homeless people in Ipswich"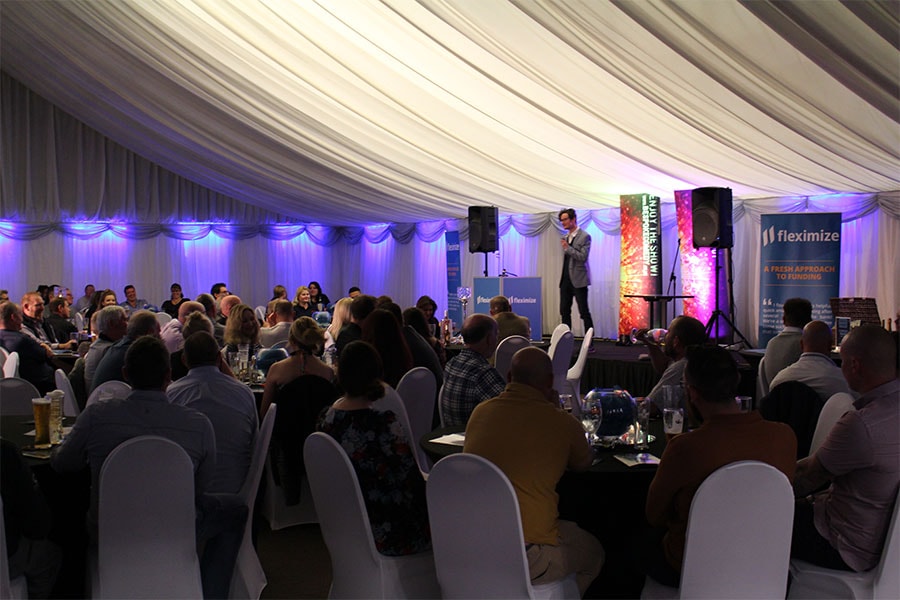 Chief Executive of IHAG, Halford Hewitt, said: "The Fleximize team were fantastic. Not only did they raise over £4,000 for IHAG and its homeless clients, but the event gave IHAG a platform to raise awareness of homelessness in Ipswich and what IHAG is doing to reduce it.
"The money will be used to address two much-needed issues: one, the lack of cooking equipment and bedding for homeless people when they enter or leave the hostel; two, the lack of access to the internet for job, benefits and housing applications."
Three of the UK's top comedians performed on the night, including former Big Breakfast host Paul Tonkinson, star of BBC Radio 4, talkSPORT and ESPN, Bob Mills and James Dowdeswell, well known for his role in Extras and regular appearances on Russell Howard's Good News.
The comedy was followed by a charity auction, which saw business owners bidding on a range of lots, including a supercar experience, a two-night European city break, and a three-course dinner for two with champagne at The Ritz.
– Ends –
Notes to editors
About Fleximize
Fleximize is a UK-based direct funding company and web platform launched in January 2014. Our mission is to help small and medium-sized British businesses grow by providing them with flexible financing solutions tailored to their unique needs and preferences. We are striving to provide our clients with experience and service traditionally available only to larger corporates. Our dedicated relationship managers will guide and support clients from the moment they apply – no bouncing from person to person or waiting for hours on hold.
Fleximize also offers traditional fixed-term loans, which come with a range of flexible features including top-ups and repayment holidays.

About IHAG
Ipswich Housing Action Group Ltd (IHAG) is a small, independent, local charity with a voluntary management committee (Trustees), 43 paid staff and about 15 volunteers. IHAG started life in 1976 in response to concern about the lack of accommodation for single people in Ipswich. Today IHAG operates a dispersed hostel of 14 houses, has a busy Money Advice Service which helps hundreds of individuals each year deal with their debt, budgets and welfare benefits and runs the IHAG Chapman Centre – a hub for homelessness services in Ipswich.
The IHAG Chapman Centre services over 1100 excluded/self-excluded and hard-to-reach service users annually and provides a variety of services: walk-in advice & support, welfare benefits, housing advice, money advice, lunches, shower facilities, food parcels, post collection, phones, computers, pathway to drug & alcohol services, health clinics, meaningful activities, training sessions and rough sleeping outreach.