Ten Green Bottles is a Brighton-based wine shop and bar that's been serving customers for over a decade. It was one of the first wine bar/shop hybrids in the UK, modelled around cosy Italian enotecas where customers can enjoy a glass of wine alongside carefully-paired nibbles with the option to purchase a bottle too.
Unsurprisingly, the business has become well-loved precisely for this personalized approach; their most popular offering is the bespoke and unique service of wine tastings for small groups or couples with an expert who can provide a tailored introduction to wine.
But when the coronavirus pandemic hit the UK, and all non-essential businesses were ordered to close, Simon and the team had to take several steps to ensure they could continue to serve their customers in some way. Here's how they adapted their offering:
Shifting sales online
Along with their physical store, the business also has an online shop, which, until lockdown, served as just a small component of their overall offering. But when all non-essential businesses were ordered to close, Simon and the team had to ensure their online shop was now the star of the show.
The team had to check their online shop was fully-functioning and able to accommodate more orders, along with taking steps to ensure their stock was up to date. This required a significant shift in the way the business operated. They managed fulfilling orders by ensuring one member of the team could safely visit the store to pack and send the orders along with keeping on top of stock levels.
As many small businesses discovered, a move to e-commerce proved invaluable during lockdown. For Ten Green Bottles, the agility to shift their offering online meant that the business was still able to serve their customers at the height of the pandemic even though their physical store was closed.
Innovation to deliver wine tastings
As mentioned above, Ten Green Bottles' USP has always been their ability to offer bespoke and personalized wine tastings, where a small group or couple can come in and sit with an expert who gives them a thorough introduction to wine, tailored specifically to their tastes. But with the bar closed and social distancing measures in place, this service, which formed the backbone of the business, was no longer possible. Simon and the team turned instead to Zoom to offer virtual wine tastings and experiences, which proved successful.
The biggest struggle in adapting the offering and moving it online was that customers would have to purchase several full bottles of wine, then open them all during the virtual tasting, proving expensive and wasteful. As a work-around, Simon and the team engineered a technique to carefully decant bottles of wine into smaller tasting bottles using a process which ensures the wine stays fresh and can be delivered directly to the customer before the virtual tasting.
To help purchase the equipment needed to do this, the team applied for a grant from an organisation based in the South Downs seeking to provide companies looking to innovate and overcome limitations with funding. Ten Green Bottles' application for funding was successful and Simon and the team were able to purchase the equipment they needed. This meant they could continue providing customers with an iteration of the bespoke service the business has become so well-known for.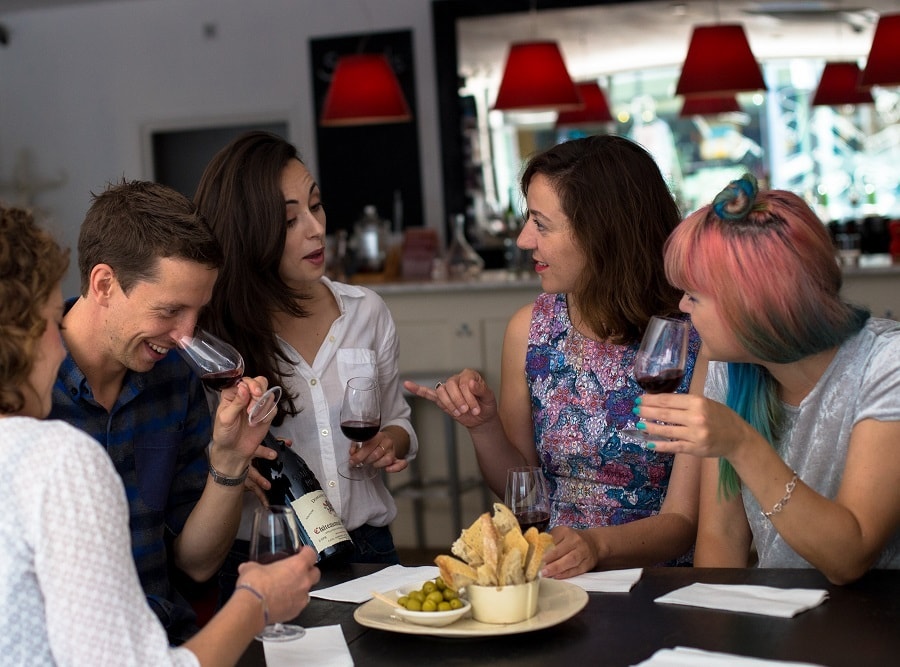 Making their bar Covid-secure
Another challenge that the business faced was ensuring that they were ready to reopen the doors of their bar on 4th July.
With both the shop and bar occupying one space, and the shop already open and serving customers, it was difficult to ensure the two aspects of the business still felt unified. In order to make the space Covid-secure, Simon had to implement a one-way system and reduce the number of customers allowed in at one time. The team also turned a communal table at the centre of the space (which could seat fourteen customers) into a Covid-secure seating area for four. As Director, Simon also had to take additional measures to ensure that his close-knit team of staff felt safe and secure working with customers.
Opening the bar also meant Ten Green Bottles was once again able to offer their bespoke wine tasting services that had to be moved online. Instead of the previous small group or couples being paired with one wine expert, Simon found that he could close the bar to customers and invite small groups of five or six couples (seated in compliance with social distancing measures) with one expert at the front of the room guiding them through the tasting. Although this is not quite the same as his initial offering, it still provided the intimacy and tailored service which the business was founded upon and also meant that many of the gift vouchers that had been purchased for their bespoke wine tastings service could finally be fulfilled.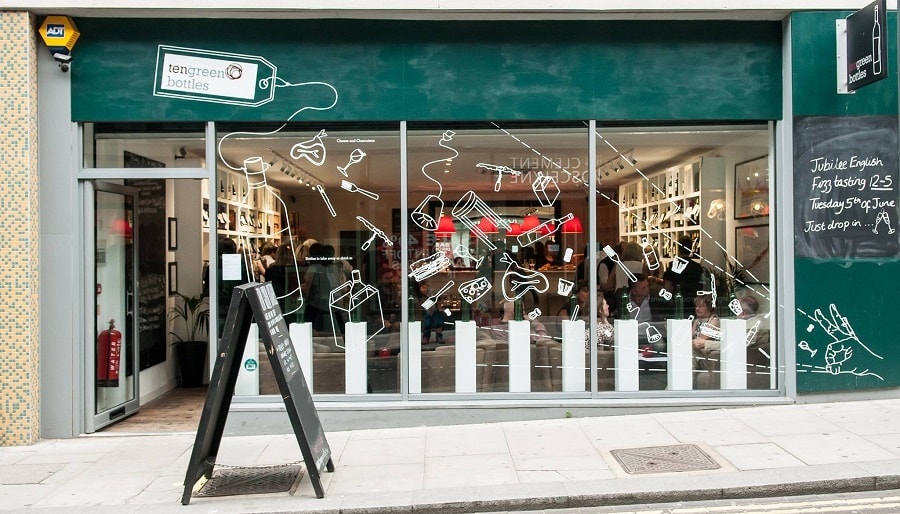 A successful pivot
A key aspect of Ten Green Bottles' success in navigating lockdown was their agility and willingness to innovate in order to keep serving their customers. Crucially, the grant the business received to help with their innovations was vital; Simon explained that the 'funding and loans available for a businesses our size were surprisingly generous,' and that the grant in particular made a big difference to the business' ability to adapt to the crisis.
Although the business did have a long and unfruitful wait for CBILS funding, they were also able to secure a Bounce Back Loan to help keep the business going. Having previously taken out a business loan with Fleximize, Simon said: 'Your service, I found, was way better than anyone else's'. He continued, 'Time will tell how quickly we're able to bounce back to our usual level of service and re-staff' but we have a strong feeling that their innovation, agility and focus on meeting customer needs will mean that this business continues to prosper.
Are you a small business in the UK that's also had to innovate and adapt your offering to serve customers through the crisis? If so, we'd love to hear your story - drop us a line at [email protected] and a member of the team will be in touch.