It's UN English Language day today, and also the birthday and death day of William Shakespeare. To celebrate the beauty of the English language, we're taking a closer look three UK SMEs that have built their business around the written word, including a handwritten communications company and the jewellers who immortalize the handwriting of your loved ones. In addition, we're also highlighting a couple of recent campaigns within the UK that have harnessed the power of the written word to captivate audiences.
Personalized gifts & jewellery | Founded in 2016 | Leigh-On-Sea, Essex
Inscripture provides a truly personal offering of 'handwriting jewellery', meaning items are engraved with a message from your loved one in their own handwriting. A great deal of care is taken by the team to ensure every piece maintains the integrity of the handwriting, making each piece unique and sentimental for the owner.
The independent online store has a real focus on quality, customer service and reasonably priced items. Their whole ethos is based around creating and designing beautiful, original and meaningful items for all, with an injection of personality. Along with jewellery for both him and her, Inscripture also sells a range of cards, keyrings, frames and tokens which can be inscribed with a message from a loved one.

Unsurprisingly, this award-winning family-run business has been recognized by celebrities and magazines, including Vogue, for their innovation and creativity. You can browse Inscripture's products on their Instagram page, or follow the company's progress on Twitter.
Personalized children's books| Founded in 2012 | Hackney, London
Wonderbly was founded by four friends in 2012. The basis of the business is to use the power of words and children's imaginations to inspire boundless self-belief. The business started with one book idea: the now best-selling children's book titled Lost My Name, which follows the tale of a young boy or girl who 'loses' their name and finds it again, one letter at a time, with the help of a range of animals and creatures.
Each book is tailored to the name of the child reading it, as the story itself changes based on the name of the child it was created for. Parents are also able to add personal messages to the books and choose one of three adventures within the story itself depending on the personality of their little ones.
Now, the company boasts a wide range of books for children age 0-8 which can be personalized to create an engaging and unique experience for each reader. You can take a look at some of the illustrations from Wonderbly's books on Instagram, or keep an eye on their latest publications on Twitter.
Business communications | Founded in 2015 | Brixton, London
Inkpact is a UK-based business communications service with a difference. The company has taken the art of messaging back to paper and pen to create a handwritten communications service that's used by the UK's top brands, including John Lewis and Macmillan, as a means of communicating personally with loyal customers.
All communications are handwritten by Inkpact's scribe tribe - a team of freelancers with beautiful handwriting who hail from all corners of the local community. Including those recovering from illness, parents, grandparents and students, the team of scribes carefully transforms the copy of their clients into elegant handwritten notes and letters. As a result, Inkpact is now a registered social enterprise.
The business has also won 10 awards and has been featured in The Guardian, Forbes and The Times. You can take a look at Inkpact's work on their Instagram page or keep up with the latest by following the business on Twitter.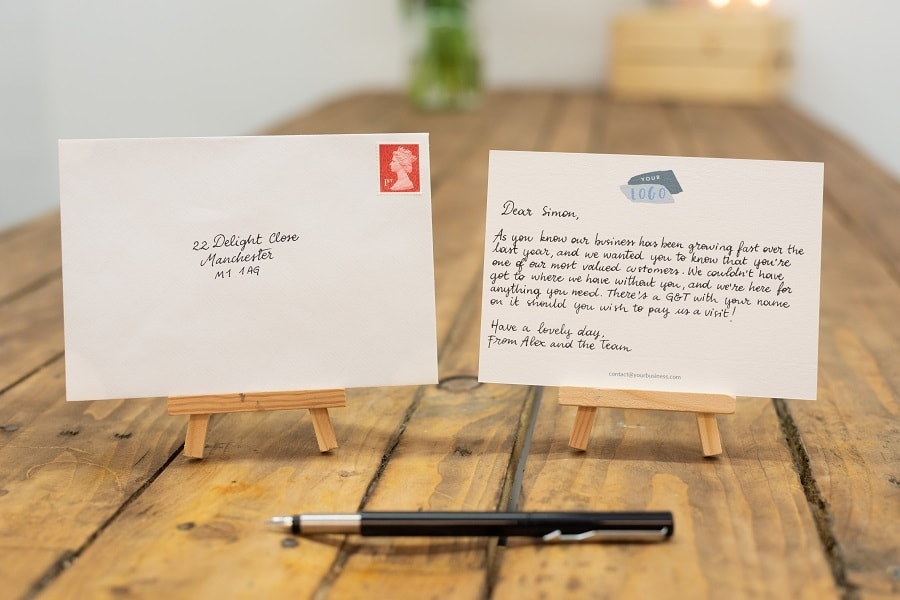 To complement the three businesses highlighted above, we thought this would be the perfect opportunity to mention a couple of the charities and enterprises who are using the written word as the driving force of their UK campaigns.
Earlier this month, The Guardian revealed that London's Canary Wharf tube station would be home to the UK's first short story vending machine. Created by French company Short Édition and installed by The Canary Wharf Group, the machine dispenses free one, three and five minute short stories on eco-friendly paper, in the hope that commuters will be able to make better use of their time when commuting.
The Canary Wharf Group decided to install the machines after their research revealed that 36% of UK adults had given up reading a book within the last 12 months due to lack of time. The machines provide the perfect solution to this problem, as they allow busy commuters to rediscover the joy of immersing oneself in literature, even just for a few minutes.
The machines are also being installed in waiting areas of large businesses in order to enhance their customer experience. In these situations, the short story dispensers turn waiting around and 'dead time' into a highlight by providing customers with a welcome distraction that takes them to another world.
In January this year, the BBC covered the story of how charity The Kaleidoscope Plus Group wrote a selection of uplifting messages and slogans at Dudley Port Railway Station in an attempt to uplift strangers. The health and wellbeing charity sought to find a way of reaching out to those who may be in distress, and decided that putting positive messages on platform steps could help those in need of a boost.

Consequently, twelve signs promoting happiness and wellbeing were chosen from a list of over 300 slogans submitted in a competition run by the West Bromwich-based charity. The result is an excellent example of how the power of the written word can be used at the centre of a successful health and wellbeing campaign to uplift those in need.
In addition to the Kaleidoscope Plus Group, other wellness initiatives are also using words to combat loneliness and promote wellbeing. Last year, the Huffington Post UK covered the story of how families were writing inspirational messages on rocks and hiding them around the UK for strangers to find. This, along with the SMEs mentioned above, suggests that in our digital-first world there is still undeniable beauty in the written word.