Geovation is a startup accelerator, backed by Ordnance Survey (OS) and Her Majesty's Land Registry (HMLR), tasked with driving innovation in geospatial and location data technology. Of the startups that have already passed through the programme, many have gone on to enjoy great success in industries as far ranging as finance, shipping, sustainability, real estate, and sanitation.
Alex Wrottesley has been Head of Geovation since 2015, a multifaceted role which sees him advise and support his team as they nurture a rolling cohort of startups, concerning himself with everything from fundraising efforts to what has become known around the office as 'founder therapy'. In many ways, Alex tells me, it feels like the job was created especially for him.
Despite this, upon first applying for the position he was concerned that his lack of corporate experience might thwart his chances of success. In fact, the opposite was true. Legend now has it that Ordnance Survey's Director of Products at the time, Peter Ter Haar, spotted a CV in the tumbling pile of applications and plucked it out; Alex's experience of startups and fundraising had caught Ter Haar's eye and the rest, as they say, is history.
"Stroke of luck," says Alex, leaning back and smiling broadly, clearly content that, for one day at least, fortune was on everybody's side.
Alex's jovial mood is reflective of that bouncing around the whole Geovation team right now. The pursuit of geospatial innovation has been a fruitful one, so much so that, today, they're moving into new offices in London's East End, a generous space more than twice the size of their previous digs.
"It's a real testament to what's happened over the past three years," says Alex. "Our stakeholders, Ordnance Survey and Her Majesty's Land Registry, have backed us with the investment we needed to make this thing grow. In July, we celebrate the third anniversary of the Geovation Hub in London, and it's also the first anniversary of HMLR coming on as partners."
Alex describes the past three years as 'almost a Beta phase' and that July will see them launch will full vigour. If this has been a Beta phase, it's been a uniquely successful one. The Hub has supported seventy-two startups, helped them raise around seventeen-million pounds and created over one-hundred-and-fifty jobs in the process.
The Hub's biggest success stories include Land Insight, a site sourcing and deal management platform for the property industry; Flock, a firm revolutionizing the insurance industry with pay-as-you-fly drone insurance; Shipamax, an intelligent communication platform for the bulk shipping industry; and Refill; a social enterprise project looking to eliminate single-use plastics by mapping locations around the world where people can refill their waters bottles for free. The latter has recently received more than £750,000 in government funding, via Water UK, as part of their pledge to reduce single-use plastic waste.
In Support Of Public Innovation
The UK government has been widely accused of somewhat lurching towards technological innovation, especially in comparison to its European counterparts. More recently, however, not least in the wake of the EU referendum, investment has risen, support has increased and the tech economy is now ranked third in the world, behind China and the US.
"Increasingly, the government is doing a really good job of embracing tech. Something which probably started in earnest with the Government Digital Service (GDS) initiative. They pushed really hard to try and promote the sharing of best practice across government. All of the effective digital services we see today, when applying for driving licences, completing tax returns, or renewing passports, are a result of GDS's work."
The GDS are certainly evangelical about tech, perhaps a little heavy-handed at times. As former government advisor, Rohan Silva, wrote in 2013, the UK was spending on technology "like a drunken sailor".
"John Manzoni, Head of the Civil Service, has done a lot to drive the idea of utilising technology to provide good public service," says Alex. "As citizens, we're seeing the results." Before long, the work of John Manzoni and the GDS paved the way for another government initiative, the Geospatial Commission.
"The ongoing challenge of the housing market makes locational data the focus of major strategic policy," says Alex. "A lot of people across government were saying, we need to do more to solve the housing crisis, what can we do? Data is a key component of that; helping to make land available, making transactions more seamless, and so on."
As former First Secretary of State, Damian Green, said in the press release which accompanied the Geospatial Commission launch, in November 2017:
"The UK has some of the best geospatial data in the world, much of it is held by public bodies, and the new Geospatial Commission will help Britain to turn this valuable government data into tangible benefits such as new jobs and savings."
Saul Klein, Partner at LocalGlobe, agreed:
"Opening up geospatial data shows how committed the UK government is to being the best place in the world for startups and innovative companies to use data to build amazing new products and services."
And that's where Geovation comes in. The geospatial data that the government has is a valuable asset which needs to be made openly available for businesses to experiment and innovate with. OS and HMLR have, between them, some of the richest geospatial datasets imaginable. Alex's job is to figure out how to use this national asset to unlock economic value for the country.
"That's our underlying quest. How do we extract the best value for the taxpayer?"
While Geovation's headline ambition is to support economic growth by identifying and supporting companies who will go on to create jobs and tax benefits for this country, there is also a second ambition, one which is incidentally possible as a result of the first.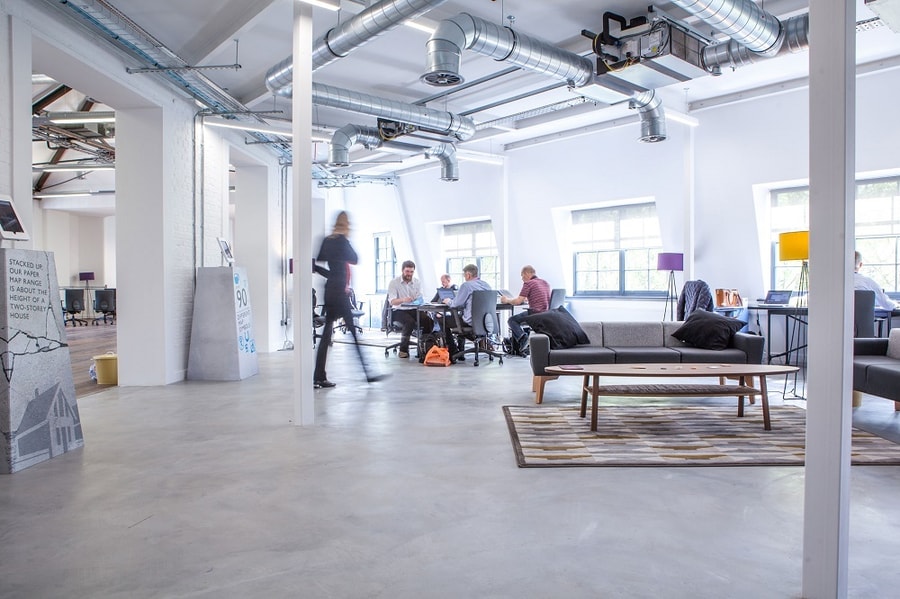 "It's insight," says Alex, "and it could be argued that it's more important than anything. The insights we gain from working with these startups are invaluable and play two important roles.
"Firstly, these founders and entrepreneurs are essentially OS and HMLR's future customer base, in the sense that they are using public data to create businesses. If we were to simply ask our customers what they think of our data, we would likely receive very polite, filtered feedback. But when you work alongside someone everyday, you start getting some very honest, very direct feedback. With this, we are able to understand what our customers want to achieve by using our data.
"These insights are used to inform our stakeholders' product road maps, helping to ensure that new products and services are created to best enable these companies to innovate and add to the economy...
..."And then, of course, there's the innovation itself. By their very nature, startups are forward looking, they're not interested in historical issues. So, by working hand-in-hand with this lot, the government has insight and early access to the most cutting edge innovations in open data and geospatial technology.
"I think it's really important to note that it's not all about helping our stakeholders achieve their business plan. We select our companies on merit, first and foremost. We tend to get very high-quality applicants and only select a very small number so that we can closely support and nurture them. We're always most excited by, and likely to select, those who can teach us something new about the market."
Alex illustrates his point with the example of GetRentr, the DIY-lettings app which has recently raised £500,000 in seed funding. While one does long for the day when vowels are considered cool again, GetRentr has been a vital educator for a government currently at the foot of a complicated challenge.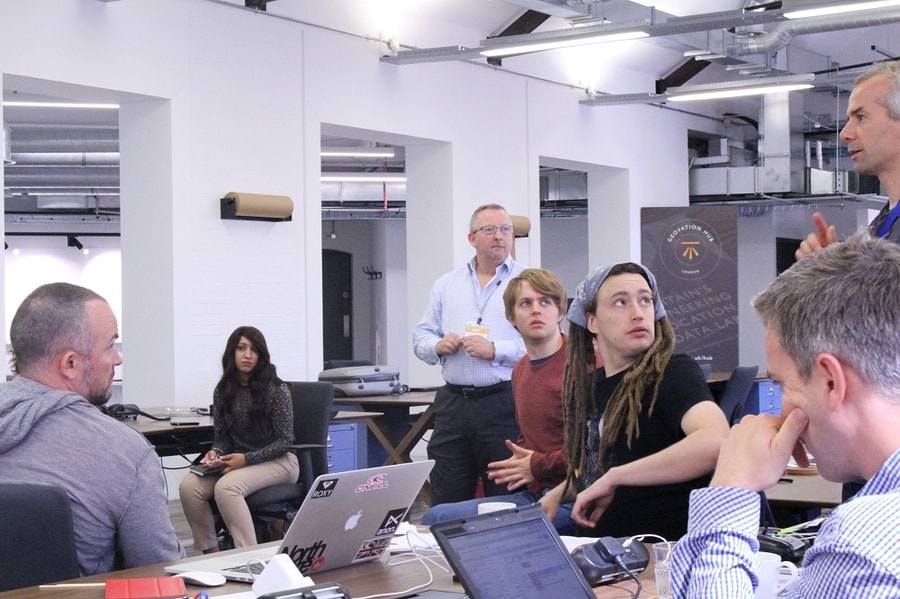 More people now rent their homes rather than buy. A fact which, as the years roll by, is expected to remain true. And it's not just young people choosing to, or being forced to, avoid the housing ladder: as the BBC recently reported, the number of middle-aged renters has also doubled in the past ten years.
The government just isn't in a place to be able to cope with this. This isn't how it was meant to be. It was meant to be an aspiration: buy a home, fill it with healthy, wholesome, hard-working kids and then proudly chisel chunks off the mortgage.
The work that GetRentr are doing helps the government understand how it needs to evolve in order to fit this new picture of society: in a world where mortgages are no longer a reliable spring, how should it work with banks to help create new revenue models? What laws or regulations need to be put forward to protect the rights and freedoms of tenants? What sort of data provisions are landlords going to need? Do we need to rethink home insurance? In an ecosystem where rental property is in such immense demand, how does the government ensure that tenants aren't exploited by rising rent values? And what about those with the least money to spend, how do we guarantee they are able to find and retain an adequate home?
Geovation's work with GetRentr facilitates government understanding of the new property ecosystem. As, too, does their work with Skyscape, a member of the current cohort, who are, as Alex says, "helping us better understand the importance of creating a marketplace for rooftop real estate". In the future, it will become increasingly important for building owners to be able to monetise their rooftops with mobile phone masts, 5G receivers, urban agriculture and, ultimately, landing pads for flying cars.
To be able to do this, the government needs to reconsider regulations around airspace and city planning as well as ownership and contract laws.
"Geospatial data, or location data, is an incredibly broad church," says Alex. "So we're not particularly confined when it comes to choosing who we work with, just so long as their business aligns with one of the three core categories of Ordnance Survey's innovation strategy."
Those three categories are mobility, infrastructure, and connectivity. By constantly churning the soil in these areas, Geovation acts as a membrane between the government and the outside world, reporting and informing on the current state of innovation to ensure they're always part of the most vital and beneficial conversations.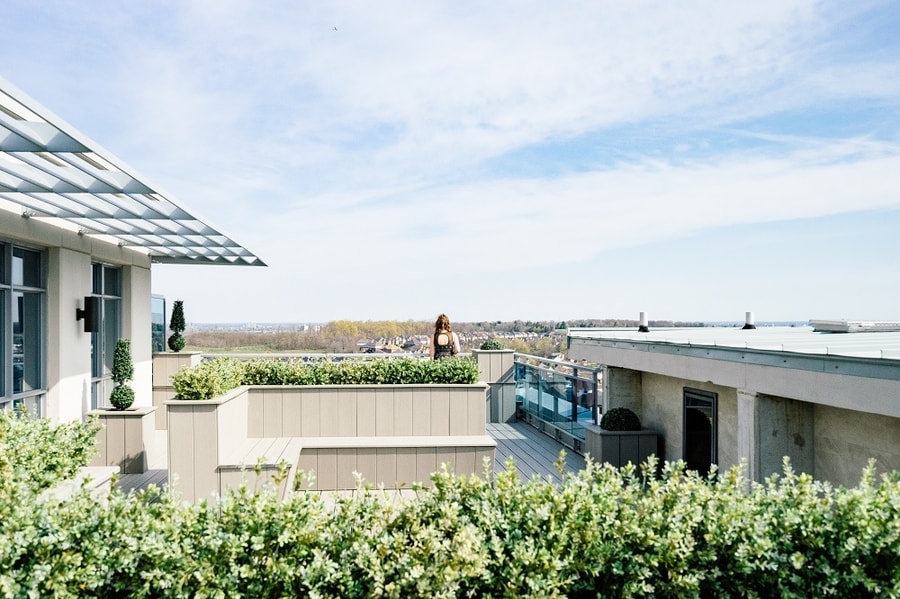 Eliminating Single-Use Plastics
The art of spinning geospatial data into tangible economic value is indeed a broad church and one which gives Geovation freedom to wander down some fairly unexpected roads.
One member of the Geovation alumni that Alex is particularly proud of is Refill, a scheme originally launched in Bristol with the aim of eliminating our nation's reliance on single-use plastics.
"It's a lovely example of how we're able to do really good things aside from support economic growth," says Alex. "They arrived at Geovation and we built them a truly belt-and-braces app. To see how far they've gone now is amazing."
The Refill app, free to download, maps all of the locations where you can refill a water bottle for free. Wherever you are, the map lists all of the cafes, restaurants and shops that have signed up to the scheme.
"These places could charge you five quid for a couple of bottles of water, but they're demonstrating a great understanding of how urgent the plastics issue is."
This support has resonated across the land and Refill has now won a contract with Water UK to spread the initiative across the nation. Today, there are ten-thousand locations up and down the UK, including all Costa coffee houses and Premier Inn hotels. Remarkably, Refill locations are also popping up across the globe.
"Once again," says Alex, "it's proof of proactive government problem-solving, this time on the environmental side. There has been this building pressure saying "this is totally ridiculous, we've got to do something about plastic waste" and this is a uniquely creative solution.
"It was never specifically designed for Geovation to work in social enterprise or sustainability, but, by creating an environment that is open to opportunity, we're able to respond to great ideas wherever they come from: you go looking for one thing and, along the way, stumble across something completely different yet equally valuable."
---
Writing this now, it's clear to me: regardless of what its Head might say, there are no accidents in the world of Geovation. Whether it's Alex's CV being spotted by Ter Haar, or the exploration of geospatial data helping solve a global environmental emergency, there are simply no accidents. It's all down to proactively searching and seeing rather than entering that sunless state of wanting and looking.
In his 1996 essay, Sorry, but your soul just died, the recently-departed Tom Wolfe predicted that the 21st Century would be "an age in which it is impossible and pointless to avert your eyes from the truth". For Alex Wrottesley and the work he leads at Geovation, no statement could hold more relevance.
Data is, in its essence, truth, or, at the very least, it illuminates the truth. By focusing an unbroken but forgiving gaze on that truth, and by judging how to behave in accordance with it, Geovation is teaching the UK how best to prepare for the future, from how we keep our economy thriving to how we keep our world from burning.
But the thing with technology is, it insists on a never-ending process of experimentation and innovation. This requires a steadfast supply of money, time, and resources, none of which the government is currently rich in.
So, while it has been a good three years for Geovation, and while there is obvious value in the work they're doing, one can only hope that, as the UK makes passage through complex economic waters, the vital yet relatively unglamourous work of Geovation doesn't get cut-off by the government in order for it to fund more voter-friendly, albeit superficial, projects. All-mouth-and-no-trousers projects which may, for example, promise great value and good PR for long enough to impress over one term of office, but fail to prepare the nation sufficiently for the world that waits beyond it.
I don't want to wake up one morning and read that Geovation has been closed down, only to later learn that, thanks to a technological upgrade of Parliament and the installation cutting edge VR, I can now sit on the front benches and fully submerge myself in Prime Minister's Questions.
About Geovation
Geovation is a public-sector accelerator that works with SMEs and entrepreneurs innovating the fields of location or property data. The organization provides useful links in to government, support and collaboration, as well as grant funding of up to £20,000. Geovation is currently accepting applications for innovative and forward-thinking startups - click here to find out more.