Planning an event is stressful enough without throwing money into the equation; with many different moving parts needing to come together before an event can take place, it can often be a juggling act. Budgeting is a crucial aspect of the foundation of any event and often the ultimate concern of any event planner. Here's a guide on how to successfully organize and run a business event on a budget.
Things to think about before getting started
With any event, it's important to determine how much you can afford to spend, and it's never too early to begin constructing a rough draft of a budget. Ideally, your budget should consist of two amounts; the first being the amount you'd like to spend, and the second being the amount you could spend if necessary. This provides a comfortable buffer, and it allows for some flexibility for any unexpected costs that will inevitably occur.

Once you have a realistic idea of how much money you have available, the next step in the process is to do your research. Break down your overall budget by figuring out how much you'd like to be spending on each event expense, then estimate as accurately as possible how much your expenses may be for each aspect of the event. Additional costs that often get overlooked are lighting, cleaning and WiFi, so where possible, make sure to ask for everything you need to be included in the initial quote from any venues you approach.
Work out what needs prioritizing first
Try to determine what aspects of your event are the most and least important to ensure the event is a success. Concentrate on your event goals and the type of event you're organizing, as this will help you to focus the majority of your budget on where it matters. This will largely depend on your event, but they can vary from anything such as venue, catering, entertainment, decorations, service fees, and staff.
It's important to remember that in terms of expenses that are crucial to your event, you don't always have to go with the cheapest option. Don't be afraid to spend when it comes to the important things, a few extra pounds can transform a mediocre event into an incredible experience.
Choosing a venue
The venue will most likely be your biggest expense, which is why it's important to think about it early on. From football stadiums and five-star hotels, to hiring out iconic landmarks such as the Science Museum, the possibilities are pretty much endless. But it's worth noting that the type of venue you choose will also have a bearing on your budget. If you decide to go for a more creative blank canvas space or something unusual, it's likely that you'll need more budget for branding, furniture, and decoration. Choosing a hotel, or purpose built event space will likely have everything you need for a business event with very little fuss. At this point it's important to remember the objective of your event and choose a space that effectively represents your brand.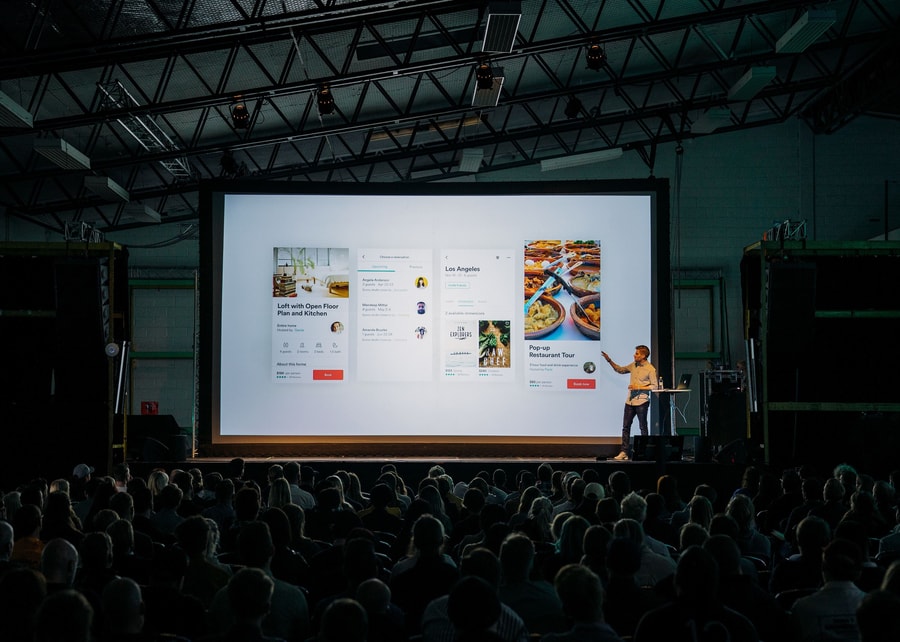 Next, consider the size of your event, do you need a smaller space for an intimate board meeting or a larger space for a company-wide conference? Get a solid estimate of your headcount to narrow your search down for spaces that will comfortably fit your guests.
Another factor to consider with venues is lead time. If you're organizing a meeting, the lead time can be relatively short, sometimes even a couple of weeks before. However, we'd always recommend giving yourself as much time as possible, particularly if you need a large venue, specific requirements, or an exact date. It's also important to factor in seasonality; for instance, the most popular dates for corporate Christmas parties are booked as early as January, and you'll probably struggle to find what you're looking for by the time September comes around, and could result in you paying more than you anticipated to get a suitable venue.
Don't forget the impact of finer details
Catering is as important for business events as it is for any other. Many venues have a preferred suppliers list; a selection of caterers that you can try out and choose from, saving you the leg-work of finding your own. Other venues will also offer a 'dry hire' option, which means you can provide your own food and drink, which can often be more budget friendly. Finding a caterer doesn't need to be stressful either; it's very much down to taste, of course. We recommend shortlisting a few caterers based on your own research, recommendations from friends and family and from people in the industry, then get in contact for some sample menus and quotes (you might even get to go for a tasting).
The location of the space should also be factored into your venue choice, since this could make or break the attendance at your event. Try to ensure that parking is available or that transportation is easily accessible, both to and from the event. It should never be a challenge for a guest to find your event.
For business-related events - workshops, presentations and conferences - technology capabilities are an absolute must. Before booking any venue, verify that it has the equipment and facilities you need, such as reliable WiFi, large screens for presentations, an in-house AV system (technicians are also a bonus), and lighting capabilities to add to the atmosphere.
Prepare for the unexpected
Underestimating small costs is one of the biggest mistakes in budget planning. For instance, catering services normally require an additional service (as industry-standard, it's often around 10% to 15%), so it's best to leave wiggle room in your budget for these sorts of costs as they can add up quickly in the long run. Plus, you don't want to be hit by unnecessary fees, so keep track of any payment deadlines.
Overall, creating a budget plan shouldn't be stressful, it should only assist in helping you feel more confident and prepared when organizing your event. The careful and calculated planning that a budget plan provides is an absolute must for your next event, no matter the size of it.
About the author
Amy Stroud is the senior content executive at Hire Space, a venue-booking platform that helps event organizers find unique spaces for corporate events, parties, meetings, weddings and more. Hire Space also runs EventLAB, an educational series that helps event professionals to learn, develop, and stay connected.