When starting your own business funds and time are often tight. With many small / micro businesses not having the budget to work with PR agencies, it means that this essential part of launching your business is ignored.
But if you learn the basics of PR for yourself, you can promote your business for free. You might think you don't have the time to work on your own press office, but with editorial coverage proven to be far more effective than advertising, self publicity should be just as much an important part of your business toolkit as your branding and tone of voice. More than this, it provides credibility to your business and gets your name out to your target audience to additionally drive customers and ultimately sales. In the below article, I'll take you through some practical steps you can take to kick start your own publicity strategy.
Getting started
If you don't put your GPS co-ordinates into your route planner then you don't know where you are going. It is the same with your PR, all too often an after-thought and not integrated with a business and marketing strategy. Here is my 10-step programme to creating an effective and informed publicity plan for your business. Grab a PR workbook and work through the following
1. Define your business objectives
Everything your publicity does should be contributing to hitting your business objectives. On a very basic level, your PR can be used to build awareness but what do you need that awareness for? Are you trying to drive sales, secure downloads, look to achieve a management buy-out, attract new talent or new business? I'd suggest writing down 3 or 4 key business objectives and making sure at all times that whatever your are doing falls under the umbrella of one of these. Everything, from your target audience to campaign tactics should always link back to what it is you are trying to achieve with your business.
2. Who is your target audience and what are they reading?
Next in your publicity workbook, identify the different groups of audiences you are trying to target. If you don't know who you are speaking to, then how are you going to reach them? There is no point being featured in only men's magazines if your product is targeted towards women. After this, you should then have a focused list of what they are reading. For example, your consumers might be reading a lifestyle publication but, to attract talent, you need to be getting coverage in your relevant trade title. Or maybe you are after awareness in a key region - in this case, which are your local news outlets? Local papers and radio have high engagement and are therefore worth speaking to – remember, it's not just about national news.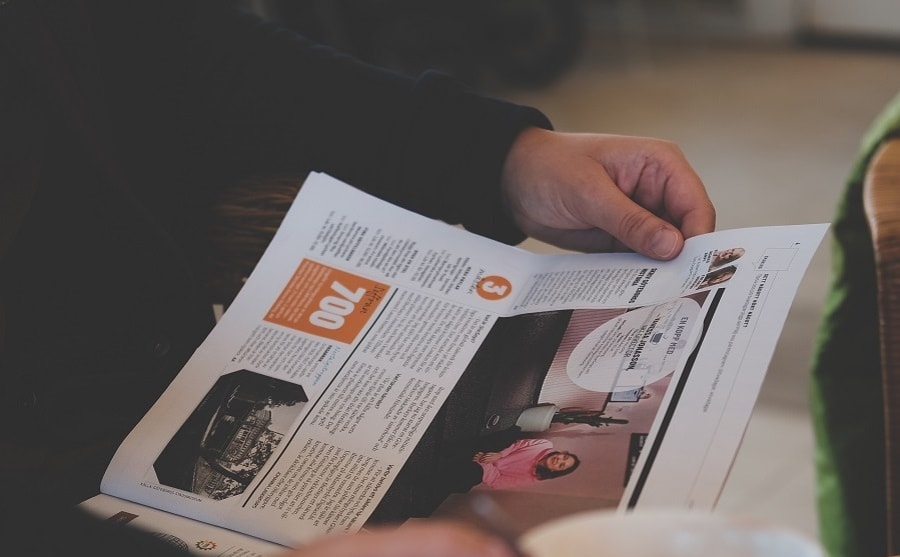 3. Build your press tool kit
Once you have a basic plan in place you need to make sure you have everything in your arsenal ready to respond. For a basic toolkit, you'll need:
Product or service shots: a selection of both in situ but, where relevant, cut against a plain white background.
Team biographies: remember to keep these short and sharp.
Team head-shots: journalists don't want a photo of you from last summer's BBQ party, with sunglasses and a glass of wine, they like clean shots with a plain background.
Boiler plate: this is a paragraph that summarises who you are and what you do.
One-liner: you should be able to define your business in one short, sharp sentence.
4. Do your homework
Next, a quick word of warning. We have had entrepreneurs in the past say to us "no-one has covered our story on how great we are" or "we have made a branded video on what we think about XX, please get some news coverage of this". When have you ever seen a story on how great brand is, that wasn't an advert? When did you last see a branded video story get news coverage?
You need to take the time to look at what sort of stories are newsworthy. To do this, make sure to read the publications, listen to the podcasts/radio shows and watch the TV programmes you want to be on and study what makes each story interesting. Definitely have pride in your own business but don't let your ego mistake you into thinking that it's of interest to a journalist.
Have pride in your own business but don't let your ego mistake you into thinking that it's of interest to a journalist.

Lucy Werner
5. Create a news hook
This is the biggest challenge; your business might be fascinating, but why should it be covered now? What milestones has the business achieved? Why should a publication feature you this week? Perhaps try to find a calendar news hook as to why your business is relevant or turn the business on its head. Something else might be happening in the news that is relevant to what you do, so keep abreast of what's going on and comment on it as a way of promoting yourself. Look at the big four e.g. Deloitte, PWC, Ernst & Young and KPMG who are well-known and respected for their reports and research. They may have some relevant stats from their recent research to provide a topical newshook that will be credible to a journalist.
6. Learn how to write a press release
So by now you should have found your news, you have all your press assets ready if a journalist should request them and you know who you want to talk to.
It's time to start writing a media alert or press announcement. It may be that the journalist doesn't need one, but even the experience of drafting a press release will help shape your story. The key things to remember are keeping it short and to the point – definitely not longer than one side of A4. Keep your contact details on the press release including phone number and email address. You don't know if it might be passed on and then your contact details are lost.
Learning how to write a press release really deserves its own guide - to get you started, here are our top 5 tips for writing a great press release. Alternatively, a search online will help you find lots of free resources on how to write an effective press release.
7. Tailor your email
Do not, repeat, do not blind copy your pitch email to every journalist you have found. Every journalist and publication will write an article differently, and they each have a unique editorial style. Make sure you are demonstrating that you have bothered to read their work and that your story is right for them. Here's an example;
Subject Line: Pitch for "name of publication" and "insert name of column"
Body:
One succinct pitch paragraph explaining the story
Copy and paste your press release underneath (don't attach as a PDF or word document, as it won't be read).
Look back to your audience in point two and focus on pitching to five titles that match this.
8. JournoRequest
Still not sure what journalists are interested in? Have a look at #journorequest on Twitter. It is a great (and free) resource of journalists actively looking for comments on articles. We use it all the time to great success but it is also great for individuals starting out their own PR journey. But a point of note - don't respond to an urgent request telling them to contact you, instead, make it easy for the journalist. Craft a quick, non-pithy reply either by direct message or to the email address. Check their bio or a quick google search before you ask for their email. The best thing you can do is make their job easier by providing everything they need in the first email. This maybe more of an upfront approach, but saying "Hi, I run XX kind of business, would that work for your article?" is a waste of time.
9. Twitter lists
Above all other channels, we find Twitter is a great way to build and maintain relationships with journalists. Create a list of five to 10 people you think may be interested in your story and take the time to properly read what they are writing about. You might even find the opportunity to help them with an article that is not directly related to your line of work but is a relationship builder, which is perfect. It's also just a great way to keep you up to date with the sort of articles and stories that are interesting. The more you engage with the articles that your relevant journalists are posting, the better you will understand the sort of stories that work for them.
10. Opinion pieces
Op-eds, opinion pieces, thought-leadership content, blog posts - whatever you want to call it, are a great way to develop your voice. Every national newspaper takes an opinion piece daily (but be quick, you need to be pitching by 9:30 that morning with your idea) and they even include generic emails for you to pitch your ideas to. Be warned though - over 500 people pitch (at least) a day. If you subscribe to the newsletters of those media outlets, more often than not they will contain the details of who to pitch your piece to. Try to think about what makes you different as an expert, what can you talk about that no-one else can talk about. Perhaps there is something interesting about you personally that you can talk about which still includes a link back to your business?
This isn't an overnight win to becoming a PR expert, but I strongly believe with a bit of homework and some thoughtful pitching you should be able to begin to an execute an effective press strategy for free.
About the author
Lucy Werner is the Founder of The Wern.com a specialist consultancy and PR training business for startups, small businesses and entrepreneurs. Lucy has over 15 years publicity experience, both in-house and for some of London's top agencies. She set up her own shop to provide a platform before she set up an affordable PR solution for brilliant brands, services and individuals.