Often confused with advertising, brand sponsorship has become one of the more tangible marketing strategies that a business can employ. Whereas traditional advertising promotes a single message to a huge audience, sponsorship gives brands the opportunity to build an ongoing relationship with a sports team, event or TV programme that aims to financially gratify both parties.
Sponsorship is a targeted approach to marketing, as brands can choose to sponsor an event or team that resonates with their customer base, with a goal to expand upon it. And, contrary to what some may believe, sponsorship is not restricted to large companies; in fact, organisations of all sizes are able to forge partnerships that suit their budget. Local sports teams often rely on business sponsorships in order to maintain their services and training, so this is a great way for small businesses to reach out to a new market.
The key considerations when it comes to sponsorship are whether the audience fits your brand and how it will support your brand's identity and custom.
What are the benefits?
Sponsorship is a great way to increase your authority and competitiveness within your business' niche. If your target audience relates to the party that you choose to sponsor, it has the potential to improve your company's image, status and reliability. It also provides the opportunity to get your brand in front of a new market of potential customers, exposing a variety of new marketing opportunities.
Brand awareness
Regardless of the magnitude of the deal, sponsorship should help increase brand awareness and visibility, as you will be promoting your product or service to a new, yet targeted, market. The level of awareness received is very much dependent on who you are sponsoring. Are they active on social media? Will they receive significant media coverage? Will there be physical coverage, e.g. online, on TV, or on promotional products? These considerations can significantly impact the success of the campaign.
Raise your profile
Sponsorship opens new opportunities for brands to receive publicity, which may not have been feasible before. Sponsoring a local team or event is a great way to increase online and offline presence as it's likely that locals will be keen to share stories about startup companies contributing to a good cause.
Company Debt, an insolvency advice provider, has toyed with numerous sponsorships over the years. "Our sponsorships work to support our passions and promote a sense of well-being and excitement within our team," says Piers Moore-Ede, head of digital at Company Debt. The company currently sponsors Bath FC, which has given it positive exposure within the local community. Moore-Ede adds: "For us, sponsorship is one of the most powerful opportunities a brand has to connect with the broader community and place the business within a meaningful context."
Stand out from the crowd
In saturated markets, it's easy for businesses to get lost in the noise. Not only will sponsorship help you stand out from the competition, but as your company becomes more widely recognised, sponsorship deals should begin to correlate directly with your sales fluctuations. Like all forms of marketing, the ultimate aim of sponsorship is to generate more money for a business.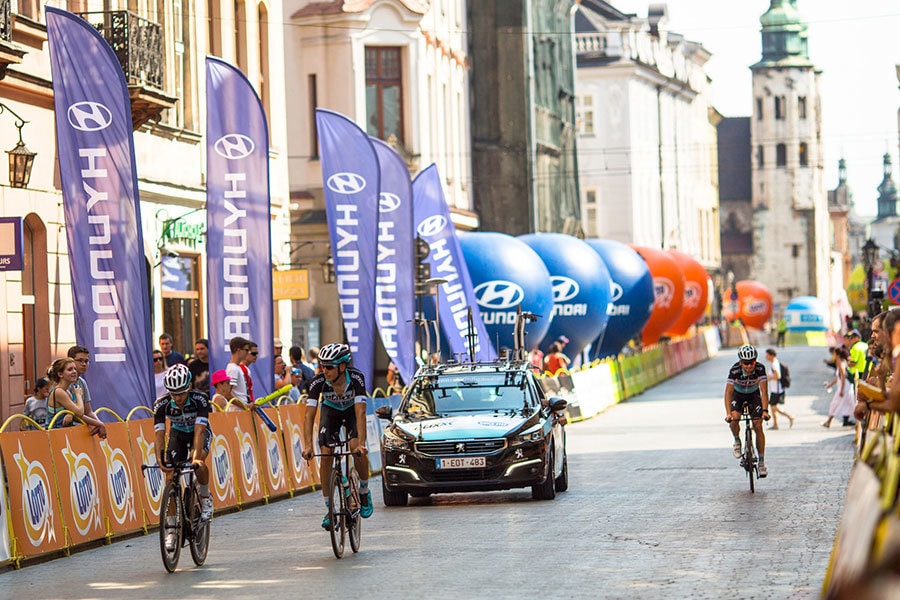 Choosing who to sponsor
Selecting who to sponsor is not a decision that should be made lightly; it's important that the sponsored party complements your brand's message and identity. The closer the alignment, the more likely the campaign is to be a success.
In some instances, it is obvious what type of sponsorships will work for your brand. For example, it makes perfect sense for a homeware store to sponsor a home improvement show. However, the choice is not as apparent for some companies. This is something that online bingo company tombola has experienced, having trialled various sponsorship deals over the past decade, including sports teams and soap operas.
"It can be challenging to find an appropriate sponsorship opportunity," says Dawn-Elizabeth Howe, head of marketing at tombola. "Unlike other bingo companies, we create our own exclusive bingo games and value community spirit, and these are the messages we aim to communicate. A sponsorship is an extension of our usual marketing activity, but without the strong call to actions, so it's vital to get it right."
After signing a multimillion-pound deal with ITV's I'm A Celebrity…Get Me Out of Here! in 2017, tombola was challenged to create a campaign that would appeal to both markets. "The I'm A Celeb… campaign was designed specifically to communicate our community-orientated and fun brand message with a wider audience," says Howe. "Using lifelike bug animations, we achieved our goal of entertaining and engaging audiences, whilst sticking to our brand identity guidelines."
At face value, it is difficult to see the connection between a reality TV show and online bingo. However, the pair have a shared goal to entertain and have worked on an integrated campaign across all platforms to uphold this message and build brand awareness, affinity, and loyalty.
Whilst a high-profile TV sponsorship may be unachievable for many businesses, the same learnings apply. Sponsorship is all about getting your brand noticed by the right audience that will relate to your product or service.

About the author
Lauren Muxworthy leads the outreach and content team at Ascent Group, a digital marketing agency based in Newcastle upon Tyne. She is also a keen traveller, having visited Dubai, Portugal, Bali, Kuala Lumpur, Thailand and Vietnam in 2017.