On 13 January 2018, it became illegal for businesses in the UK to charge a fee to anyone paying by debit or credit card, with just a very few exemptions. The government's regulation banning surcharging means that many smaller businesses have needed to review how the transaction fees, which the surcharge was designed to cover, can be offset within their business model.
The government has made several suggestions, while acknowledging that small businesses may be impacted by this change. Its suggestions include:
Stop accepting a certain payment method – however, this may impact sales as people are increasingly using cards and not carrying cash
Absorb the costs – which could put a strain on business, with a narrowing of profit margins
Pass on the costs through an increase in headline price of the relevant goods or services, which is payable by all customers
Negotiate lower fees with the payment service provider
What changes and why?
The changes in legislation follow a directive from the European Union, which banned surcharges on Visa and Mastercard payments. However, the UK government went one stage further by also banning surcharges on American Express cards and PayPal payments, saying the removal of such charges will make paying fairer for all consumers.
"It's completely unfair for someone to be hit by a hidden fee just before they are about to make a purchase, so by scrapping these rip-off charges we are helping to give power back to the consumer," said John Glen, economic secretary to the Treasury. "As we build a fairer society, this added transparency ensures buyers can make informed choices about how they spend their hard-earned money."
This is a legislative change, not a change being imposed by the payments industry, so it is important that retailers and other businesses that take card payments are aware of it. Whilst consumers often snubbed surcharging, the process is now illegal so those breaking the law may face penalties. There have already been instances of people lodging complaints with Trading Standards following the publicity in the media about this charge becoming illegal.
"There are bound to be examples made of those flouting the law, especially with the increased likelihood of customers reporting such charges to Trading Standards," says Carl Churchill, managing director of NetPay Solutions Group, the payment service provider. "There is very little point in taking the risk."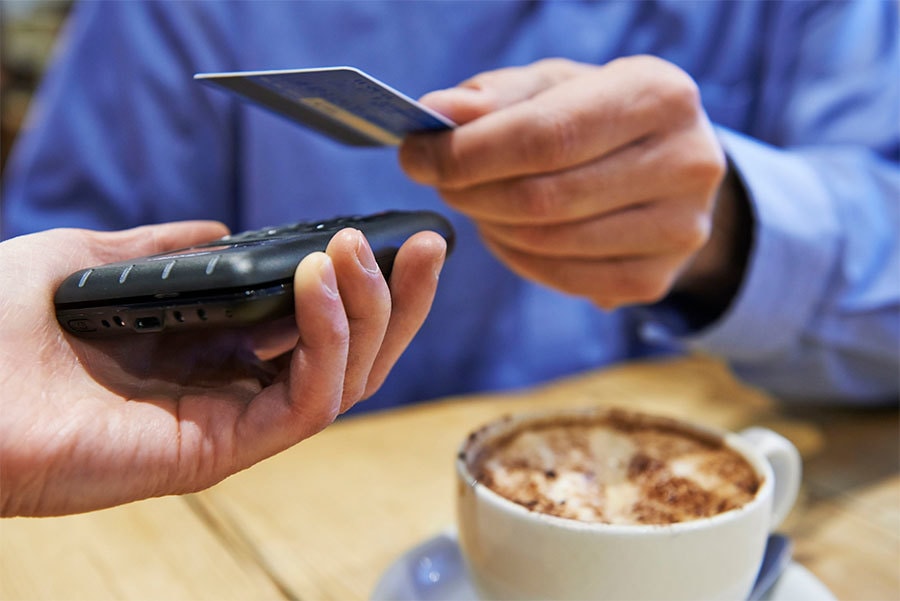 What not to do?
Just Eat removed its surcharge but has implemented a 50p service charge on all orders for all customers, including those paying with cash. This complies with the law, as all customers are subject to the service charge. However, the company received a backlash on social media, from both customers paying by cash, who now felt penalised, as well as those who paid by card, who thought the service charge was a surcharge by another name.
From a PR perspective, this was not a good move, but as an established and popular business, Just Eat will probably withstand the backlash in the long term. Other businesses should probably think twice before implementing similar charges.
There is no legal "way round" the surcharge ban, so businesses will need to look at their business model and work with the government suggestions. However, you can still impose a legal minimum spend for those wishing to use cards.
Another way that sellers can save money, to compensate for this change in law, is by becoming PCI compliant. Apart from showing best practice, it will mean a saving in monthly fees, which are currently charged to those who are uncompliant. If you are not sure how to become PCI compliant, just speak to your payment provider. You could save £35 a month on fees, which may cover the costs accrued from the removal of surcharges for smaller businesses and shops.
Are there exemptions?
Regulation 4 of the Consumer Rights (Payment Surcharges) Regulations 2012 limits surcharging under certain contracts between consumers and traders. Those contracts include sales or service contracts and contracts for the supply of water, gas, electricity, district heating or digital content (regulation 5(1)).
The ban on surcharging applies to most retail payment instruments including non-commercial cards for which interchange fees are regulated under the Interchange Fee Regulation (IFR) and therefore including the vast majority of cards, including Visa and MasterCard (see Regulation 6A(1)). However, they do not include:
Corporate cards issued to employees for business expenditures such as office equipment and supplies or services;
Other non-commercial payment instruments, e.g. a retail e-money payment;
Payment services to which EU Regulation 260/2012 applies (Single Euro Payments Area (SEPA) direct debits and credit transfer).
The removal of surcharging is an ideal opportunity for businesses to review existing contracts and rates, as well as to take steps to become PCI compliant, which shouldn't be too difficult for smaller businesses processing smaller turnovers.


About the author
Nicky Hirst is marketing executive at NetPay, a multi-award winning payment service provider. She is an experienced marketing and communications professional with a passion for social media.