Although many employers rank improving employee wellness as a top priority, only 183 companies in the UK have signed up to the Department of Health's Public Health Responsibility Deal. However, businesses are beginning to prioritize employee wellness, with 40% of companies now having a health and wellbeing strategy and a further 35% looking to implement one within the next few years.
Yet, with 74% of employers believing traditional working environments are preventing businesses from supporting a healthy lifestyle, what can companies do to help employees make good nutritional choices and improve workplace wellbeing?
Boost benefits through subsidies
There used to be a saying in business that there's no such thing as a free lunch, but this is fast becoming an outdated concept. Google is rumoured to ensure that workers are never more than 150 feet away from a free food outlet – a perk that would attract many to a company. It certainly beats having to spend hundreds a year on sandwiches. But what do businesses get in return?
There are some requirements that must be met but, in general, when an employer provides lunch, snacks and/or drinks to employees on the premises, these costs can be fully tax deductible.
If employees feel like their employer cares about their wellbeing by providing free or subsidized healthy food, this can also have a positive impact on morale, not to mention productivity. Instead of leaving work, becoming stressed waiting in line for 'fast' food and worrying about getting back to the office, having access to lunch internally is stress-free and allows employees to let off some steam during lunch breaks instead.
Nutritional employee perks are not just for larger businesses; small businesses can benefit too. A cost-effective option is serving staff free continental breakfasts a few times a week. Muesli, yoghurt and coffee are available inexpensively and can ensure employees are at their desks on time and in a positive mood to start the day.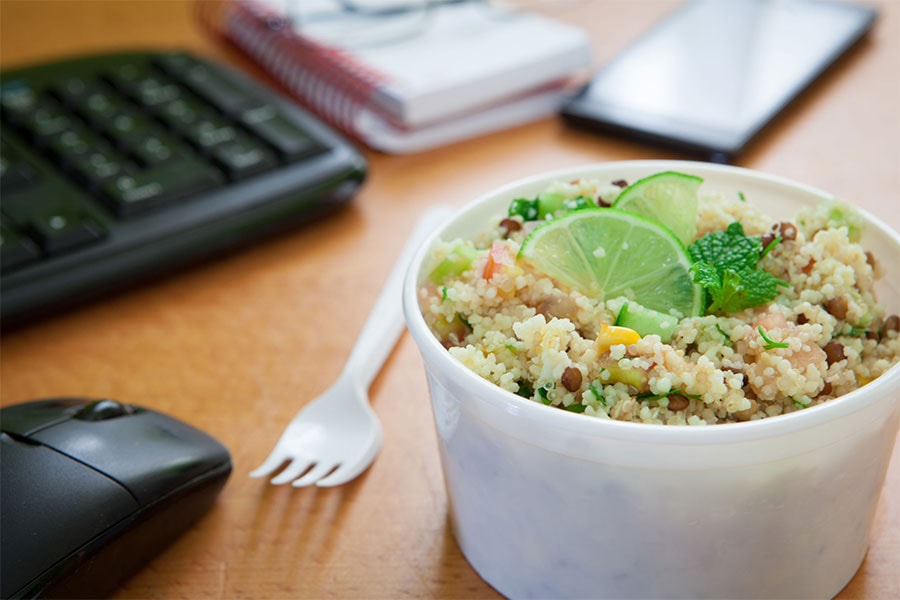 Review your catering options
The average British adult consumes a third of their daily calories at work, so it is imperative to employees' health that nutritious choices are available. In addition to this, over half of employees never leave the office at lunchtime, putting pressure on employers to ensure the in-house catering options are of a high standard.
Providing free or subsidized in-house catering is all well and good, but employers must be careful about this. In extreme circumstances, it may stop employees leaving or starting work at a reasonable time each day. It's a perk people want, but it's not a good thing if employees end up working 24/7, which could lead to burnout or heightened stress.
One way to combat this is to ensure there are areas where employees can go to take a proper break away from workstations. This provides a space for employees to relax and form stronger connections with colleagues. It also encourages less formal interactions between other employees and management.
When picking an in-house caterer, flexibility regarding menu options is key.
An ideal caterer should be willing to handle special requests such as preparing vegetarian, vegan or kosher meals. Any catering professional should have different options that are constantly updated to keep up with current trends.
If employees feel like their employer cares about their wellbeing by providing free or subsidized healthy food, this can also have a positive impact on morale, not to mention productivity.
Living in a technical world
Technical innovations are modernizing the health and fitness industry, and businesses can now benefit from these innovations to promote healthy lifestyles to employees. Indeed, it is estimated that by 2021, more than 500 million wearable devices will be given out by businesses to boost employee wellbeing.
By encouraging increased activity through additional steps and healthy lifestyle nudges, these tools can create wellbeing goals for employees. A competitive element can foster participation – for example, an employer or manager can introduce virtual leaderboards for challenges, enabling employees to measure and track their progress against each other.
However, it's important to invest in platforms that allow all employees to upload and share fitness updates, and which integrate with wearable devices that they already have. This means everyone can be included in ongoing health programmes, and employers won't have to spend additional budget putting everyone on the same device.
Promoting the use of healthy eating apps can provide employees with additional information on nutrition. Google Play and the App Store are brimming with apps that can help employees eat better or work around food allergies.
Use flexibility to incentivize
It has been proven that stress makes us more prone to making unhealthy food choices. Through employers investing in programmes to increase staff health and wellness, this will correlate into employees being in a better frame of mind to choose healthier options.
There is a range of programmes that employers can choose to implement, and these are progressing and developing all the time. However, businesses need to be careful about the range of incentives they offer. Incentivizing one aspect of health, such as giving up smoking or losing weight, could limit a programme's reach and risks alienating employees unable to participate because they do not smoke or are already a healthy weight.
The increasingly younger and modernized workforce are looking for flexibility, and there is a desire for flexible working hours, with 68% of London-based employees now seeking this benefit. Flexibility can improve productivity and help employees better manage stress. This is a good universal programme to implement as it appeals to a diverse range of employees.
Some businesses are beginning to introduce a 'Fitness Lunch' to tackle the amount of continuous time that employees spend at their desks. This entails a 90-minute lunch break to give employees time to relax in the middle of a busy day, go to the gym or a sports class, and eat a healthy and nutritious lunch.
Smaller incentive programmes can go a long way to reducing stress in the workplace. The gift of massages, a spa day or vouchers will see you reap the benefits of having healthier workers who report lower stress levels, with fewer sick days.
Education is important
Whether your goal is to lower absenteeism, reduce claims on health insurance or decrease smoking, educational workshops can help achieve this. Employers and employees can work together to plan relevant, actionable goals for the business, and these wellness workshops will show staff they are appreciated and cared for. This can improve productivity and lead to greater staff retention.
Wellness workshops allow staff to be educated in an interactive and engaging way. Offering employees workshops from nutrition experts, qualified chefs or fitness specialists will inspire them with tips they can integrate easily into their own day-to-day routines.
Integrating nutrition and health education with company benefits is beneficial for many reasons. However, younger generations are creating an inherent social networking framework in the workplace, meaning the next steps for companies must be focusing on modernizing benefits to 'gamify' wellness and encourage social interaction.
Annual evaluation is key in assessing which parts of your wellness offerings are working and those that need evaluating. Long-term survival of a programme will depend on the ability to show that progress is being made and whether you receive positive feedback from employees.

About the author
Emma Davidson is area retail manager for London at Express Vending, which provides premium refreshment solutions for offices, canteens and staff breakout facilities.