Being an entrepreneur can be a rewarding and exhilarating experience, which is just as well since it can also be pretty darn lonely at times.
Loneliness, it seems, could become society's next major health problem, with research proving that it can cause mental, emotional and physical issues. It's this isolation that many business owners want to escape – especially if they run micro-enterprises with little contact with colleagues, partners or employees.
Being with other people is one of the draws of a co-working space. They've become havens of activity, attracting self-employed people who want to meet other entrepreneurs or who want a chat over a coffee. If you look, there seem to be co-working spaces in locations across the country – but some are certainly more inspirational than others.
With co-working hubs being so hot right now, we've sought out some of Britain's most vibrant spaces. Some are so cool we're considering getting out the bubble wrap to move into one of these super-stylish places…
1. Le Bureau, Battersea Studios, London
This is one for the more well-heeled entrepreneur. Le Bureau is an elegant, luxurious space with spacious work booths, as well as Skype Pods, quiet rooms and meeting rooms. Housed in the classy Battersea Studios, the co-working space is a quick walk to Battersea Park with great train and bus links, and the major stations of Clapham Junction, Waterloo and Victoria are just a quick cab ride away. Besides the designer décor, visitors get access to VOIP phones, secure storage, high-speed fibre broadband, wifi, and video and audio conferencing. Kitchens with organic teas and coffee makers make Le Bureau a unique place to invite your clients. There's even free parking – a rarity in the capital city – and bike racks and showers for those tackling London traffic on two wheels.
Cost: It's pretty pricey, but if you want a high-class workplace, it's worth the money. It's £30 per day for a hot desk, £342 per month for a small desk, and £429 per month for larger desks.
2. St Johns, Manchester

Manchester co-working space, OGS Works, is based in the iconic Old Granada Studios. Where once TV favourites like Coronation St and Royle Family were shot, you can now find entrepreneurs and freelancers beavering away on laptops in former studios and green rooms. It's a quirky venue with bright, vibrant décor, vintage-style sofas, and plenty of "hot desks". OGS Works curates events to encourage that collaborative spark – blogger meetups, music nights and industry events.
Cost: There are two options - the resident option and flexible membership, working out at £200 and £100 per month, respectively. Both plans are great value and geared towards different types of users, so make sure to check out the St Johns website for the ins and outs of each plan.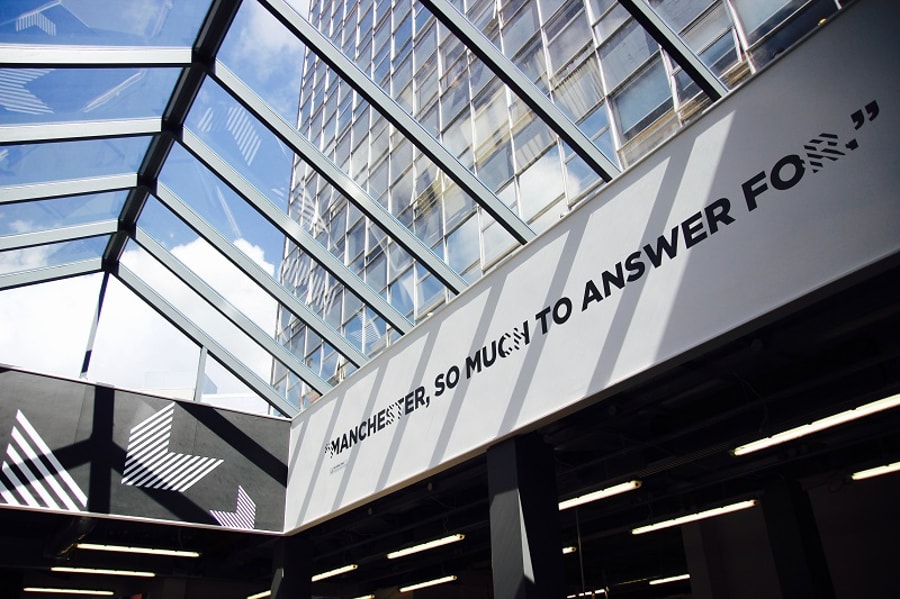 3. TOG, The Shard, London
This is a co-working space with the ultimate view. Located on the 28th floor of Europe's tallest building, The Shard, The Office Group (TOG) offers entrepreneurs the prestige without leasing extortionately priced premises. It's perfect for the City of London and major train stations, not to mention plenty of tube and bus connections. You can co-work in the venue's "clubroom atmosphere", have coffee with clients in lounge-style meeting spaces, or book more formal rooms with floor-to-ceiling windows.
Cost: Meeting rooms vary in price – get the hourly rate here. TOG has 2 memberships: the HomeRoom membership lets you use co-working space and costs £300 per month. If you'd like to use TOG's other offices in London and around the country, there's the EveryRoom package at £400 per month. All members get discounts on meeting room hire.
4. Second Home, Shoreditch, London
If the status of Battersea or The Shard isn't your thing, and you prefer a more creative vibe, then Second Home in Shoreditch might be your ideal co-working space. Designed with colourful, transparent methacrylate walls (that's plastic to you and me), the space is designed to draw people together to experience "creative collisions" – or to collaborate. You can work here and attend cultural events ranging from the esoteric to the highbrow. Facilities include 24/ 365 access, fast broadband, luxury showers, and coffee and tea.
Cost: The Roaming membership is £350 per month, and provides 24/7 access to the workspace and overnight lockers. The Studio membership gives you access to soundproofed studios at £650 per month. Both packages include full use of facilities, access to events and use of a registered address.


Looking to expand, refurbish or even move from your business premises?
Here at Fleximize, we offer hassle-free funding released in as little as 24 hours. So if you're looking to take your business to the next level, we can help.

5. Desk Lodge, Bristol

Hotdesks in spaces decorated like old-fashioned reading rooms, a camping-themed private booth, a meeting room resembling a 1950s living room – welcome to Desk Lodge in the heart of Bristol. Entrepreneurs are welcome to drop in, use meeting rooms and chill out in the lounge areas. There's an indoor garden, hideaways for quiet working, private offices and phone booths. The facilities include broadband and use of a kitchen.
Cost: If you just want to pop in now and again, it's just £3 per hour or £20 per day. There's a range of monthly packages from £10 to £150.
6. The Distillery, Glasgow
Based on Glasgow's canal, this trendy co-working space for the city's creative community is in a renovated whiskey warehouse. It's got free parking, or visitors can access the venue via the old towpath. Co-workers get a view of Glasgow from the 4th and 6th floors, and the Glasgow Sculpture Studios occupy the other levels. Co-workers can use the facilities offered by the sculpture studio, as well as enjoy a community garden and use event spaces. Ongoing development means that more space will be available soon. Companies and freelancers can hire offices or use hotdesks. There are showers, a café, 24-hour access, superfast wifi and other handy facilities that all busy entrepreneurs need.
Cost: Hotdesking is £100 per month, £60 for 5 days and the day rate is £20. For a fixed desk, it's £200 per month.
There's no doubt about it; co-working spaces are growing in popularity. From the straightforward office-type design to the more lavish and characterful, they serve the important purpose of giving entrepreneurs more social interaction, which is the fuel for new ideas and the path to new business opportunities.
These spaces are an alternative to leasing or buying your own office; they offer long-term space for more established companies, not just hot desks for startups and freelancers. Co-working venues are also brilliant for SMEs that want to take advantage of a range of fantastic facilities while having a central location that they'd otherwise struggle to afford. Plus, it's always nice to impress clients with great coffee, amazing views and a buzzy environment.