While apprenticeships are big news right now, for most niche businesses finding the right training programme or even the right individual can be a major challenge.
That was the predicament master cooper Alastair Simms found himself in. However, the craftsman, who runs White Rose Cooperage, was so determined to keep his business strong and pass on his unique knowledge that he decided to create a one-off apprenticeship. He searched high and low to find the perfect candidate. The decision has ultimately paid off, making made his barrel-making business stronger.

Preserving ancient skills
Alistair Simms has a profession that dates back to Roman times, but has now become a specialist, artisan trade.
He's actually England's very last independent master cooper and produces handmade barrels for wine and beer at his business in Thorp Arch near York. With micro-breweries, distilleries and cider makers setting up all over the country, this cooper had never been busier.
Designing an apprenticeship
When orders began to flood in, Alastair decided an apprentice was the answer. However, before he could even begin his search, he first had to find a way to create the apprenticeship itself. Most apprenticeships are a mix of on-the-job training, of the sort Alastair could provide himself, and formal college learning. And this was where the problem lay; while you can study for an apprenticeship in everything from hairdressing to engineering at most local colleges, not a single college in England offers a coopering apprenticeship.
To overcome this challenge and get the apprentice he so badly needed, Alastair approached the Worshipful Company of Coopers, a London-based livery company. Eager to support the trade's revival, they agreed to fund the apprenticeship, which would be conducted via distance learning by another organization – the National Cooperage Federation, which would act as overseer for a carefully documented 4-year training period at White Rose Cooperage.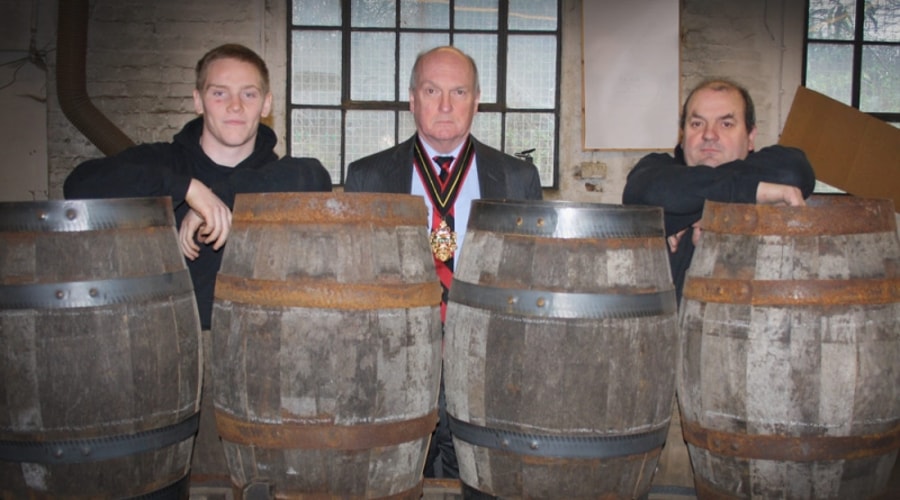 National media appeal
With the apprenticeship arrangements in place, Alastair started his search for the apprentice to go with them. Having had no luck identifying a likely apprentice through the usual routes of placing ads in the paper and advertising online, Alastair decided to go all-out in the search.
Thanks to a growing interest in specialist brewing and the power of social media, his plight caught the attention of TV executives. The cooper was invited to make a couple of live television appearances, telling the world about his unusual occupation and appealing for an apprentice to come forward, as he recalls:
I did Channel Four's Sunday Brunch with Johnny Vegas in Glastonbury week, then I did the One Show and our appeal for an apprentice was all over social media too but we still got nothing!
At this point, Alastair was hugely overworked, sometimes putting in up to 110 hours a week to keep up with orders.

Although he held out hope that his double TV appeal would attract interest from potential apprentices, it wasn't until a journalist friend covered Alastair's plight in dedicated beer publication CAMRA that interest started to grow. The story of the fruitless search for an apprentice cooper was picked up by the
mainstream press
, and eventually attracted an impressive 186 applicants.
Alastair's perseverance had at last paid off and he had a choice of talented, energetic people coming forward.
The ideal apprentice
The competition was tough but the master cooper eventually offered the unique apprenticeship to 18-year-old Kean Hiscock from Garforth near Leeds. Although Kean had no woodwork training or experience at all, he showed a natural affinity for a task he was set during the recruitment process.
Now, Kean is well into his 4-year apprenticeship and already doing well:
We've picked the right lad. He sometimes gets frustrated that he can't help and there's lots of things he can't do yet but to me that's a good sign he wants to learn. He's been given a new task to do this week and taken to it like a duck to water.
As White Rose Cooperage moves forward into new and changing markets, Alastair knows the business will be will more resilient and more flexible to fluctuating work levels, thanks to his own bold choice to create a bespoke apprenticeship and Kean's sheer enthusiasm for learning valuable new skills.
Learn from the master
Other businesses looking for their own apprentice can take an important lesson from Alastair's search. Don't let your niche industry hold you back if you want to grow your company while passing on specialist skills. With some ingenuity you can create the training opportunity yourself, if it's not already covered by colleges.
Alastair's commitment to finding an apprentice is admirable. The lesson? Whatever hurdles you might be facing in setting up the apprenticeship, be creative in how you search. Shed that shyness and get into the local or even national media to help you find that talented person.