There aren't many people who can say they fundamentally changed the way the human race communicates. Steve Jobs is one.
A hippie, who spent part of the 70s on a spiritual quest in India, Steve started his career as a college dropout with an interest in computers. 30 years later, he was at the helm of global brand making hand held, touch screen computers that the world could carry around in its back pocket.
Born in February 1955, Steve was adopted by Paul and Clara Jobs in California. His formative years revealed his techie nature – he had a summer job at Hewlett-Packard, where he met friend and later Apple co-founder Steve Wozniak. Together they set the template for their empire-making by selling the 'Blue Box', which allowed users to make free (but illegal) phone calls.
Early Apple
Apple started life in Woz's garage, where Steve and Woz built the Apple 1, the ancestor of the device that you're (probably) reading this on. The design is actually attributed to Woz, but it was Jobs' idea to sell them.
"If it hadn't been for the Blue Boxes, there would have been no Apple...Woz and I learned how to work together, and we gained the confidence that we could solve technical problems and actually put something into production." Steve Jobs to his biographer Walter Isaacson
They unveiled their inaugural product at the Homebrew Computer Club of electronics nerds in March 1976. The home computer industry was in its fledgling years – most people didn't really know what they could do with one. But ever the trailblazer, Steve believed people would want to buy the Apple 1, so he secured credit to buy more parts and got a contract with a local computer retailer for 50 products.
The Apple 1 was a hit, and Steve was already thinking about how they could evolve the design and create something that anyone could use, not just the geeks. They got investors' money that would to bring that vision to reality.

That vision was the Apple II, which had an integrated keyboard, colour graphics and could be run right out of the box. It launched in 1977 and instantly caught on. Sales of the computer exploded by more than 500% each year for the next 3 years. It was used in schools, so a new generation of computer users took their first digital steps on an Apple product.
Dark years
Apple was growing at lightning speed by the late 70s. The company went public in 1980, making Steve $200 million richer overnight. Ever the innovator, he, in the meantime, was looking at new ways to improve the technology.
It was full steam ahead with new projects, the Apple III and the Lisa, but both proved to be market flops. By '84, the Apple II was the only thing making Apple money, and it was starting to lose out to competitors.
But Steve already had the Macintosh up his sleeve, set to revolutionize the personal computer market (again!) thanks to its graphic user interface.
But it failed to save Apple from a hat-trick of duds. Despite initial success, people complained it was too slow, too expensive, and not compatible with other software (some of that sound familiar?).
Steve is remembered for his brilliantly innovative mind, but he was also notoriously difficult to work with. He had an unpopular habit of insulting people who weren't working in his team. Thanks to his questionable interpersonal and management skills, his relationships within the company he'd founded were cracking around him.
Steve left Apple in 1985; he was just 30.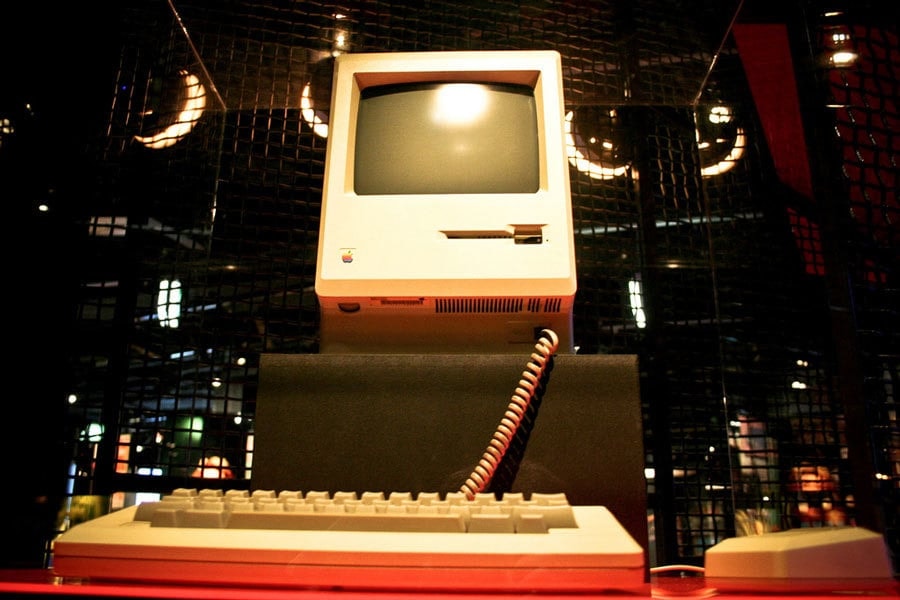 A new era
Steve was to have 12 years away from Apple. In that time, he bought the computer graphics department of Lucas Films and founded Pixar. He also launched a new tech company, Next, to build high-performance computers for the education and science research markets.
Both ventures had ups and downs. Pixar overcame its unpromising start to launch Toy Story in 1995, which was responsible for boosting Steve's net worth to $1.5 billion when it went public that year.
At Next, the biggest game changer was its software, which would eventually evolve into the Mac OS X operating system – still the foundation of Apple's computers today.
A downtrodden Apple, off the back of some disastrous sales, bought Next for $400 million in 1996, bringing Steve back into the fold on an informal basis. However, it didn't take long for him to be back in the driving seat. In 2 years, Apple was turning profit again and turning heads with its new launch, the iMac, a bright, colourful desktop computer that could hook up to the internet in just 2 steps.
Steve had ushered in a new era for Apple.
With the start of 21st century, innovation was coming thick and fast. In 2001, Apple launched Mac OS X, opened its first retail store, and introduced the first iPod.
Most of us witnessed first hand what followed: the consistent trickle of new, thinner, sleeker, faster, better products that Steve unveiled year in, year out, evolving into the tech global phenomenon that Apple is today. In 2007, it unveiled the first iPhone and 3 years later, the iPad. Elsewhere in the Jobs portfolio, Disney bought Pixar for $7.4 billion and made Steve a member of the board.
Failing health
But behind the scenes his health was wavering. His first bout of cancer reared its head in 2003, and although he made a recovery, it was that disease that would eventually take his life, in October 2011.
Steve stood down in August 2011, telling the company:
I have always said if there ever came a day when I could no longer meet my needs and duties as Apple's CEO, I'd be the first to let you know. Unfortunately that day has come.

Steve Jobs, Apple
This is just one of many career stories of world-famous company founders. Check out interactive content to track the careers of people including Colonel Sanders, Richard Branson, Ariana Huffington and Bill Gates.
Feature image by Esther Dyson, sourced from Flickr.