Still haven't bought your office Christmas tree? Well, you haven't got long until your staff clock off for the holiday period, so if you're still to 'spruce' up your workplace this year, then we've got some excellent advice.
Our top tips come from one of the best in the industry – VIP Christmas tree seller, Pines and Needles, have shared advice so you can find the perfect tree for your office. Already covered by the Daily Telegraph, the company has a sterling reputation in supplying luxurious trees to celebrities – including one going to One Direction's Louis Tomlinson. Other customers include high-profile concert venues and hotels, as well as family homes and offices.
1. What's the best type of Christmas tree for a busy office?
The ever popular 'non-drop tree', or the Nordmann Fir, is the tree of choice for indoor use – the needles are soft to touch and it has added needle-retention. Flattened, waxy two-tone needles give the Nordmann it's signature look - similar to an olive tree. It can last up to 4 weeks in good conditions. If you run your hand along a branch, the tree should hold most of its needles, which shows it's fresh and able to withstand busy office areas.
Our Fraser Fir trees have been grown in their pots and are, therefore, much more likely to stay fresh than those trees that have been grown in the ground, then put into pots.
Pot-grown Fraser Fir Christmas trees come in a plastic plant pot with drainage holes, so we strongly suggest that these are placed on a waterproof container or in another plant pot made from metal, ceramic or terracotta. This will allow you to water the tree without risking damage to your flooring or desk tops, and the pots tend to be more attractive and festive!
2. What type of tree is the easiest to care for in an office?
Besides the Nordmann Fir we'd recommend mini trees, which can be kept on desks and watered. They look really cute and can be decorated with mini decorations.
If you use lights on your tree, use LED Lights as they're not hot to the touch.
3. What type of tree would impress visiting clients?
The Norway Spruce is the traditional-look Victorian tree. It looks amazing and smells great, but it's harder to care for. It's actually ideal for the outdoors, but it can keep for a few weeks indoors if kept away from heat. Again, a big Nordmann Fir is great. If you come to Pines and Needles you can specify the type, shape and size, and we'll try our best to pick according to your specifications, and deliver it.
4. How much should you pay for a good quality Christmas tree?

The Pines and Needles 6ft Nordmann Firs is approximately £53 with a £20 stand. We can also add good quality lights and decorations with delivery for £150.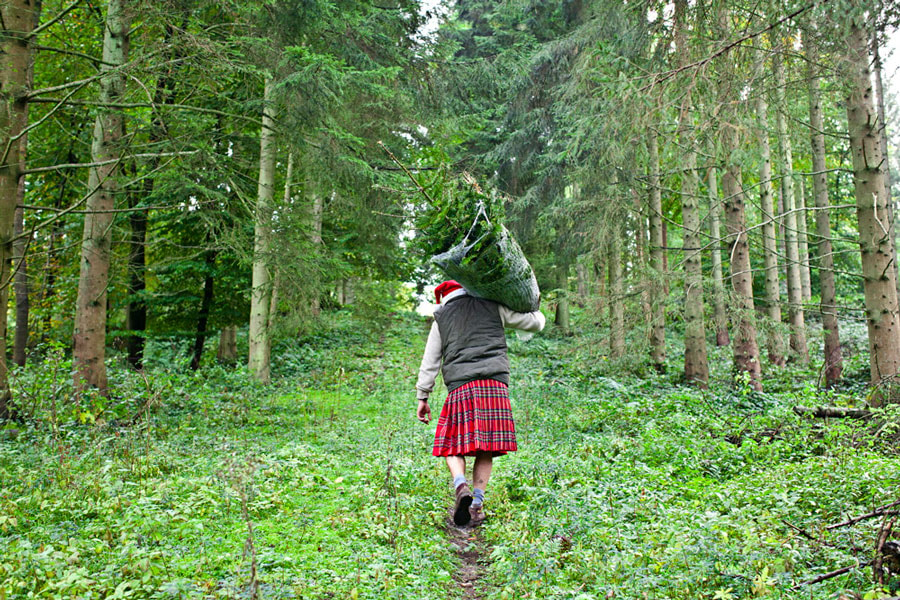 5. Do you have any more advice for picking a tree?

Absolutely! Here are a few more:
Check the tree is freshly cut – it'll absorb the water in a stand. It's like cutting flower stems before placing them in water.
If it's a Norway Spruce, it should be light-weight with a more traditional shape and that intense Christmas tree smell.
Avoid broken branches and an off-green colour.
Once the tree is in a stand, but stops drinking water, pry away the bark at the bottom with a spoon. It's a handy trick!