The New Year is here, and it's time to get into shape. No, we're not implying you need to get that gym membership sorted – that'd just be rude. But maybe, just maybe, your work routine could do with a bit of a boost.
Even the most experienced of business owners get bogged down with to-do lists and priorities. To make 2016 less stressful, we've been on the hunt for productivity tools to help hectic entrepreneurs and SMEs achieve their goals while happily remaining cucumber-cool. Below is a snap-shot of what we've found.
1. For noting ideas (and everything else): Evernote
Everyone's raving about Evernote at the moment and it's easy to see why. The app on Android and iPhone is actually a collection of multiple tools in one, neat package. You can use it to take notes, use it as a journal, share online content or notes you've made, and collect and keep digital content – including audio – and photos of things like newspaper stories that you want to read later. Content and notes can be saved in notebooks (or folders) that you create for easy finding.
A basic, free account gives you functions such as communication with others and syncing across phones and computers. If you upgrade, expect to get additional features including saving Evernote emails, offline access to notes, a notes-to-presentation function and scanning business cards.
The potential for Evernote is brilliant – perfect for business owners who rely on their smartphones.
2. For tracking stock and inventory: Veeqo
Ideal for e-commerce businesses, Veeqo is an online inventory management system that helps online stores prevent overselling stock. How? Well, as you dispatch products sold via your online shop or platforms like Amazon and eBay, Veeqo automatically tracks what's gone out, updating your inventory in real time.
You can also print out shipping labels and send items with up to 100 top courier services integrated into the system.
Businesses also get instant reports so you can easily keep on top of how much stock you have, and whether you need to put in another order.
Traders can register for a 2-week free trial to see if it works for them, but if you're not sure, read this article explaining what you need to look at before deciding which inventory tracking tool to use.
3. For gathering news and content: Feedly
A fantastic tool for busy business owners who want to read the latest industry goings-on and other content is feedly – an inbox for your news.
It's a free app and website that lets you gather content from your favourite sources, whether it's the The New York Times, Sky News, The Economist or Entrepreneur.com. You simply register an account and start adding sources of content to your profile.
Let's say you want to get the latest entrepreneurial news from the Guardian's Small Business Network. You go to your feedly account, click on 'Add Content', and copy and paste the url of the website section (http://www.theguardian.com/small-business-network). When you've done that, and the site has been added to feedly, you click on the green + icon to add the feed to a collection you might have already set up or you can create a new collection – maybe labelling it 'Small Business News'. You can add other content feeds to the same collection.
You can even set up RSS feeds of your Google Alerts on feedly, so you get all of your alerts into the same 'news inbox', rather than into your email account.
4. For time management: Toggl
Toggl is great online tool – website and widget – and app for busy business owners who need to track time used on certain projects and bill clients. It's ideal for creative professionals and agencies that need to keep on top of how much they're charging clients, and how much time they're using per project.
Toggl is also a team tool – everyone working on one project can track time and record it online. Special billable rates can be allocated to certain team members such as project managers and senior staff, and easy-to-understand reports can be produced. It's super-convenient but using it at this level does require a subscription.
5. For project management: Asana
Website and app Asana helps project managers track progress of themselves and others in the project team. It's an organisational tool that pulls together communication, documents, tasks and reminders all into one place.
It's free to use, and the time it could help you save in managing logistics and ensuring the team's on the same page is significant. So, say farewell to stray project materials saved in scattered files on your laptop, and move on to a system that serves as the useful hub for your project.
You can easily add new projects, task checklists and assign co-workers to each task. You can also send tasks via email through Asana so you have a 'paper trail' of comments and conversations – essential for when tracking and resolving problems and glitches.
6. For unclogging your inbox: Unroll.me
We've all subscribed to newsletters on the spur of the moment – we don't miss that special deal, that 50%-off coupon or the latest industry chat. But there usually comes a point when you open your inbox to see that it's backed up with newsletters that you simply don't have time to read. So how can liberate your inbox, so it can be used for the communication you need to focus on?
By registering your email with Unroll.me, you can unsubscribe from all unwanted emails all at once. Or, if you want to keep receiving your favourite newsletters, simply add them to a daily digest, sent by Unroll.me.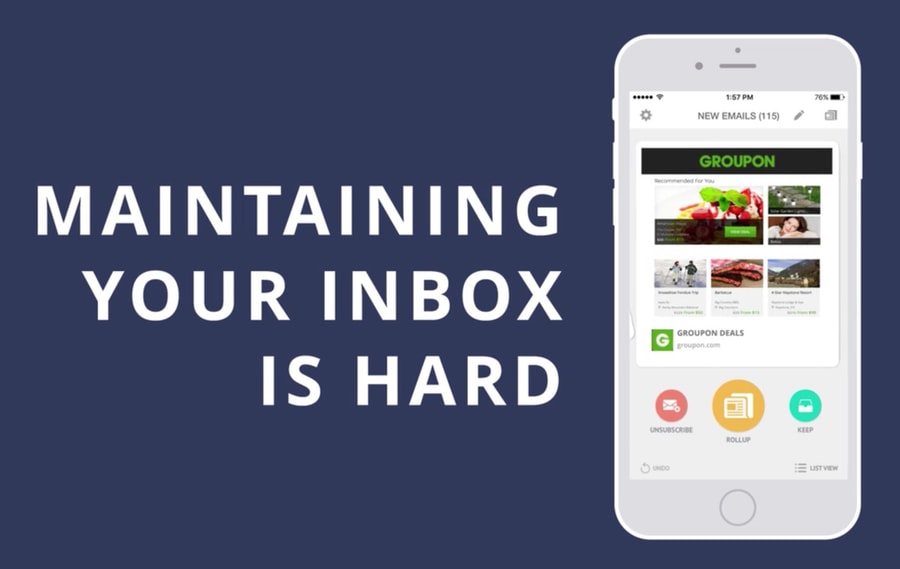 If you want more digital resources for small business owners, check out our
Top 10 Apps for Entrepreneurs
article